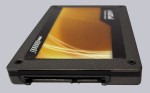 The Crucial RealSSD 256GB SATA3 SSD CTFDDAC256MAG-1G1 has extremely low access times and highest transfer rates on every read- and write tests with all tested programs.
This Marvell controller based MLC Solid State Drive did not show any weaknesses (except the loosen sticker), because all results were incredible high and cleary above all previous test results. Also on a SATA2 controller this Crucial RealSSD 256GB SATA3 SSD offers incredible high results and get the maximum transfer rate out of the SATA-II controller. These very high results showed the SSD also with everyday tasks at the PC, because a Microsoft Windows 7 Ultimate boot took approx. 24 seconds, whereby the pure Win7 loading time was approx. 9 seconds.
All in all Crucial offers with the RealSSD C300 256GB SSD a very fast SSD with a good price-/performance ratio for high-end user and PC Enthusiasts. With this great results the Crucial RealSSD 256GB SATA3 SSD CTFDDAC256MAG-1G1 earns as first SSD our Redaktion ocinside.de Overclocking Dream 10/2010 Award !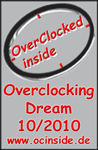 Discuss in our forum and exchange experiences …
Here you can buy the Crucial SSD …
Read on in the hardware test area with several hardware reviews …