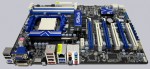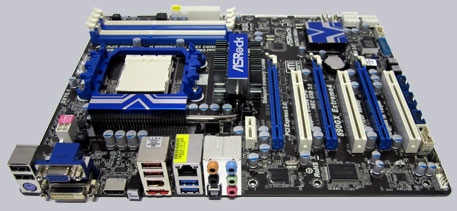 Manufacturer
ASRock
Name
890GX Extreme4
Type / Chipset
Socket AM3 CPU / AMD 890GX Chipset (AMD SB850 Southbridge)
Dimensions
+++ 22 mm (45 mm radius) around the socket to the next capacitor or other mainboard parts – for further information see Fit for Fan. The space to the next bigger heatsink is approx. 39 mm (61 mm radius). The overall size of this ATX mainboard is 305 x 244 mm.
Slots
++++ 3x pci, 4x PCIe 2.0: 3×16/1×1, 4x DDR3-800 – DDR3-1600 (DDR3-1800 OC) max 16GB RAM
Connectors
++++ 5x SATA3, RAID, 1x eSATA3, 1x serial (optional), 1x PS/2, 1x IR (optional), 1x onBoard 10/100/1000 Mbps base-T Ethernet (Realtek RTL 8111E), 4x USB 3.0 (2x of them internal, 3.5″ USB 3.0 frontpanel is included), 10x USB 2.0 (6x of them internal, slot bracket for additional ports is not included), 2x IEEE1394 (1x of them internal, slot bracket for additional ports is not included), 8-Channel ALC 892 onboard 7.1 sound with 5x 3.5 mm connectors (1x optical S/PDIF out, 1x int. Aux, ext. Line in, ext. Mic, ext. Front out, ext. Rear out, ext. Center/Subwoofer), 1x D-Sub VGA, 1x DVI-D or 1x HDMI and 6x fan connectors (2x 4pin and 4x 3pin).
Vcore
++++ BIOS between 0.6 Volt and 1.7500 Volt in steps of 0.025 Volt (Vcore depends on the CPU)
Multiplier
++++ BIOS between 0.5x and 13x (max multi depends on the CPU) and 1x – 10x HT / 5x – 10x NB
Host Frequency
++++ BIOS between 150 and 500 MHz (PCIe 75 – 250 MHz)
VIO/VDD
++++ VMem (DDR3 voltage) 1.250 – 2.065 Volt, NB 1.110 – 1.795 V, CPU NB 0.6000 – 1.7500 Volt, HT 1.200 – 1.820 Volt, SB 1.10 – 1.40 Volt, Sideport Memory voltage 1.50 – 1.80 Volt, CPUVDDA 2.56 – 2.70 Volt and PCIEVDDA 1.81 – 1.92 Volt.
Performance*
++++ Benchmark ratings with some video cards and benchmark tools.

SiSoftware Sandra 2010c Benchmark ratings with AMD Phenom II 710 processor. SiSoftware Sandra 2010c Arithmetik Processorperformance in Windows 7 RC: 26,44 GOPS SiSoftware Sandra 2010c Multimedia Processorperformance in Windows 7 RC: 54,4 MPixel/s

3DMark Vantage Entry Test Benchmark values with AMD Phenom II 710 processor. 1x Gigabyte GV-N250OC-1GI Nvidia GTS250 PCIe 2.0 video card: 3DMark Vantage Entry Test in Windows 7 RC: E29250 (GPU: 29062 / CPU: 29832) 1x Sapphire HD4870 512MB ATI Radeon HD4870 PCIe 2.0 video card: 3DMark Vantage Entry Test in Windows 7 RC: E17273 (GPU: 35026 / CPU: 6853) 1x onBoard AMD HD4290 DX10.1 graphics chip: 3DMark Vantage Entry Test in Windows 7 RC: E3035 (GPU: 2568 / CPU: 6677)

3DMark06 Benchmark values with AMD Phenom II 710 processor. 1x Gigabyte GV-N250OC-1GI Nvidia GTS250 PCIe 2.0 video card: 3DMark06 in Windows 7 RC: 12567 3DMarks 1x Sapphire HD4870 512MB ATI Radeon HD4870 PCIe 2.0 video card: 3DMark06 in Windows 7 RC: 13347 3DMarks 1x onBoard AMD HD4290 DX10.1 graphics chip: 3DMark06 in Windows 7 RC: 2204 3DMarks

3DMark03 Benchmark values with AMD Phenom II 710 processor. 1x Gigabyte GV-N250OC-1GI Nvidia GTS250 PCIe 2.0 video card: 3DMark03 in Windows 7 RC: 40244 3DMarks 1x Sapphire HD4870 512MB ATI Radeon HD4870 PCIe 2.0 video card: 3DMark03 in Windows 7 RC: 46275 3DMarks 1x onBoard AMD HD4290 DX10.1 graphics chip: 3DMark03 in Windows 7 RC: 5682 3DMarks

Manual and Labeling
+++ Complete and well placed motherboard description and good manual. This mainboard comes with a manual in different languages. ASRock followed our often mentioned suggestion about the missing BIOS section in the manual and now offers even an seperate BIOS Setup manual. Additionally an IES- and an Instant Boot quick reference guide were included.
Language, e.g. German:
However, English language selection is still recommended, because the translation is rather confusing:
++++ The ASRock 890GX Extreme4/A/ASR motherboard has a price of approx. 110 Euro (10/2010) and is thus in the middle price segment of the Socket AM3 motherboards.
ASRock tops their own excellent 890GX Extreme3 with the brandnew ASRock 890GX Extreme4 motherboard. With this board overclocking is fun and makes overclockers hearts beating faster. The overclocking result became once again better, there are more voltage adjustments and also the equipment was extended. Thanks to the enclosed front USB3.0 panel it is now possible to insert USB 3.0 devices like for example USB3.0 memory sticks finally into the PC front. In this review, the new 890GX motherboard with onBoard HD4290 graphics, three PCI-Express slots, USB3.0, SATA3 and eSATA3 is overclocked up to the limit and compared with many other AMD Socket AM3 motherboards in the mainboard comparison.
The box shows already some features like USB3.0, SATA3, eSATA3: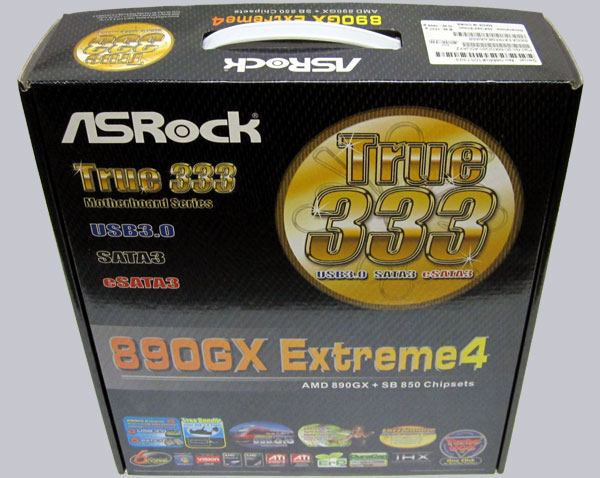 A first look to the black 890GX Extreme4 board shows a high-quality motherboard with high-quality solid caps capacitors and blue/white slots & ports: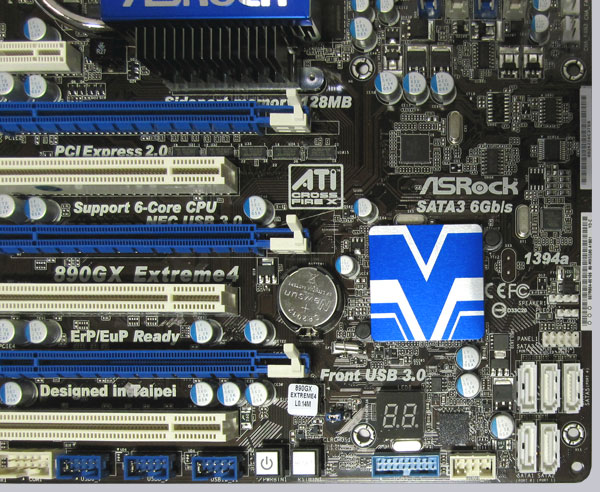 Here we see some more novelties in detail. Front USB 3.0 ports with the new USB 3.0 frontpanel plug, SATA3 ports, 7-segment post code display, and LED illuminated Power and Reset button: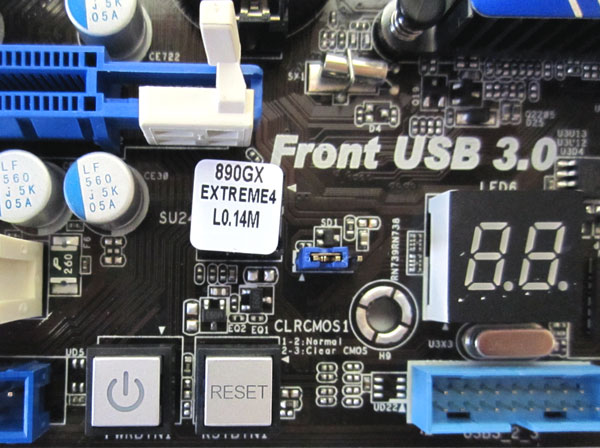 Equipment and other features …
The ASRock 890GX Extreme4 motherboard came with a manual, several quick reference guides, one DVD, four SATA data cables, two SATA power cables, one 3.5″ USB3.0 frontpanel and one ATX I/O shield.
Expansion cards …
This 3-Way CrossFireX motherboard offers three PCI Express 2.0 video card slots, whereby either one Radeon video card can operate with x16 band-width, or two can operate in x8 mode, or two in x8 mode and one in x4 mode. A SLI/XFire switch card is not necessary to get the optimal performance for single, CrossFireX or 3-Way CrossFireX operation. If one like only use one video card on the 890GX Extreme4, one should insert the PCI Express video card into the blue PCIe2 slot, in order to get the fastest x16 bandwidth. By the way one could use theoretically also several nVidia video cards, however officially not as SLI, but only the output to several monitors would be supported. Additionally to the three PCI Express 2.0 slots there are 3 PCI slots and one x1 PCIe 2.0 slot.
Memory …
The ASRock 890GX Extreme4 can be equipped with up to four DDR3 modules and is expandable depending upon operating system used (see list) to maximally 16 GB memory.
The Socket AM3 motherboard supports DDR3 memory modules and can be optimized in the BIOS for DDR3-800, DDR3-1066, DDR3-1333 or DDR3-1600 and faster Dual Channel modules. DDR3-1800 or higher clock-rates are currently only possible with overclocking.
Hard disk drive connectors …
The 890GX Extreme4 offers, as well as the 890GX Extreme3 board, no floppy connector and no IDE connectors for conventional ATA-133 drives. But this 890GX Extreme4 board offers five SATA3 connectors (6 Gb/s) and one eSATA3 port integrated in the I/O panel. The S-ATA3 ports supports RAID 0, RAID 1, RAID 0+1, RAID5, NCQ, AHCI and the Hot Plug function in AHCI mode (AHCI stands for Advanced Host Controller Interface).
The manual and the included DVD contains all basic information to manage a new installation of Windows XP, Windows Vista or Windows 7 with S-ATA3 hard disk drives, and how to make a RAID installation. 32-Bit and 64-Bit drivers for Windows XP, Windows Vista and Win7 are provided on the DVD and can be downloaded on the ASRock support page.
USB and Firewire …
The board has two USB 3.0 connectors on the ATX-panel and another connector for the enclosed front USB3.0 panel with two additional USB3.0 connectors. Furthermore, it offers four USB 2.0 connectors on the ATX panel and three internal USB 2.0 plugs for up to six optional USB2 ports. So ASrock utilize the latest USB3.0 technology with up to 5 Gb/s and nearly all USB 2.0 ports of the chipset. Additionally, the board has one IEEE1394 Firewire port on the I/O panel and another optional internal IEEE1394 port.
To provide the front USB 3.0 ports in addition to both USB 3.0 ports on the I/O panel, ASRock integrated two NEC D720200F1 controller ICs on this 890GX Extreme4: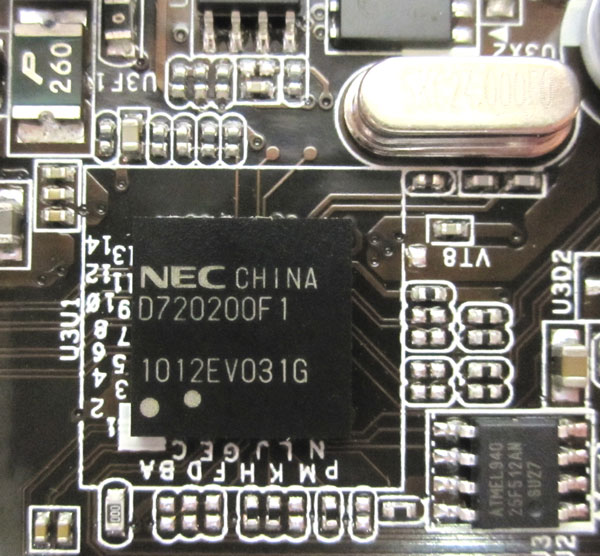 Network …
The Realtek RTL 8111E chip is integrated on the ASRock 890GX Extreme4 motherboard and offers a WoL capable 10/100/1000 network connector in the ATX panel. The LAN connection is WoL capable, offers LAN cable detection and supports energy efficient 802.3az ethernet.
Serial and parallel port …
This motherboard does not provide a parallel port. The serial port is only optionally available as internal onboard connector.
Sound …
The ASRock 890GX Extreme4 motherboard is equipped with the ALC892 audio codec with content protection, which supports 7.1 surround sound for example analog over 5x 3.5mm connectors on the ATX panel or over an internal audio connector.
For the digital output there is an internal HDMI SPDIF out connector available, to connect it for example with a SPDIF cable to a HDMI suited video card, in order to get the digital audio and video signal to a HDMI equipment like a HD-Ready LCD TV. Over the BIOS it's possible to set the sound output to the integrated HDMI port. Additionally there is also an optical digital SPDIF output and premium Blu-Ray audio support. So most users don't need to buy an additional sound card with digital outputs.
Graphics …
The new ATI Radeon HD4290 IGP of the AMD 890GX chipset is also without overclocking faster than older IGPs and support in addition DX10.1. The benchmark result of the HD4290 GPU (AMD 890GX) is with 3DMark06 2204 points a little bit slower than the HD4290 GPU of the 890GX Extreme3 with 3DMark06 2249 points, a little bit below the HD3300 GPU (AMD 790GX) with 3DMark06 2235 points (700 MHz GPU on a M3A790GXH/128M) and faster than the HD4200 (AMD 785G) with 3DMark06 1571 points (500 MHz GPU clock on a M3A785GXH/128M). With Hybrid CrossFireX technology in combination with an additional ATI video card, the benchmark result would be higher on all IGPs. However, only few video cards are applicable (e.g. a ATI Radeon HD3450) officially to cooperate with the integrated video chip as Hybrid CF. AMD and ASRock made a good job with their onboard graphics solution and achieve higher performance on the same frequeny with lower power consumption nearly every half year.
Furthermore the HD 4290 video processor supports DirectX 10.1, has integrated 128MB Sideport RAM on the 890GX Extreme4 motherboard, supports HDCP, Full HD 1080p and offers thanks to its onBoard HDMI connector also optimal conditions for a Home theatre PC.
Here is a picture of the ATX panel connectors:

From left to right one can see 2x USB 2.0 ports, the PS/2 connector for a PS/2 keyboard, 15-pol Sub-D VGA, DVI-D VGA, HDMI, Clear CMOS button, 2x USB 2.0 and IEEE1394 and eSATA3, RJ45 Gigabit LAN and 2x USB 3.0 ports, optical SPDIF out and 5x 3.5mm jacks for analog sound.
BIOS and Overclocking …
Let us continue with BIOS options and BIOS overclocking. By pressing F2 or Del, you get access to the AMI BIOS with all important hardware settings.
ASRock offers a very comfortable option to flash BIOS updates. By the so-called ASRock Instant Flash option in Advanced BIOS or during the PC start one can get into the ASRock Instant Flash utility. Hereby one can very easy upgrade a downloaded ASRock BIOS without further boot CD, boot stick, boot disk, etc. Just start the ASRock Instant Flash utility. Then select a BIOS Flash ROM from any FAT formatted device like an USB Stick to flash the BIOS without another boot medium.
The P1.00 BIOS offers many DDR3 memory settings like e.g. the memory frequency setting from 400 MHz over 533 MHz and 667 MHz on up to 800 MHz (DDR3 800/1066/1333/1600). The frequency of all memory modules is calculated and shown immediately after changing the reference clock and makes it much easier to adjust the right RAM frequency.
The host clock is adjustable from 150 MHz up to 500 MHz, the HT (hypertransport) frequency is adjustable from 1x to 10x (200 to 2000 MHz) and the NB frequency multiplier can be adjusted between 5x and 10x. The PCIe frequency is adjustable from 75 MHz up to 250 MHz. Changes to the CPU frequency is directly shown in the BIOS, so if you change for example the reference clock, you will see how high the CPU frequency would be with each divisor on this setting.
In our tests with PCI Express video card, it was possible to overclock to a fantastic high 340 MHz reference clock. Some may think that the reference clock is no longer important for overclocking of e.g. Black Edition processors with free multiplier selection, but the reference clock is still important for good PC overclocking results. At least when one buy high-end OC RAM and like to operate it on the maximum frequency, because this is on most boards only possible with reference clock increasement. And of course not every user like to spend more money for these AMD BE CPUs.
The boot failure guard was checked in this review as well and it was possible to start the PC on standard values with too high overclocking settings without using the Clear CMOS Jumper. It was just necessary to press the Reset button. ASRock integrated an "Boot Failure Guard Count" option, where the user can decide, how often the board should try to start with too high settings, before it reduces the settings for a correct boot.
Another interesting feature is the so-called UCC BIOS setting. With the Unlock CPU Core feature it was possible to unlock deactivated CPU Cores. Unfortunately it's not possible with every AMD Athlon II or Phenom II CPU, but the BIOS options are nevertheless present and this is surely for some buyers an important purchase aspect. The UCC option was called Advanced Clock Calibration or short ACC on previous motherboards and can be unlocked on the ASRock board with this additional UCC IC. Instead of ACC this 890GX Extreme4 with additional UCC chip to unlock CPU Cores of some processors. The L3 Cache allocation can be changed with the BSP and All Cores option. Also the CPU Active Core Control option can be useful to activate or deactive some Cores of the CPU and additionally it is possible to optimize each CPU Core in the BIOS.
Furthermore, this board offers a Vcore setting on the Phenom II test CPU from 0.6000 Volt to 1.7500 Volt, a CPU NB voltage from 0.6000 Volt to 1.7500 Volt, a NB voltage from 1.110 Volt to 1.795 Volt, a HT voltage setting from 1.200 to 1.820 Volt and a few more settings to overclock the platform. The DDR3 memory voltage can be set between 1.250 Volt up to 2.065 Volt. The GPU can be adjusted from 350 MHz to 2000 MHz and the Sideport memory can be clocked from 533 MHz to 1700 MHz.
Who don't know all of these settings or who don't like to know more about overclocking, can try to overclock the PC over the turbo 30 menu.
In the turbo 30 menu one can increase the system performance automatically to 30% if the components support it with the necessary luck. Just select the System Performance Increases 30% setting in EZ Overclocking Turbo30 menu and some components of the system will be overclocked by 30 percent. The 2600 MHz CPU is now overclocked to approx. 3120 MHz and also the GPU is overclocked with this setting, whereby it is now also possible to adjust them seperate.
With the CPU Thermal Throttle option, it is possible to lower the CPU frequency on too high internal CPU temperature, to protect the CPU from overheating. Of course this is just a protection – a good cooling is still necessary for overclocking.
As special BIOS feature one can store different BIOS settings with a desired name. Thus one can save for example balanced BIOS settings, overclocking settings and underclocking settings in a user profile of the BIOS to load them very quickly at any time.
BIOS Undervolting …
The downclocking or underclocking was also tested in this review. It was possible to lower the AMD Phenom II 710 CPU multiplier over the BIOS to 0.5x and th processor can be underclocked in such a way with 150 MHz reference clock to approx. 75 MHz. Even if probably nobody like to underclock an AMD Phenom II 710 processor from 3x 2600 MHz to 3x 75 MHz CPU clock. With unlocked fourth core of the AMD Phenom II 710 CPU it was possible to underclock down to 100MHz.
Underclocking and OverClocking is outside of the manufacturers specification, so it's necessary to have a bit luck and ASRock gives several options to overclock or underclock the system more easily.
The BIOS of the passive cooled 890GX Extreme4 motherboard offers a CPU Quiet Fan option (temperature fan control) for a 4-pin CPU fan, a 4-pin CPU fan and a 4-pin chassis fan. Also the other chassis fans can be adjusted manually, so it is not necessarily to buy an additional fan controller.
Power consumption …
Power consumption will vary depending upon the hardware and upon the PC load. The current consumption of the test PC with AMD Phenom II 710 X3 CPU, 4GB DDR3-1333 memory, hard disk drive and Cooler Master Silent Pro M 600 W test PSU was without overclocking depending upon load: – With onBoard HD 4290 without PCIE video card between approx. 85 Watt idle and 121 Watt load. – With Gigabyte GTS250 card the power consumption was between 118W and 190 Watt. – With Sapphire HD4870 video card the power consumption was between 150W and 232 Watt.
Several energy saving options are available on this ASRock motherboard. The ASRock 890GX Extreme4 board offers the Away Mode, which is particularly very important when using Microsoft Windows MCE (Media Center Edition) to e.g. record TV shows when the PC system is nearly powered off. Who like to boot much faster, should try the ASRock Instant Boot function. Furthermore IES (Intelligent Energy Saver) reduces the power consumption by lowering voltages on less load. The features can be e.g. adjusted with the included OC Tuner Software and in our test it was also possible to overclock with activated CnQ feature.
Result …
The ASRock 890GX Extreme4 AMD Socket AM3 motherboard for DDR3 memory modules reached in our review the so far highest overclocking results. Thanks to the AMD 890GX chipset with HD4290 and 128MB sideport memory, the ASRock 890GX Extreme4 offers a good performance without additional video card and also contains a lot of new features.
The basic equipment is great and offers five SATA3 ports with RAID support, one eSATA3 connector, two USB 3.0 ports on the I/O panel, two USB 3.0 front panel ports, up to ten possible USB 2.0 ports, two possible IEEE1394 ports, Gigabit LAN, 7.1 sound, analog sound output over five connectors, digital sound output over an optical SPDIF connector and video output over D-Sub, DVI-D or HDMI. A floppy disk connector, conventional IDE connectors, parallel port and a few other older standards are not anymore available. But of course there are a lot of ways to get these interfaces with I/O cards, SATA to IDE adapter, USB to LPT adapters or similar hardware.
The price is a bit higher than the price of the previously tested ASRock 890GX Extreme3 motherboard, but with the new features and the enclosed USB3.0 front panel is the motherboard price still reasonable.
With these enormously high overclocking results, the ASRock 890GX Extreme4 motherboard earns the coveted Redaktion ocinside.de OverClocking Dream Award 10/2010.
All in all this ATX board is thanks to the very high overclocking results perfectly suitable for a high-end AMD Socket AM3 PC and thanks to the integrated graphics it can be additionally as HTPC used.
Here you can buy the ASRock 890GX Extreme4 motherboard.
Special thanks to ASRock for their support.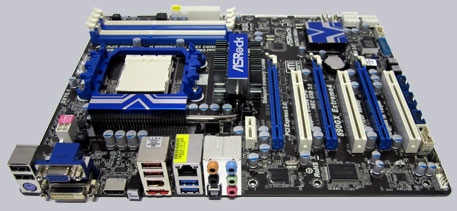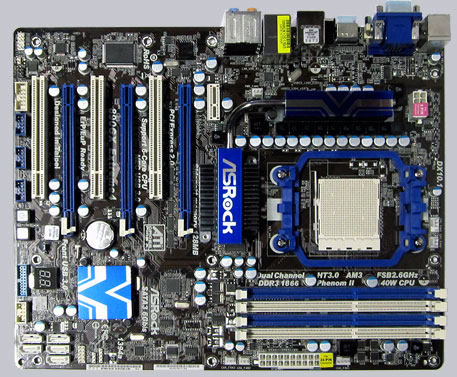 * All Socket AM2 / AM3 PCIe motherboard reviews since 01.07.2010 are based on an AMD Phenom II 710 X3 CPU, 1x Gigabyte GV-N250OC-1GI Nvidia GTS250 PCI Express 2.0 video card, 2x Sapphire HD4870 512MB ATI Radeon HD4870 PCI Express 2.0 video cards, 2x 1024MB Crucial Ballistix Tracer DDR2-1066/PC2-8500 memory modules on DDR2 mainboards or 2x 2048MB Crucial Ballistix Tracer DDR3-1333/PC3-10600 memory modules on DDR3 mainboards, Cooler Master Silent Pro M 600W power supply unit and the following software configuration: Microsoft Windows 7 RC, Microsoft Windows Vista Ultimate, Windows XP SP2, SiSoftware Sandra 2010c, Futuremark 3DMark03, 3DMark06 and 3DMark Vantage (the software is available in the Links & Downloads section). All benchmark results only offer a comparison among themselves for a rough motherboard performance comparison.
Back to the AMD Athlon 64 and AMD Phenom motherboard comparison !