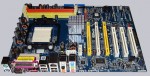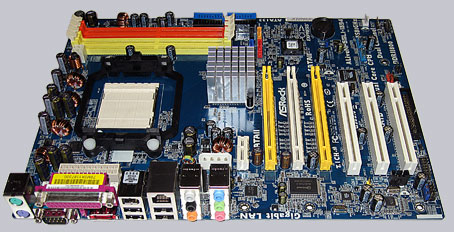 Result and general impression
+++ The ASRock ALiveNF5SLI-1394 motherboard has a price of approx. 55 Euro (03/2008) and is thus in the lower price segment of the Socket AM2 motherboards.
The ASRock ALiveNF5SLI-1394 Socket AM2 motherboard is based on the nForce 560 SLI chipset, which is better known as nVidia NF4SLI or NF500SLI. This ASRock motherboard with SLI technology and AMD Phenom CPU support is available for a little bit more than 50 Euro. The following overclocking review will show, if ASRock succeeded once again in creating an attractive board for AMD processors and if this board offers nice overclocking features.
Let us start with the equipment of the PCIe 16x or PCIe 8x SLI board for Socket AM2 CPUs.
Equipment and features …
As already mentioned in the recent PCIe SLI (2 PCIe graphics card slots) reviews, most of the SLI motherboards offers just 2 PCI slots, due to the standardized ATX form factor. ASRock managed it with a good board layout to place all the 3 PCI slots in spite of both PCIe 8x SLI slots for the video cards, one PCIe 16x slot and one PCIe 1x expansion slot.
Depending on the video cards and applications, the performance difference from PCIe 16x to 8x is very small, but this ALiveNF5SLI-1394 nevertheless offers one PCIe 16x Slot, which you should use, if you like to install only one video card instead of two 8x cards in SLI mode.
The ASRock ALiveNF5SLI-1394 can be equipped with a total of 4 memory modules and is thus upgradeable up to 8 GB memory. The total amount depends on the operating system used.
In addition the board offers two IDE connectors for up to four conventional ATA 133 drives, four SATA II ports (3 Gb/s) with RAID support and one eSATA-II port for external harddisks, which have to be installed at one of the four internal SATA-II ports. A bootable CDROM with drivers is included in the scope of delivery and the manual offers all information you need to manage a new Microsoft Windows Vista or Windows XP installation with SATA drives or how to install and configurate RAID.
The board offers four USB 2.0 ports and one IEEE1394 firewire port at the ATX panel, two internal USB 2.0 plugs for up to four optional USB ports and one internal optional IEEE1394a firewire port for e.g. chassis with a front panel IEEE1394 connector. The ATX panel also provides an onboard 10/100/1000 LAN connector with WoL (Wake on Lan), one parallel port, one serial port and two PS/2 ports.
ASRock is using the C-Media CM 6501 sound chip on this ALiveNF5SLI-1394. It supports full 7.1 Surround sound and it is Microsoft Windows Vista Premium level compatible. The ATX panel has six 3.5mm sound connectors and there's also an internal HDMI SPDIF output for digital sound support.
BIOS and overclocking …
Let us go on with the BIOS options and with the BIOS overclocking. By pressing the F2 key, you get access to the AMI BIOS with all important hardware settings.
The BIOS offers some DDR2 memory settings like the memory frequency setting from 200 MHz over 266 MHz and 333 MHz up to 400 MHz (DDR2 400/533/667/800). The host clock is adjustable from 150 MHz up to 400 MHz and the HT (hypertransport) frequency is adjustable from 1x to 5x (200-1000 MHz). The PCIe frequency is adjustable from 75 MHz up to 200 MHz and with the asynchronous or synchronous setting of the CPU/PCIe bus, it is possible to increase the host frequence independent of the PCI and PCIe clock.
With asychronus clock setting, low multiplier and reduced HT clock it was possible to reach an enormous reference clock of 358MHz. This is a brilliant result for high CPU overclocking. The boot failure guard was checked in this review as well and it was possible to start the PC with too high overclocking settings without using the Clear CMOS Jumper. In spite of the somewhat low Vcore, the AMD Athlon64 3000+ Socket AM2 CPU used in this review reached a CPU frequency of about 2800MHz instead of the default 1800MHz.
The BIOS offers a CPU voltage (Vcore) setting, but it's only adjustable up to the maximum Vcore of the processor. If necessary, the Vcore can be increased with this Socket AM2 pin mod guide. Additionally, the BIOS offers a variable DDR2 memory voltage setting between 1.85 and 2.05 Volt and a variable NBCore (chipset voltage) setting between 1.50 Volt and 1.80 Volt.
And last but not least, this ALiveNF5SLI-1394 BIOS supports an integrated "CPU Quiet Fan" option, a temperature fan-control option for 4-pin CPU fans.
Result …
The ASRock ALiveNF5SLI-1394 nForce560 SLI AM2 motherboard offers good overclocking options and reached a very high reference clock OC result.
If you don't need additional blingbling and if you like to have a stable PCIe SLI motherboard with a good basic equipment, this is the right choice for you.
Because not just the OC features exceed the expectations of this inexpensive motherboard, but also the equipment with Gigabit LAN, 7.1 surround sound over six connectors, up to eight USB ports, two firewire ports, four SATA II connectors and two IDE connectors for up to four IDE devices are really nice.
All in all, this ASRock ALiveNF5SLI-1394 motherboard is an inexpensive solution for a high performance office and gaming PC. And the low price leaves enough money for the other components.
Special thanks to ASRock for their support.
Picture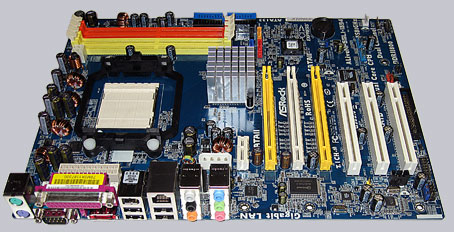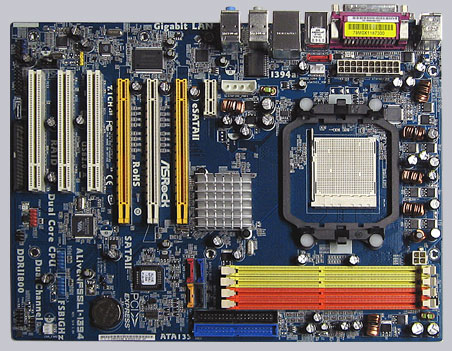 **** All Socket 939 motherboard reviews since 01.11.2006 are based on an AMD Athlon 64 3000+ Orleans CPU, 1x (or SLI systems with 2x) Gigabyte GV-NX66T128VP Nvidia 6600 GT PCI Express video cards, 2x512MB Crucial Ballistix DDR2-800/PC2-6400 memory modules and the following software configuration: Microsoft Windows XP SP2, DirectX 9.0c, Forceware 81.85 video driver and 3DMark 2003. All benchmark results should only offer a comparison among themselves for a comparison.