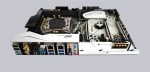 Layout, Design and Features …
The ASRock X99 Taichi Socket 2011-3 motherboard carboard box is stylish and matches the motherboard style.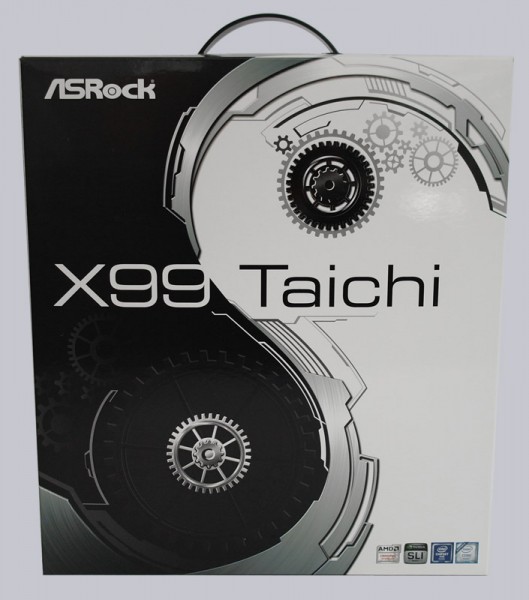 The back of the package shows a lot of features of the ASRock high-end motherboard, like WiFi 802.11ac, two Teaming capable LAN Ports and much more.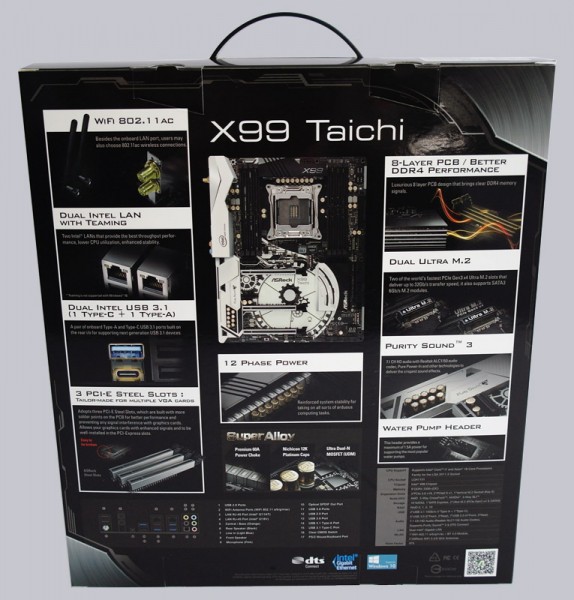 Let us open the box to get a first look at the content.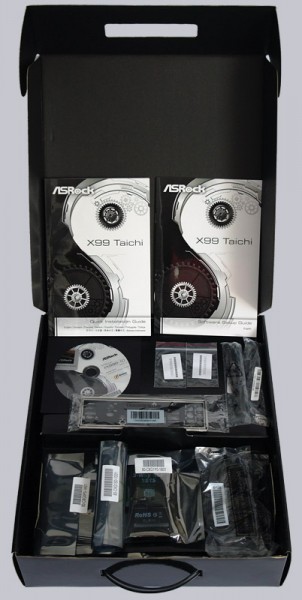 Like other high-quality ASRock motherboards, this motherboard is also wrapped with foam for safe delivery.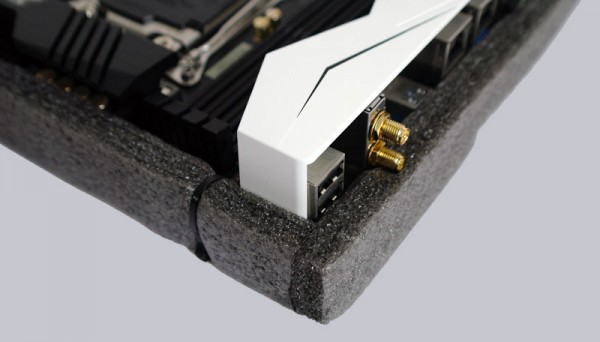 Already at first glance, the ASRock X99 Taichi high density sapphire black fiber board looks very high-quality processed and has very durable Nichicon 12K Platinum Caps capacitors, as well as 12 Power Phase Design, Digi power, Ultra Dual-N MOSFET and Purity Sound 3 with Nichicon Fine Gold Audio capacitors, 115dB SNR DAC and TI NE5532 headset amplifier.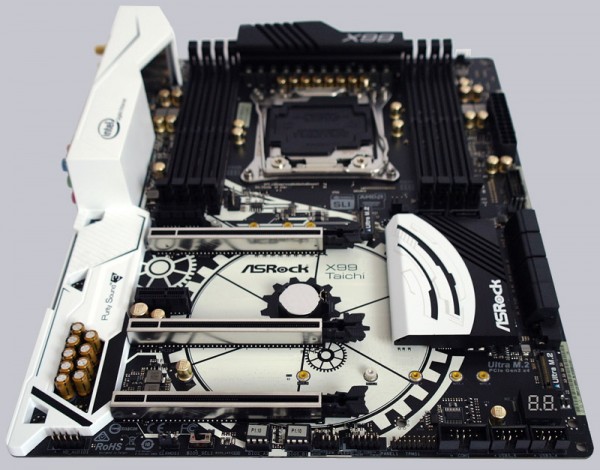 The ASRock X99 Taichi again offers the Dr. Debug 7-segment LED post code display and two fast Ultra M.2 slots for PCIe Gen3 x4 modules with up to 32 GB/s. On the picture you can see the M.2 slot, which can be equipped in addition to conventional 2230/2242/2260/2280 M.2 modules also with up to 22110 length. the two UEFI BIOS ICs with a switch, and two buttons for power and reset. The buttons are of course again LED illuminated.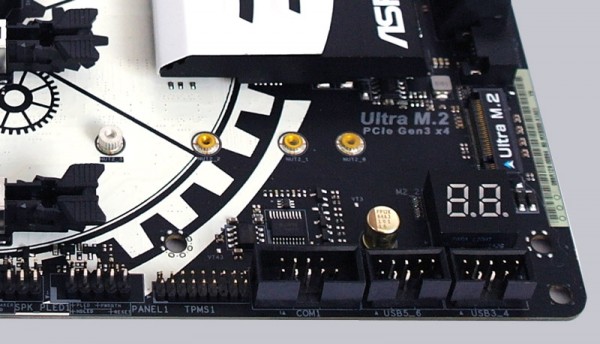 In addition the X99 Taichi has a switch for the selection of the UEFI BIOS ICs. Here you can see the two 128 MB UEFI BIOS ICs with A/B switch, but later more on the UEFI review page.


Here you can see the internal USB3.0 connector, beneath to the high-quality 12K Platinum capacitors and the 24-pin ATX power connector.


Here is a side view of the motherboard with the I/O Panel cover and the large XXL heatsink in aluminum alloy, which is very carefully assembled on MOSFETs and chipset.


Contrary to the LGA1151 Socket, the LGA2011 Socket and this 2011-3 Socket have two levers, to ensure an optimum pressure of the CPU on the socket contacts.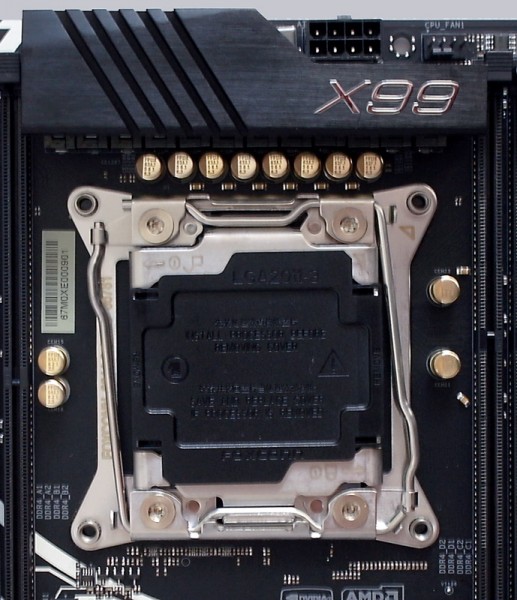 So let us install the Intel Core-i7 6900K Broadwell-E CPU in the LGA2011-v3 Socket.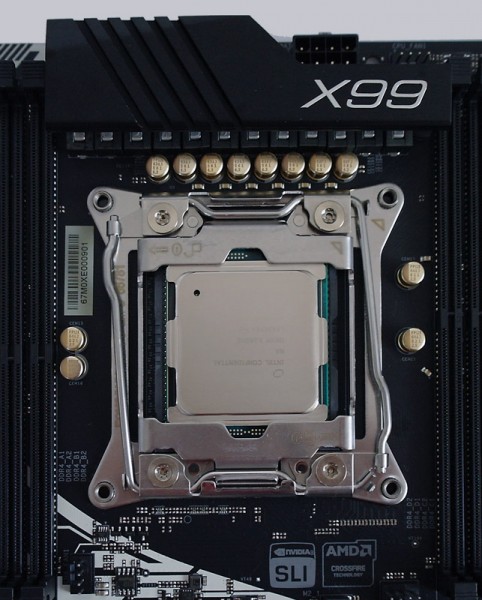 This is how four of eight possible memory modules have to be installed on this X99 motherboard to get quad channel mode support.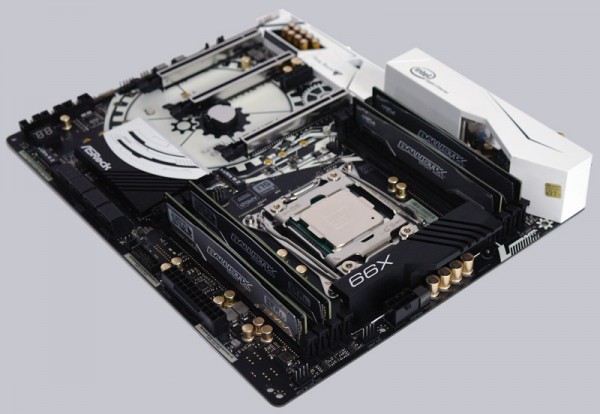 Here is again a top view of the correct memory assembly.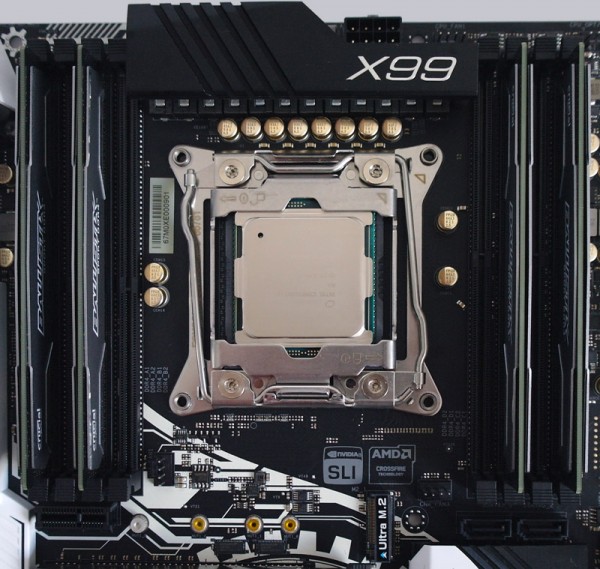 Here is the LGA 2011-3 test system.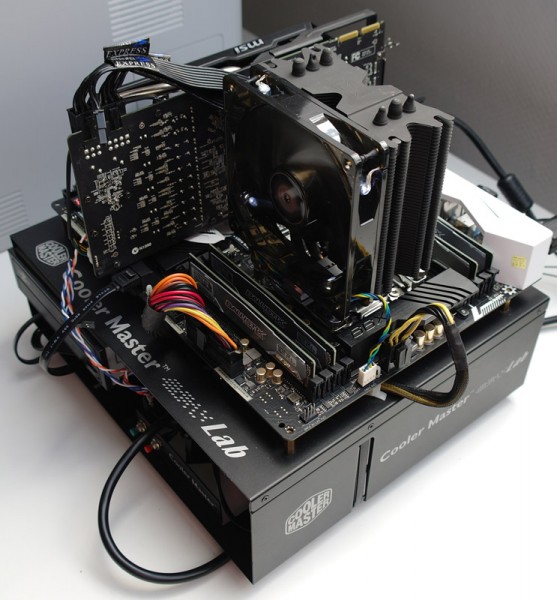 Equipment and other features …
The ASRock X99 Taichi motherboard came with a manual, software setup guide, DVD, six SATA data cables, SLI HB Bridge 2S, SLI Bridge 2S, 3-way SLI-2S1S bridge, two screws for the M.2 sockets, two ASRock WiFi 2,4/5 GHz antennas and an ATX I/O shield. USB Slot brackets and the ASRock 3.5-inch USB 3.0 front panel are optional available.
The ASRock X99 Taichi offers numerous features like for example the ASRock A-Tuning Tool, ASRock Instant Flash, ASRock Internet Flash, ASRock APP Charger, ASRock Fast Boot, ASRock Restart to UEFI, ASRock XFast USB, ASRock XFast LAN, ASRock XFast RAM, ASRock Crashless BIOS, ASRock Online Management Guard, ASRock UEFI System Browser, ASRock Easy RAID Installer, ASRock Easy Driver Installer, ASRock UEFI Tech Service, ASRock Good Night LED, ASRock USB Key, Purity Sound 3, Secure Backup UEFI, 12 Power Phase Design, Digi Power and ASRock FAN-Tastic Tuning.
Expansion cards …
The Board seven PCI Express 3.0 slots for AMD CrossFireX or nVidia SLI, whereby either one graphics card with x16 bandwidth or up to four graphics cards with x16 lanes bandwidth can be installed. The motherboard comes with a CrossFire bridge, a 3-way SLI bridge and 4-Way SLI bridge. More SLI/XFire switch cards are not required to obtain optimum performance for single or CrossFireX or 3-way CrossFireX, 4-Way CrossFireX or Quad SLI mode.
Memory …
The ASRock X99 Taichi can be equipped with up to eight DDR4 modules and is expandable depending upon operating system used (see list) up to maximally 128GB memory.
Here you can see a picture of the eight DDR4 memory slots with quad channel support, you should install them necessarily first in the slots DDR4_A1, B1, C1 and D1: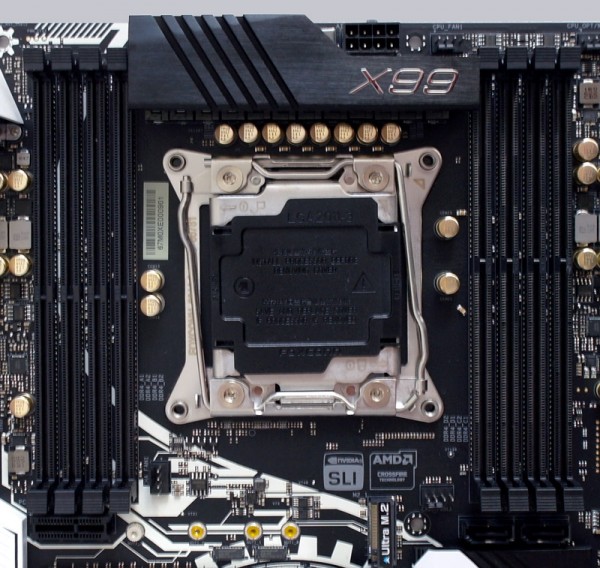 The Intel LGA2011-3 motherboard supports DDR4 memory modules and can be optimized in the BIOS for DDR4-2133 Quad Channel modules with an Intel Haswell-E processor. UEFI offers the selection for DDR4-800, DDR4-1000, DDR4-1066, DDR4-1200, DDR4-1333, DDR4-1400, DDR4-1600, DDR4-1800, DDR4-1866, DDR4-2000, DDR4-2133, DDR4-2200, DDR4-2400, DDR4-2666, up to DDR4-4000 and higher clock-rates are currently possible with Intel BCLK overclocking or from DDR4-2600 to DDR4-4133 by OC presets (see on the next page in the UEFI OC test part).
Thanks to XMP support (Intel Extreme Memory Profiles), XMP memory modules are set correctly with one mouse click in the UEFI and of course there are far more memory adjustments and more OC-options, but more on that later. Before buying the RAM, you should check the officially supported RAM modules at the ASRock memory support page.
Hard disk drive connectors …
The ASRock X99 Taichi offers 8 angled SATA3 ports, two direct SATA3 ports and a shared SATA Express 10 Gb/s port.
Here you can see the SATA3 ports, whereby you should connect the boot device on SATA3_0: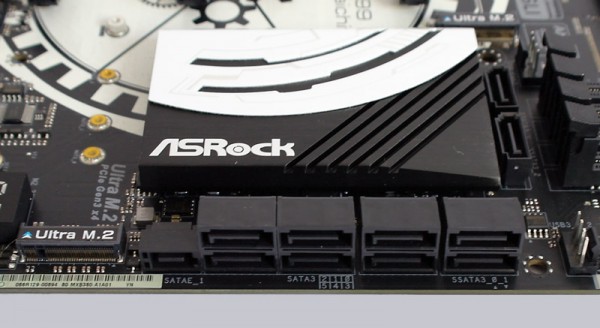 The SATA 3 ports are supporting RAID 0, RAID 1, RAID 5, RAID 10, Intel Rapid Storage Technology 13, NCQ, AHCI and the Hot Plug function in AHCI mode (AHCI stands for Advanced Host Controller Interface and can/should be selected in the UEFI). Thanks to the UEFI BIOS also drives with more than 2 TB for the installation of Windows 10, Windows 8 or Windows 7 x64 can be installed. Installing the drivers was absolutely no problem even with Windows 10 and the Windows 10 installation was done very quickly.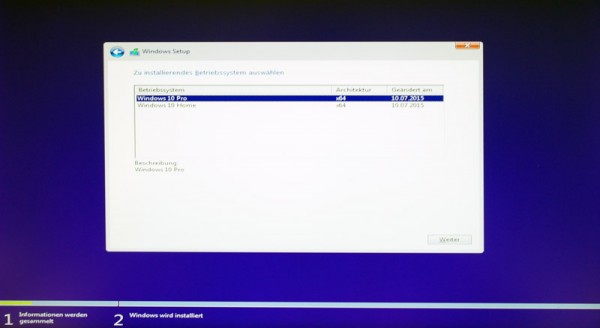 Drivers for Windows 10, Windows 8 and Windows 7 32-Bit and 64-Bit can be installed over the Easy Driver Installer or Easy RAID Installer button in the UEFI, are provided on the DVD, and can be downloaded at the ASRock support page.
USB and FireWire …
The ASRock X99 Taichi has two new USB 3.1 ports at the ATX panel: 1x USB 3.1 Type-A (top) and 1x USB 3.1 Type-C (bottom, can be inserted in both directions), each with up to 10 Gb/s.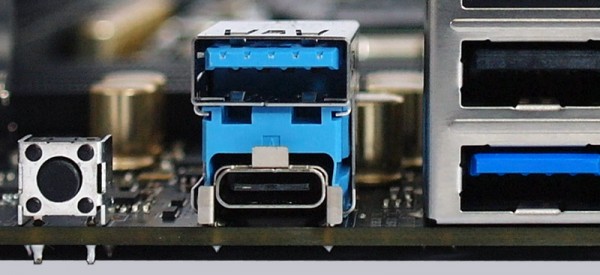 Furthermore it has three USB 3.0 ports and three USB 2.0 ports on the ATX Panel. Internally there are two more USB 2.0 connectors for up to four optional USB 2.0 ports, as well as one USB 3.0 connector for up to two optional USB3.0 ports are available. The 20-pin connector can be connected either to an optional USB3.0 front panel or to an enclosure with USB3.0 support.
Network …
The ASRock X99 Taichi motherboard is equipped with Intel I219V and Intel I211AT, offering the 10/100/1000 network connector on the ATX panel. The LAN connections are WoL capable, offers LAN cable detection, supports the 802.3az energy efficient Ethernet standard and supports Intel Remote Wake Technology, ASRock Full Spike Protection, PXE and more. Additionally it has onboard WLAN 2,4/5 GHz IEEE 802.11a/b/g/n/ac with up to 433 Mbps.


Serial port and parallel port …
The serial COM port is available as internal connector on the motherboard. It does not provide a parallel port.
Sound …
The ASRock X99 Taichi motherboard is equipped with the ALC1150 audio codec with content protection, 115dB SNR DAC, TI NE5532 Premium Headset Amplifier and Purity Sound 3, which supports 7.1 surround sound for example analog over 5x 3.5mm connectors on the ATX panel or over an internal frontpanel audio connector. Additionally, there is an optical SPDIF digital output and premium Blu-Ray audio support. So most users do not need to buy an additional sound card with digital outputs.
ATX back panel connectors …

From left to right, you can see 1x PS/2 connector for PS/2 keyboard or PS/2 mouse and 2x USB 2.0, WiFi antenna connectors, Clear CMOS button, USB 3.1 Typ-A port and USB 3.1 Typ-C port, Intel RJ45 Gigabit LAN and 1x USB 2.0 and 1x USB 3.0, 1x Intel RJ45 Gigabit LAN and 2x USB 3.0, optical SPDIF output and 5x 3.5mm jacks for sound.
ASRock X99 Taichi BIOS and Overclocking …