Result and general impression
++++ The Foxconn N570SM2AA-8EKRS2H motherboard has a price of approx. 100 Euro (02/2007) and is thus in the middle price segment of the Socket AM2 PCIe SLI motherboards.
The brand-new N570SM2AA-8EKRS2H motherboard from the company Foxconn reminds on the recently awarded C51XEM2AA-8EKRS2H motherboard. However, the current pendant with a nForce 570 SLI chipset is more inexpensive and offers a better equipment. Unfortunately this board is not as well overclockable, but the results are still very nice compared to the 25 previously tested AMD Athlon 64 motherboards!
Equipment and other features …
As already mentioned in the recent PCIe SLI (2 PCIe graphics card slots) reviews, most of the SLI motherboards offer just 2 PCI slots, due to the standardized ATX form factor. Foxconn also didn't manage to place three PCI slots in addition to both PCIe slots.
However, two PCIe 16x/8x slots and two PCIe 1x slots leave nothing to be desired for newer extension cards.
The recently tested C51XEM2AA board didn't offer any parallel- or serial port, but fortunately this new N570SM2AA board in the version "8EKRS2H" has a parallel port, an IrDA interface and at least one optional COM port, which can be make available with an optional slot bracket.
All owners of a LCD or G-LCD Displays, or owners of older printers for the LPT port can take a deep breath, because Foxconn still provides these necessary ports.
Also the IDE port is once again available with two ports for up to four ATA 133 hard drives on this nForce 570 SLI motherboard.
It is thus quite possible, to remain backward-compatible without considerable losses of new technologies, because the N570SM2AA-8EKRS2H has even 8x SATA II (RAID) connectors. The manual also includes all of the information you need to manage a new Microsoft Windows installation with a primary S-ATA HDD and how to build a RAID.
The Foxconn N570SM2AA motherboard can be equipped with a total of 4 memory modules and is depending on the operating system used, upgradeable up to 8 GB memory. The allocation for the DUAL Channel memory assembly is explained in the user manual and shown by colored DDRII slots.
Furthermore there are 4x USB 2.0 connectors at the ATX panel and three internal USB 2.0 plugs for 6 additional USB 2.0 ports (optional, because there's no slot bracket contained in package). One of the two IEEE1394a (400 MBit/s) ports are also optional, but this board offers two onBoard 1 Gigabit LAN connectors with WoL support (Wake on LAN), which is useful for two seperate network areas.
The new onboard RealTek ALC-882H sound chip offers the full 7.1 Surround sound over 6x 3.5mm connectors and digital outputs with the Coax and Cinch S/PDIF connector at the ATX panel.
Here is a picture of the ample connectors at the ATX panel …

BIOS and Overclocking …
Let us now begin with the BIOS options and the BIOS overclocking. By pressing the Delete key, you get access to the Award BIOS with all hardware settings.
In the BIOS are extensive memory settings like the memory frequency setting from 200 MHz over 266 MHz and 333 MHz up to 400 MHz (DDR2 400/533/667/800) and a host clock from 200 MHz up to 450 MHz. The HT (hypertransport) multiplier can be adjusted from 1x to 5x (200-1000 MHz) and supports with a frequency doubling up to 2000 MHz.
In the overclocking test it was possible to get the host clock stable up to 280 MHz. For the AMD Athlon64 3000+ Socket AM2 CPU with the 9x multiplier lock (upward locked) it results in approx. 2520 MHz.
The result was reached with default chipset voltage and can be overclocked much more with increased voltages – thanks to the active chipset cooling. These results seems to be very low compared to the nForce 590 SLI chipset (overclocked to 330 MHz), but the nForce 590 SLI chipset is the exception.
There are also several settings for the memory voltage, CPU voltage, the chipset voltage and the overview of all important values in the system monitor page of the BIOS.
However, the board often hangs-up while watching the PC Health status menu. This phenomenon also occurred for example with some EPoX motherboards and thus seems to be a problem for several companies. Let us hope, that this bug can be fixed with a new BIOS update in the future, because a look into the PC Health menu is sometimes important and the smart fan control, as well as the automatic overheat shutdown option which is integrated in this menu may also be very helpful.
Result …
The Foxconn N570SM2AA-8EKRS2H Socket AM2 PCIe SLI motherboard offers a very good composition of comfort, overclocking and performance at a favourable price.
The nVidia nForce 570 SLI chipset is unfortunately not as overclockable as its nForce 590 SLI pendant, but the cost-performance ratio of the Foxconn N570SM2AA-8EKRS2H is even much better than the previous OverClocking Dream Award winner C51XEM2AA-8EKRS2H.
Two PCI express slots, four DDR2-800 slots up to 8 GB memory, eight S-ATA II connectors, ten USB 2.0 ports, two 1 Gigabit LAN connectors are only some highlights of this Socket AM2 motherboard from the company Foxconn. Also the parallel port and two conventional IDE ports for up to four ATA-133 disk drives are available on this motherboard which surely can convince several PC Freaks to purchase this board.
This Foxconn N570SM2AA narrowly missed the OverClocking Dream award due to the "usual" overclockability, but nevertheless it is very interesting and very recommended for all-rounder.
Special thanks to Foxconn for their support.
Picture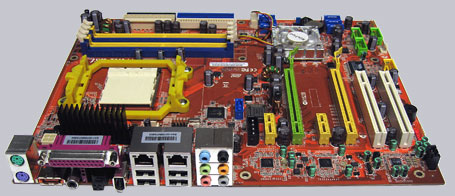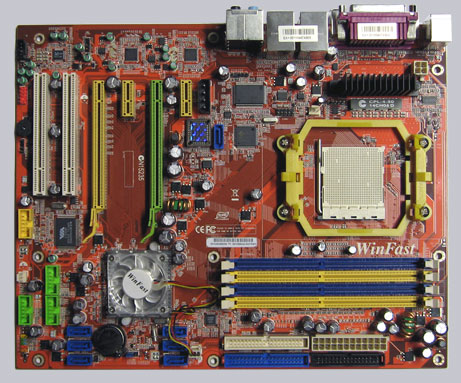 **** All Socket 939 motherboard reviews since 01.11.2006 are based on an AMD Athlon 64 3000+ Orleans CPU, 1x (or SLI systems with 2x) Gigabyte GV-NX66T128VP Nvidia 6600 GT PCI Express video cards, 2x512MB Crucial Ballistix DDR2-800/PC2-6400 memory modules and the following software configuration: Microsoft Windows XP SP2, DirectX 9.0c, Forceware 81.85 video driver and 3DMark 2003. All benchmark results should only offer a comparison among themselves for a comparison.