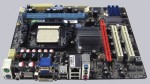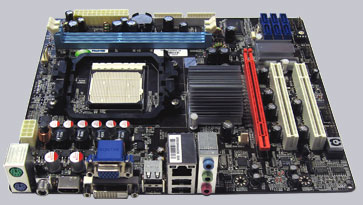 Result and general impression
+++ The Sapphire PI-AM3RS785G motherboard has a price of approx. 70 Euro (01/2010) and is thus in the lower price segment of the Socket AM3 motherboards.
Some Socket AM3 motherboards with AMD 7xx chipset were already tested at ocinside.de and today the Sapphire PI-AM3RS785G is overclocked and tested. The micro ATX motherboard is based on the AMD 785G chipset with SB710 southbridge and it has a HD4200 onBoard graphics unit with 128MB sideport memory. This combination was already very powerful in previously tested AMD 785G standard ATX boards. In the current review we will see if the Sapphire micro ATX motherboard performance is also impressive and if it is recommendable for example to build a HTPC.
The green and black cardboard box shows unmistakably that this Sapphire PURE 785G AM3 is a mainboard for AMD processors: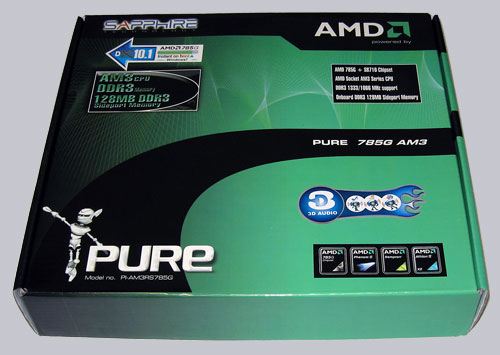 Equipment and other features …
Sapphire's PI-AM3RS785G motherboard comes with a manual, one CD, one SATA data cable, one SATA power cable and one ATX I/O panel.
Expansion cards …
This micro ATX motherboard offers one x16 PCI Express 2.0 video card slot and two PCI slots. There's no additional x1 PCIe 2.0 slot on this board.
Memory …
The Sapphire PI-AM3RS785G can be only equipped with up to two DDR3 modules and is depending on the operating system used (see list) expandable to maximally 8 GB memory.
This Socket AM3 motherboard supports DDR3 memory modules and can be optimized in the BIOS for DDR3-800, DDR3-1066, DDR3-1333 or DDR3-1600 (OC) Dual Channel modules.
Hard disk drive connectors …
The motherboard offers one IDE connector for maximally two conventional ATA 133 drives and six SATA II connectors (3 Gb/s). The S-ATA II ports supports RAID 0, RAID 1 and RAID 10. RAID level 5 isn't supported by the SB710 southbridge unlike the SB750.
The manual contains all basic information to manage a new installation of Windows XP, Windows Vista or Windows 7 with S-ATA hard disk drives and how to setup a RAID.
USB and Firewire …
The board has four USB 2.0 connectors at the ATX panel and two internal USB 2.0 plugs for up to four optional USB ports. Sapphire utilize eight of the 12 total possible USB ports of the 785G chipset and did not integrate a IEEE1394 firewire port.
Network …
The Sapphire PI-AM3RS785G motherboard uses the Realtek RTL 8111 DL chip to actualize a 10/100/1000 network connector at the ATX panel.
Serial and parallel port …
This motherboard does not provide a parallel port and the serial port is only optionally available as internal COM port header.
Sound …
The Sapphire PI-AM3RS785G motherboard is equipped with the ALC662 HD audio codec, which supports 5.1 surround sound for example analog over its 3x 3.5mm connectors at the ATX panel or over the internal connector. A special feature is the 3D-sound button on the Sapphire motherboard, to activate or deactivate the 3D sound by hardware.
For the digital output there is one internal HDMI SPDIF out connector available to connect it for example with a SPDIF cable to a HDMI suited video card, in order to get the digital audio and video signal to a HDMI equipment like a LCD TV.
Over the BIOS function "HDMI Audio" it is possible to set the digital sound output to the integrated HDMI port. Additionally there is also an coaxial digital SPDIF output at the ATX I/O panel.
The lower picture range shows the 3D sound button from Sapphire: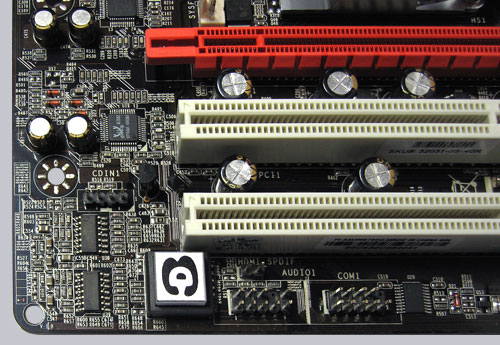 Graphics …
The ATI Radeon HD 4200 graphics processor of AMDs' 785G chipset is DirectX 10.1 capable, has an integrated 128MB Sideport RAM on the Sapphire PI-AM3RS785G motherboard, supports HDCP, Full HD 1080p and offers thanks to the onBoard HDMI connector optimal conditions for a Home theatre PC.
In order to run benchmark programs like e.g. 3DMark Vantage or 3DMark06 with the HD4200, it was necessary inspite of the current 0906a hotfix to update a DLL file so that the new HD4200 IGP was recognized.
The benchmark results of the onboard graphics unit are also on the Sapphire PURE 785G AM3 board really amazing and are thanks to the higher frequency higher than the results of the previously tested ASRock M3A785GXH/128M motherboard.
A benchmark comparison to one nVidia GTS250 PCI Express video card with 12528 3DMark06 points or one ATI Radeon HD4870 PCIe video card with 13350 3DMark06 points, the 2169 points of the onBoard HD4200 video processor seems very slow, but it is nevertheless higher than a benchmark result of a Nvidia 6600 GT PCIe card.
Here is a picture of the integrated 128MB sideport memory: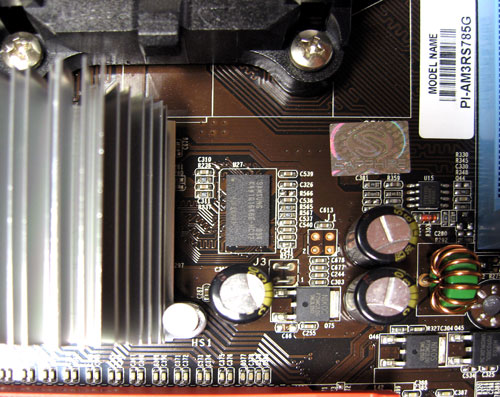 BIOS and Overclocking …
Let us continue with BIOS options and BIOS overclocking. By pressing the Del key, you get access to the AMI BIOS with all important hardware settings. The BIOS startup screen is usually a fullscreen logo which can be deactivated in the Advanced BIOS Features menu with the option "Full Screen Logo Show" set to disabled. It makes more sense to deactivate the fullscreen logo during the first adjustment, because the BIOS post details only becomes visible with deactivated fullscreen logo.
Here is a photo of the first boot screen: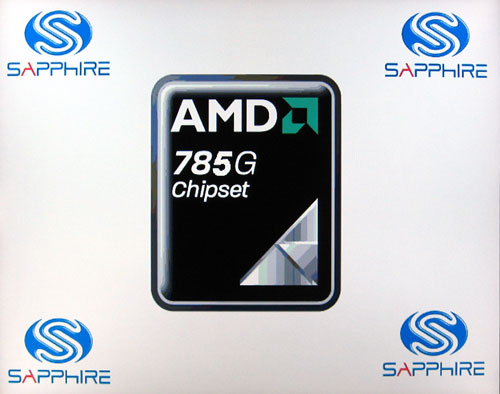 The PI-AM3RS785G Ver.3 was at the latest available BIOS version at that testing time, whereas Sapphire socketed the 8MB Flash BIOS DIP IC on their motherboard.
The BIOS offers dozens of DDR3 memory settings like e.g. the memory frequency adjustment from 400 MHz over 533 MHz and 667 MHz on up to 800 MHz (DDR3 800/1066/1333/1600).
Its host clock is adjustable from 190 MHz up to 600 MHz, the NB divisor can be adjusted from 4x to 10x and the HT (hypertransport) frequency is adjustable from 200 to 2000 MHz. The PCIe frequency is adjustable from 90 MHz up to 250 MHz and the SB clock can be set independent of the host clock to a value between 90 and 150 MHz.
It was possible to overclock the Sapphire PI-AM3RS785G up to 320 MHz reference clock, but it was not possible to restart the testboard on this high setting. One reason for this phenomen could be the sequence of the BIOS post, whereby for example the reference clock is increased before the respective divisors. In this case it would be helpful to get a new BIOS update from Sapphire. Anyway, the OC result is nevertheless good, because even with the stable running 290 MHz most processors with locked multiplier can reach very high overclocking results..
Here is a Screenshot of the AMD Phenom II X3 710 CPU with 10x 320MHz on 3.20 GHz: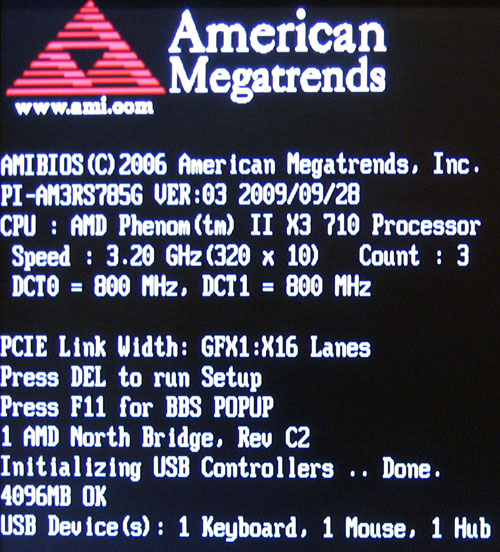 Terrible was the missing boot failure guard, which makes it necessary to set the Clear CMOS Jumper to get the PC running on standard values every time when the overclocking settings were too high. It would be desirable to have a popular boot failure guard to watch the proper startup.
Furthermore, this board offers a NB voltage setting from 1.10 Volt to 1.20 Volt and a Vcore setting on the Phenom II test CPU from 0.800 Volt to 1.300 Volt. The DDR3 memory voltage can be set between 1.55 Volt and 1.70 Volt in steps of 0.05 Volt. The GPU can be adjusted from 150 MHz to 999 MHz (default 700 MHz) and the Sideport memory can be clocked from 200 MHz to 667 MHz.
The downclocking or underclocking was also tested in this review. It was possible to lower the AMD Phenom II 710 CPU multiplier over the BIOS to 4x and the processor can be underclocked in such a way with 190 MHz reference clock to approx. 760 MHz.
The current consumption of the test PC with AMD Phenom II 710 X3 CPU, Nvidia GTS250 PCIe 2.0 video card, 4GB DDR3-1333 memory and hard disk drive was without overclocking and depending upon load between approx. 64 Watt up to 129 Watt. The PC power consumption with AMD Phenom II 710 X3 CPU, ATI Radeon HD4870 PCIe 2.0 video card, 4GB DDR3-1333 memory and hard disk drive was without overclocking and depending upon load between approx. 83 Watt up to 143 Watt. The current consumption without video card with onBoard HD 4200 graphics was depending upon load between approx. 47 Watts up to 66 Watts.
The SB710 southbridge temperature was only 35.8°C after several benchmarks and the AMD 785G temperature was approx. 32.4°C.
The BIOS of the passive cooled PI-AM3RS785G motherboard offers by the way a 4-step CPU Quiet Fan option (temperature fan control) for 4-pin CPU fans between 0°C and 127°C.
Result …
The Sapphire PI-AM3RS785G AMD Socket AM3 micro ATX motherboard for DDR3 RAM offers thanks to the AMD 785G chipset a very fast onboard graphics unit and good overclocking results.
The equipment of the Sapphire PI-AM3RS785G motherboard is unfortunately not so extensive by the micro ATX form factor, but Gigabit LAN, 5.1 sound, digital sound output over one coax and one internal SPDIF connector, up to eight possible USB ports, six SATA II ports with RAID support and video outputs over D-Sub, DVI-D or HDMI are a good basic equipment for such a board size.
The integrated HD4200 GPU / graphics processor unit of the AMD 785G chipset with additional 128MB sideport memory is also on this motherboard an impressive fast solution and should be a perfect and sufficient video solution for many users. Who like to get more graphics performance can upgrade the board with a fast x16 PCI Express 2.0 video card.
All in all this Sapphire PI-AM3RS785G micro ATX motherboard is thus well suitable for a HTPC and can be overclocked to improve the performance. So Sapphire send a good Micro ATX board for smaller PCs into the race with this PURE 785G and we can't wait to see more motherboard developments from Sapphire.
Special thanks to Sapphire for their support.
Picture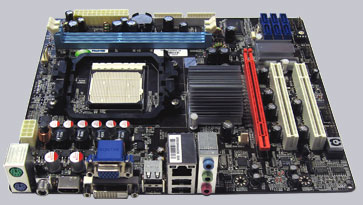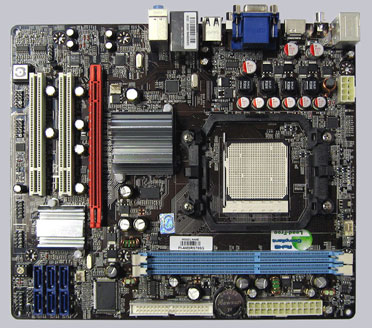 * All Socket AM2 / AM3 motherboard reviews since 01.01.2010 are based on an AMD Phenom II 710 X3 CPU, 1x Gigabyte GV-N250OC-1GI Nvidia GTS250 PCI Express 2.0 video card, 2x Sapphire HD4870 512MB ATI Radeon HD4870 PCI Express 2.0 video cards, 2x 1024MB Crucial Ballistix Tracer DDR2-1066/PC2-8500 memory modules on DDR2 mainboards or 2x 2048MB Crucial Ballistix Tracer DDR3-1333/PC3-10600 memory modules on DDR3 mainboards, and the following software configuration: Microsoft Windows 7 RC, Microsoft Windows Vista Ultimate, Windows XP SP2, SiSoftware Sandra 2009 SP3, Futuremark 3DMark03, 3DMark06 and 3DMark Vantage (the software is available in the Links & Downloads section). All benchmark results only offer a comparison among themselves for a rough motherboard performance comparison.

Back to the AMD Athlon 64 and AMD Phenom motherboard comparison !