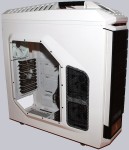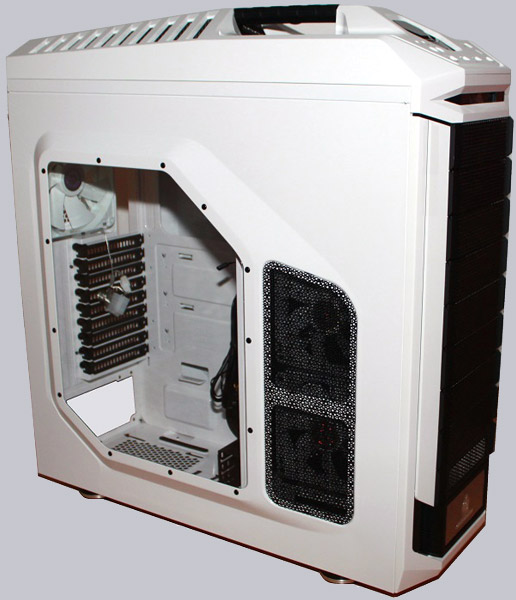 The technical data …
Form factor: The CM Storm Stryker Big-Tower is designed for Micro-ATX, ATX und XL-ATX motherboards.
Dimensions: The dimensions of the case are 250 mm x 605.6 mm x 578.5 mm.
Weight and material: As already mentioned, it is a Big Tower which brings an empty weight of 13.7 kilos.
Drive bays: If you remove the two drive cages the Stryker provides nine 5.25 bays. The two cages can accommodate four 3.5 inch hard drives each. At the bottom of the case there is a also a bay mounted for fout 2.5 inch hard drives (SSD). The front panels are each provided with a small mesh grille that frees, when removed the view up on another clever design element. Behind there is a 3.5 inch recess which can hold small floppy drives or card readers without having to buy a special cover.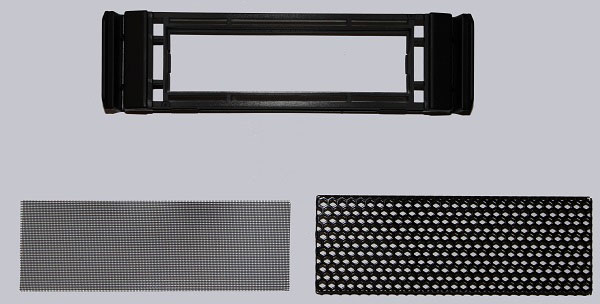 Slots: It is possible to mount up to 7 expansion cards and there is one additional vertical slot.
Cooling: Das CM Storm Stryker Case enthält in der Grundausstattung zwei 120 mm Lüfter in der Gehäusefront, einen 200 mm Lüfter an der Oberseite und einen 140 mm auf der Gehäuserückseite und kann mit zusätzlichen Lüftern erweitert werden.
Miscellaneous: As a special highlight Cooler Master has installed in the front above a 2.5 inch drive caddy named X-Dock, which can hold another Solid State Drive. On top of the case is the control panel. Here is the power and reset button to find, as well as a fan control and LED brightness control. Furthermore, connections for audio (headphone and microphone), two USB 2.0 and two USB 3.0 ports are located there. Unfortunately, an empty field was not populated. The Trooper has an additional e-SATA port at that point. The maximum permissible height of the CPU cooler is specified, according to Cooler Master, at 186 mm, which allows the assembly even large double-tower cooler. Graphics cards can be installed up to a length of 322 mm.
Here you can see the controls and the front panel connectors of the Stryker Big-Tower: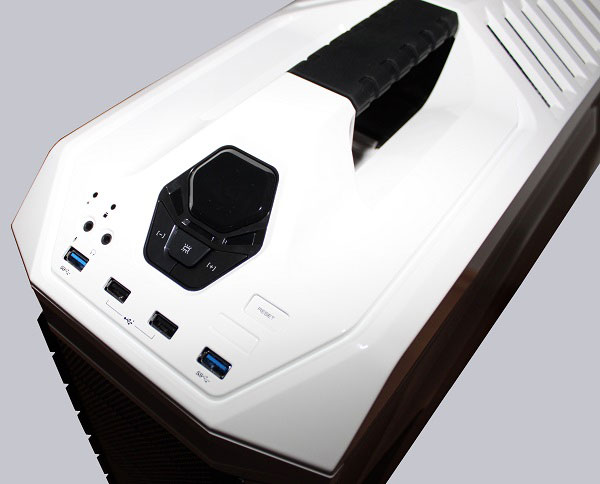 Layout, Design and Features – The CM Storm Stryker Case Exterior …