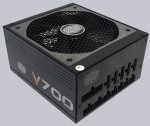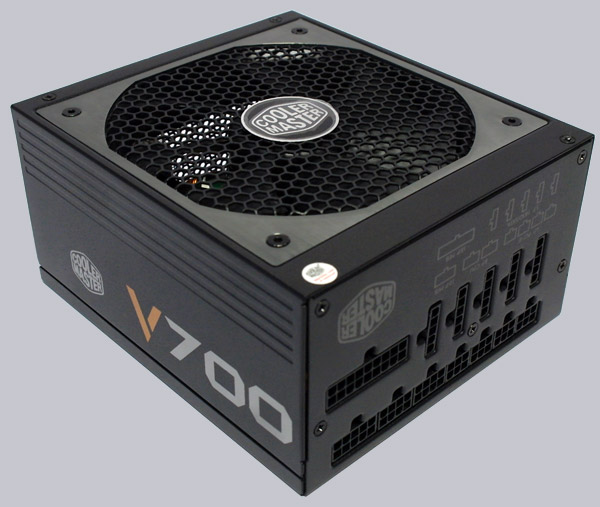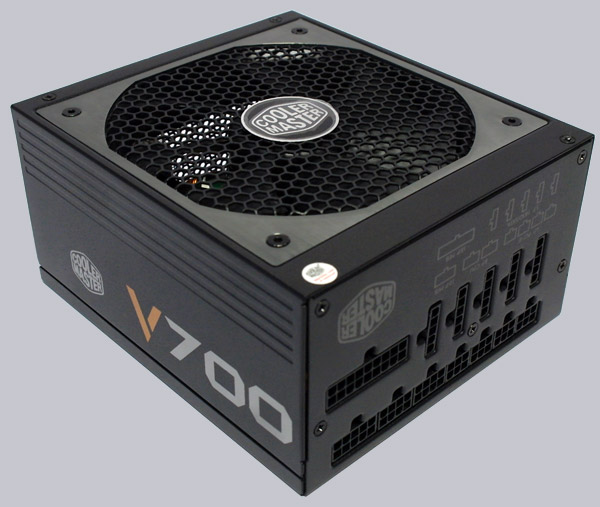 The fully modular Cooler Master V700 Watt PSU offers strong performance, a high-quality processing and an optimal adaptability to the overclocked high-end PC.
All power supply cables are modular designed for an individual adaptation to the PC system and are pleasantly flat to install them easily in the chassis. Thanks to its length, the cable offers also in most full tower chassis sufficient room for installation. The cables are high quality build and well made, but the SATA plugs could be somewhat optimized, because the protective cap on the back of each angled SATA plug can separate. Fortunately the power supply is build with high-quality 105°C capacitors and silent cooling through the temperature-controlled 135 mm fan.
The complex building for the modular cabling and great processing are not very cheap, but one get an excellent 80PLUS Gold PC power supply for a good price. The energy efficiency was not as high as the current top model Silent Pro Hybrid from Cooler Master. The interactive cost of electricity calculator shows, that the higher price of an 80 PLUS Gold PSU can pay off against more inexpensive power supplies.
All in all the Cooler Master V700 PSU is awesome processed and offers high power reserves even for Overclockers and Gamers with multiple graphics cards, however it is not reaching the fantastic results of the recently tested Cooler Master Silent Pro Hybrid 1050W power supply unit.
Discuss in our forum and exchange experiences …
Here you can buy the Cooler Master V Series PSU …
Read on in the hardware test area with several hardware reviews …