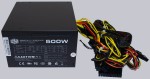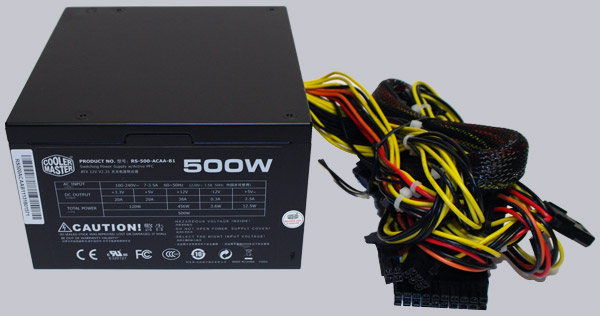 Cooler Master offers with the Cooler Master G500 PSU a new 80PLUS bronze power supply in the lower price segment. At OCinside.de, we already tested some Cooler Master power supplies and can thus make a good comparison to some high-end and low-budget PC power supplies. Let us take a look at the inexpensive non-modular Cooler Master G500 power supply, that will convince with no frills but with a good energy efficiency at a reasonable price.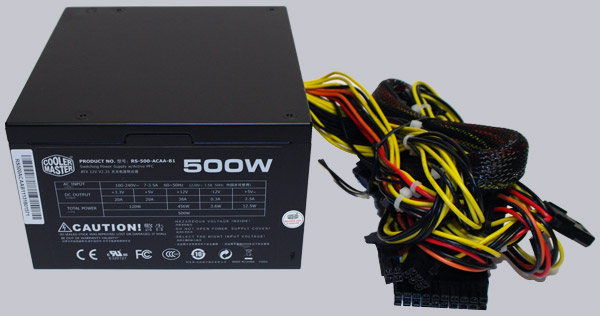 Thanks for the support …
Many thanks for the support with the G500 PSU RS-500-ACAA-B1 A/EU by the manufacturer Cooler Master.

The non-modular G 500 80PLUS bronze power supply has a price of approx. 50 Euro (09/2013).
The Cooler Master Silent Pro Gold PSU is available with following power ratings: Cooler Master G500 RS-500-ACAA-B1 approx. 50 Euro (09/2013) Cooler Master G600 RS-600-ACAA-B1 approx. 65 Euro (09/2013) Cooler Master G700 RS-700-ACAA-B1 approx. 70 Euro (09/2013)
Here you can buy the Cooler Master G500 power supply for a low price.
The supply of the Coolermaster 500 Watt PSU …
The 500 Watts Cooler Master 80PLUS bronze power supply and accessories is inside of this box. This time it's not glossy cardboard box with much bling-bling, but a totally reasonable packaging for this price.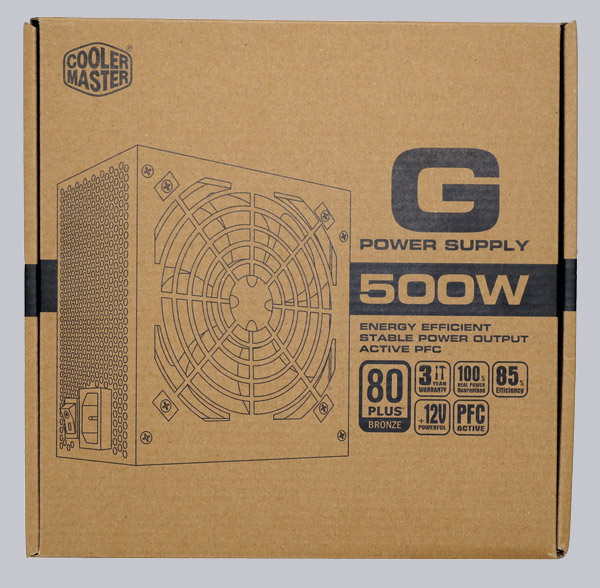 Here is a first look inside of the Cooler Master box.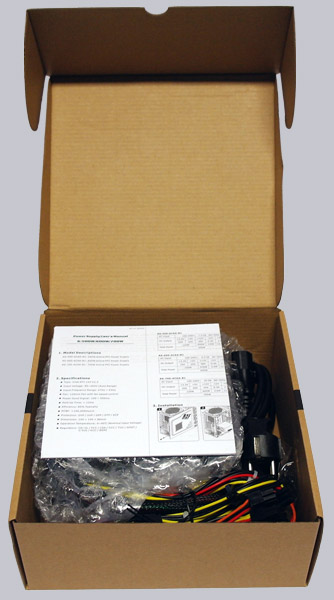 That is contained in the box …
On the following picture one can see the relative small 150x140x86mm black power supply with its attached cables. The ATX cable is approx. 50cm long and may be too short for some fullsize tower systems. So one better should measure all lenghts inside of the case, before buying a PSU.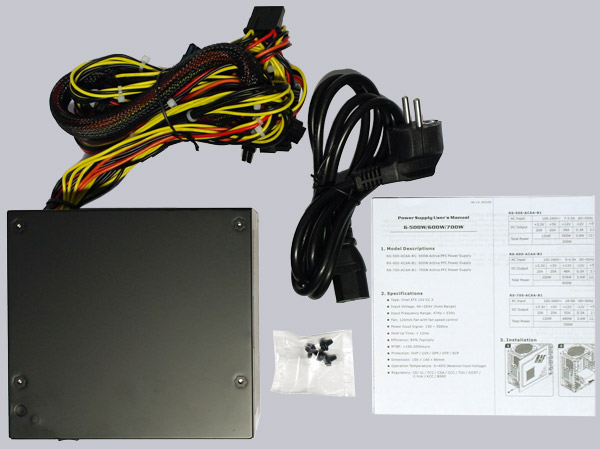 In the scope of delivery are the power cable, four screws, a folding sheet which contains a pictured building instruction, power supply pin allocations, warning references, warranty (3 years) and the disposal references. Unfortunately you do not get more accessories with this inexpensive power supply box, but basically that's enough.
Here you can see a picture with all PSU cables:

1x 50cm attached ATX / ATX12V v2.2 cable with one 20+4-pin plug (50cm) 1x 60cm attached 12V CPU cables with 4+4-pin plug (60cm) 2x 50cm attached PCI-E cables with 6+2-pin plug (50 + 10cm) 2x 65cm attached cables with three SATA power connectors (45 + 10 + 10 cm) 1x 75cm attached cable with three molex plugs and one floppy connector (45 + 10 + 10 + 10 cm) 1x 0.75mm2 220V power cable
All connections can be connected well and offers a safe contact.
The technical data of the Cooler Master G 500 Watt power supply unit …