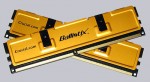 Crucial Ballistix 1GB Kit (2x512MB) PC2-6400/DDR2-800 Memory Review
Not only Intel PCs are using DDR2 modules, in the meanwhile it is also necessary for AMD PCs to look for DDR2 memory modules. Who like to upgrade for example to a current AMD Socket AM2 system, will find only the newer 240-pin DIMM sockets instead of the usual 184-pin sockets on these motherboards. However, in spite of the higher memory bus range you should expect no miracles. The Crucial Ballistix 1GB Kit (BL2KIT6464AA804) with 2x512MB PC2-6400/DDR2-800 CL4 memory modules are tested with usual frequencies, and with highest possible clock speeds in this test report. Let us see if it's possible to overclock these DDR2 Dual Channel memory modules on the Socket AM2 Motherboard and if the performance increasement is as high as expected.
Thanks for the support …
Many thanks for the support with the BL2KIT6464AA804 Ballistix 1GB PC2-6400 kit by the manufacturer Crucial.
The 1 GB kit includes two 512 MB Ballistix 240-pin DDR2-800 (PC2-6400) memory modules and the current price is about 224 euro (10/2006). They're available with the upper banner in the Crucial Shop and at our sponsors.
The supply of the two 512MB PC2-6400 memory modules …
In this small box are the two very well protected memory modules: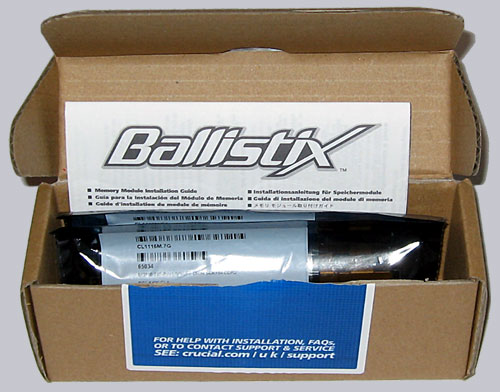 That is contained in the scope of delivery …
Crucial supplies the two memory modules as well as a multilingual installation guide, which should make it possible also for less experienced users to install them easily: