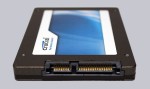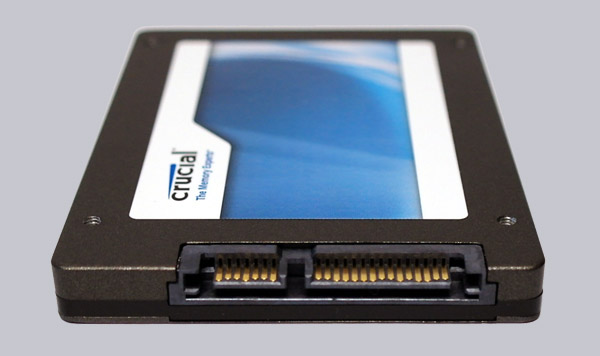 The Crucial m4 2.5″ 256GB SATA3 SSD CT256M4SSD2 achieved on SATA3 port in AHCI mode very low access times, the to date highest read performance and an enormously high write performance.
The Crucial CT256M4SSD2 256GB MLC Solid State Drive with Marvell Controller and 25nm Micron NAND was tested both in the current AHCI mode, and in legacy IDE mode, whereby the AHCI mode showed clear advantages. In legacy IDE mode on the SATA3 Controller we measured strong performance losses, not only regarding the 4k-64Thrd values, but additionally unusually high differences at the read performance. Furthermore with the FW0001 and with to the point of testing time most current FW0002 firmware we measured shortly after writing cycles fluctuations of the read rates, which we did not measure so far with any other SSD with 4k block size NAND and first generation controller. So one should thus operate this Crucial m4 2.5″ 256GB SATA3 SSD necessarily in AHCI mode and ensure enough time for the TRIM procedure, which can take obviously in some cases somewhat more time. The enormously high speed of the SSD became clear with everyday tasks at the PC, because a Microsoft Windows 7 Ultimate boot procedure took only unbelievable 7 seconds! The complete boot time inclusive BIOS post and Windows 7 start took thereby only approx. 22 seconds.
All in all the new Crucial m4 256GB SSD is a good choice for users, who like to achieve very high transfer rates on a current Windows Vista or Windows 7 operating system and SATA3 interface in AHCI mode.
Discuss in our forum and exchange experiences …
Here you can buy the Crucial SSD …
Read on in the hardware test area with several hardware reviews …