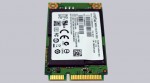 With the Crucial M550 mSATA 512 GB SSD CT512M550SSD3 Crucial also reaches the extremely good results of the previously tested Crucial M550 512GB M.2 SSD and the Crucial M550 512GB 2.5-inch SSD and thus offers an optimal solution for mSATA, for M.2 and for SATA.
The very tiny mSATA PCB based like the M.2 module and the 2.5″ type on the Marvell 88SS9189 controller and is easily detected on our test system. Since the mSATA SSD is also based on the SATA standard, there is no additional bootable BIOS necessary and reached with our Windows 7 Ultimate test installation a boot speed of 8 seconds. But of course, the mSATA 6Gb/s SSD also reached no higher transfer rates than the 6 Gb/s SATA interface allows, so that the results were approximately identical with the Crucial M550 2.5-inch SSD and the M550 M.2 SATA SSD. Only the temperature is significantly higher during our benchmarks than the 2.5″ SSD, because the 2.5″ chassis act as a heatsink. BTW. the M550 mSATA SSD price is about 20% below the M550 M.2 SSD and about 10% above the M550 SATA SSD.
All in all the new Crucial M550 512GB mSATA as well as the M.2 and the 2.5″ type reached extremely high read and write rates, offering an awesome solution for an Ultrabook, Laptop, Tablet, or classic motherboards with mSATA slot.
Discuss in our forum and share experiences …
Here you can buy the Crucial SSD …
Read on in the hardware test area with several hardware reviews …