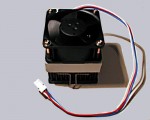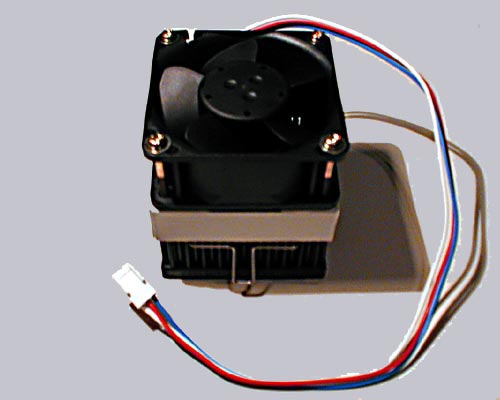 In this review we have tested the Alpha PAL 8045 with 8412 N/2GM Lüfter Cooler and measured the temperature results with our test setup. Additionally you can listen to an embedded MP3 fan sound sample of the fan on the respective heatsink.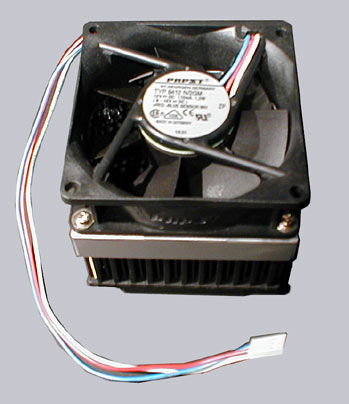 Bezeichnung
Alpha PAL 8045 mit 8412 N/2GM Papst Lüfter *
Größe über alles in L/B/H
o 80/80/70 mm Der Kühlkörper ist deutlich größer als der Sockel ! Zur Montage auf dem ENMIC 8TCX+ Board mußte ich z.B. einen Elko auslöten.
Förderleistung
+++ 34 CFM (~2600 U/min – * auch mit anderen Lüftern erhältlich)
Geräuschpegel
+++ 26 dB (A) Der 80er N/2GM Lüfter ist absolut leise. Online anhören:
Montage
—- Der Kühler wird mittels vier Schrauben auf das Mainboard geschraubt ! Zur Montage des Kühlers muß man somit das Mainboard ausbauen, (oder wie ich beim CS 601 Gehäuse Löcher in die Gehäuse-Platte bohren), um ein wechseln des Kühlers zu ermöglichen, da man die Muttern von der Unterseite des Mainboards verschrauben muß. Ingesamt zwar eine sehr solide Befestigung, aber dennoch relativ aufwendig.
Kühlergebnis
+++ Mit dem N/2GM Papst Lüfter wurde die CPU 40° C warm (44°C bei 1,9 Vcore). "saugend" montiert lag der Wert im Gegensatz zum kleinen Bruder PAL 6035 1-2 Grad höher, deshalb sollte man den Lüfter beim PAL 8045 blasend montieren !