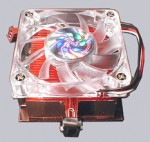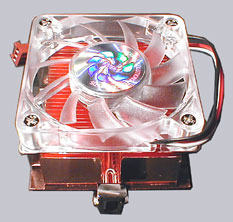 In this review we have tested the AVC 112AM1 Tundra Cooler and measured the temperature results with our test setup. Additionally you can listen to an embedded MP3 fan sound sample of the fan on the respective heatsink.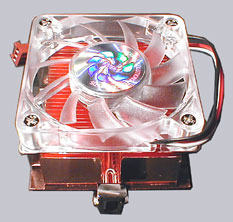 Bezeichnung
AVC
Tundra 112AM1
Größe über alles in L/B/H
++++ 60/60/34 mm Der Kühlkörper bedeckt nur die Fläche des Sockels und ist äusserst flach.
Förderleistung
+ 19 CFM (~4800 U/min)
Geräuschpegel
+ 35 dB (A) Gut zu ertragen. Online anhören:
Montage
+++ Der Kühlkörper ist zwar mit einer Klammer zur Handmontage ausgestattet und man hat zusätzlich noch die Möglichkeit den Kühler mit einem Schraubendreher zu montieren, allerdings ist der Anpressdruck der Klammer ziemlich groß. Aus diesem Grund gab es hier eine kleine Abwertung von einem Punkt, ansonsten clever gelöst !
Kühlergebnis
++++ Beeindruckendes Kühlergebnis ! Nur 38°C bei 1,75 Volt CPU-Spannung und 42°C bei 1,9 Volt Vcore mit 1066 MHz.