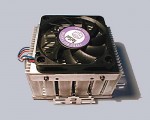 In this review we have tested the Taisol CGK 760092 Cooler and measured the temperature results with our test setup. Additionally you can listen to an embedded MP3 fan sound sample of the fan on the respective heatsink.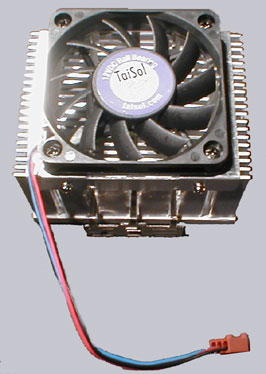 Bezeichnung
Taisol
CGK 760092
Größe über alles in L/B/H
+ 80/70/75 mm Der Kühlkörper ragt über den Sockel hinaus – vorher abmessen !
Förderleistung
+ 21 CFM (~4800 U/min)
Geräuschpegel
+++ 29 dB (A) Sehr leise und angenehmes Geräusch. Online anhören:
Montage
+++ Der Verschluß hat einen riesen Vorteil, da er alle drei Kunststoff Nasen vom Sockel verwendet.Somit kann dieser Lüfter auch auf einem Sockel verwendet werden, wo bereits der mittlere Pin durch andere Lüfter in Mitleidenschaft geraten ist !Die Montage ist mit einem Schraubendreher sehr einfach und führt auch nach mehrmaligem montieren zu keinerlei Sockelbeschädigungen.
Kühlergebnis
+++ Das Kühlergebnis kann sich durchaus sehen lassen und wird mit 42°C bei 1,75 V und 45°C bei 1,90 Volt eine echte Konkurrenz für den kleinen Bruder.