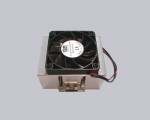 In this review we have tested the Tiger Electronics SDA 38700 BC Cooler and measured the temperature results with our test setup. Additionally you can listen to an embedded MP3 fan sound sample of the fan on the respective heatsink.
Bezeichnung
Tiger Electronics SDA 38670 BT – Miprocool
Größe über alles in L/B/H
+ 80/61/51 mm Der Kühlkörper ragt über den Hebel vom Sockel.
Förderleistung
+ 21 CFM (~4600 U/min)
Geräuschpegel

++ 33,9 dB (A) Die Lautstärke ist im PC akzeptabel. Online anhören:

Montage
++ Der Verschluß hat einen riesen Vorteil, da er alle drei Kunststoff Nasen vom Sockel verwendet.Somit kann dieser Lüfter auch auf einem Sockel verwendet werden, wo bereits der mittlere Pin durch andere Lüfter in Mitleidenschaft geraten ist ! Dadurch benötigt man allerdings auch etwas mehr Kraftaufwand zur Montage. Mit einem Schraubendreher ist die Montage gut zu meistern.
Kühlergebnis
+++ 44° C bei 1,75 Volt CPU-Spannung und 47° Celsius bei 1,90 Volt.