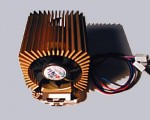 In this review we have tested the Titan Twin Orb Cooler and measured the temperature results with our test setup. Additionally you can listen to an embedded MP3 fan sound sample of the fan on the respective heatsink.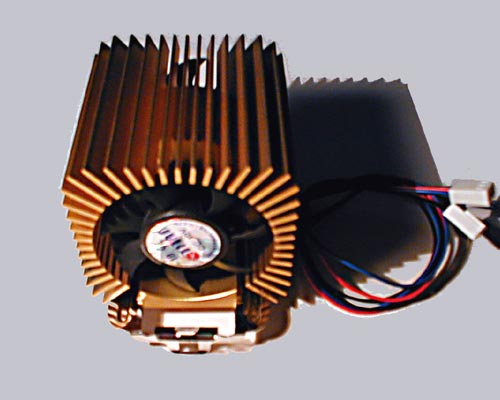 Bezeichnung
Twin Orb
Größe über alles in L/B/H
o 60/75/65 mm Der Hebel ragt recht weit raus, ansonsten nicht größer als der Sockel, Rest siehe Montage !
Förderleistung
o 2x 8,1 CFM (~3200 U/min)
Geräuschpegel
+++ 26 dB (A) Nicht zu hören ! Nach meinem Empfinden sogar noch etwas leiser, als der golden Orb. Online anhören:
Montage
++ Laut Beschreibung auf dem Karton soll man den Orb beim aufsetzen lediglich etwas anwinkeln und dann den vorderen Teil einrasten lassen, allerdings war selbst beim großzügigen Asus A7V ein Elko etwas im Weg. Wenn man ihn leicht wegbiegt, ist es aber gut zu meistern. Ansonsten sehr einfach ohne Hilfsmittel zu montieren. Mit einem Schraubendreher ist auch die Demontage recht einfach. Durch das Anwinkeln kommt allerdings nicht jedes Board für diesen Lüfter in Frage !
Kühlergebnis
— 50° bei 1,75 Vcore und 56° bei 1,9 Volt und voller Prozessorlast sind einfach zuviel. Wobei man allerdings nicht vergessen darf, mit welchen Umdrehungen andere Lüfter brausen.