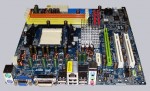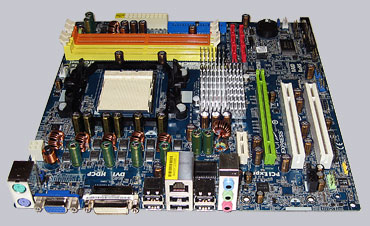 Result and general impression
+++ The ASRock K10N78FullHD-hSLI motherboard has a price of approx. 55 Euro (07/2008) and is thus in the lower price segment of the Socket AM2 and Socket AM2+ motherboards.
Recently ocinside.de reviewed the ASRock A780FullDisplayPort motherboard with AMD 780G chipset and today the new ASRock K10N78FullHD-hSLI socket AM2+ Micro ATX motherboard was tested, which is based on a nVidia GeForce 8200 chipset. Both mainboards have an integrated graphics processor and costs approximately the same. This review will clarify if both motherboards are comparable and if the K10N78FullHD-hSLI R3.0 board can be well overclocked and/or underclocked.
Equipment and features …
The ASRock K10N78FullHD-hSLI board offers one PCI Express 2.0 16x Slot, one PCIe 2.0 1x Slot and two PCI Slots for conventional extension cards.
It can be equipped with up to four DDRII memory modules and is upgradeable up to 8 GB memory. The total amount depends on the operating system used. With a Socket AM2+ K10 (AMD Phenom) CPU it supports DDR2-1066 thanks to the new memory controller and with a Socket AM2 K8 (AMD Athlon 64) CPU it supports DDR2-800.
The motherboard offers one IDE connector for maximally two conventional ATA 133 drives and six SATA II ports (3 Gb/s) with RAID support, but without any external eSATA ports, often seen on ASRocks motherboards. But the S-ATA II ports supports Hot Plug and Hot Swap functions in AHCI mode (AHCI stands for Advanced Host Controller Interface).
Here is a picture of the six S-ATA II ports …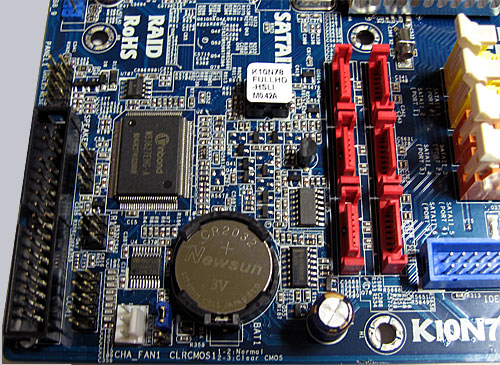 The manual contains all basic information to manage a new installation of Windows XP or Windows Vista with SATA hard disks and how to configurate a RAID installation. Drivers for Windows XP and Windows Vista are provided on the CDROM and can be downloaded on the ASRock support page. Above all the video card drivers should be downloaded in the most current version e.g. by the ASRock page, because improvements are integrated almost every week.
The board has six USB 2.0 ports and two internal USB 2.0 plugs for up to four optional USB ports. There's no IEEE1394 connector provided on this board, but if necessary it's possible to upgrade such a firewire port with a PCI card.
The ASRock K10N78FullHD-hSLI R3.0 motherboard uses the RTL 8211B chip, which makes a 10/100/1000 network connector available at the ATX panel. In contrast to it, the K10N78FullHD-hSLI R2.0 board offers only the RTL 8201CL chip for 100 MBit network support.
The ATX panel also provides an onboard 10/100/1000 LAN connector with WoL (Wake on Lan) and two PS/2 ports.
Unfortunately like on the previous tested AMD 780G counterpart, this board does not provide a parallel port and the serial port is only optionally available.
ASRock has integrated the ALC662 sound chip on this K10N78FullHD-hSLI motherboard, which offers only 5.1 surround sound over three 3.5mm jacks at the ATX panel (or internal). However, the ALC662 Codec is Microsoft Windows Vista Premium level compatible and offers a digital HDMI SPDIF output, which is needed for example to connect a HDMI suitable video card with the included SPDIF cable, in order to transmit the video and sound signal to HDMI equipment like e.g. a LCD Television.
The strengths of the K10N78FullHD-hSLI motherboard can be found in the graphics output. There's no HDMI adapter provided with the board, but a 15-pol Sub D output is just as available, as the DVI-D video output. Both outputs can be independently used and thanks to the DirectX 10 suited nVidia GeForce 8200 IGP (Integrated Graphics Processor) with HD acceleration there's nothing in the way to watching high resolution HD material.
Here is a picture of the ATX panel with 2x PS2, 6x USB, 1x LAN, 3x sound jacks, 15-pol Sub-D VGA port and DVI-D VGA connector …

So this ASRock K10N78FullHD-hSLI motherboard doesn't offer as many output connectors like the ASRock A780FullDisplayPort, but it offers the base to build an uATX home theatre PC.
The performance of both graphics units nVidia GeForce 8200 and AMD 780G (HD 3200) is by the way almost identical depending upon benchmark tools used and both IGPs offers contrary to the predecessors nVidia GeForce 7150 and AMD 690G (X1250) clear ! performance improvements.
Besides with new GF 8200 and 780G graphics processors DirectX 10, HD acceleration and Hybrid SLI or with AMD the ATI Hybrid Graphics is supported. And with a combination of video card and onboard graphics this can be interesting on Microsoft Windows Vista. For PCs with Windows XP or Linux the driver support for those features are currently not very good, but it's just a question of time when newer drivers with more features are published.
BIOS and overclocking …
Let us go on with the BIOS options and with the BIOS overclocking. By pressing the F2 key, you get access to the AMI BIOS with all important hardware settings.
The BIOS offers a lot of DDR2 memory settings like e.g. the memory frequency setting from 200 MHz over 266 MHz and 333 MHz on up to 400 MHz (DDR2 400/533/667/800). When using an AMD Phenom CPU (K10), it supports additionally DDR2-1066 modules.
The host clock is adjustable from 150 MHz up to 500 MHz and the HT (hypertransport) frequency is adjustable from 1x to 5x (200-1000 MHz). The PCIe frequency is adjustable from 75 MHz up to 200 MHz and the PCIe and PCI frequency can be set independent of the host frequency with the CPU, PCIE Async/Sync setting.
The graphics processor can be set from 500-1000 MHz and the GPU Shader can be clocked between 100-2400 MHz. Compared to the AMD 780G, the asynchronus Shader frequency is interesting, because this allows an independent overclocking to get several percent better performance (set IGPU Boost to manual). Would be nice to increase the GPU voltage also independent, but we shouldn't forget that we are talking about a HTPC motherboard and not about an OC board.
BTW. OC – of course it was possible to overclock the motherboard by increasing the reference clock, whereby it was possible to overclock it stable up to 290 MHz reference clock. For example, the AMD Athlon64 3000+ Socket AM2 test processor with locked 9x multi reached an overclocking result of approx. 2600 MHz.
The lowest underclocking / downclocking of the AMD Athlon64 3000+ CPU with the lowest multiplier of 5x and the lowest host clock of 150 MHz was possible down to very low 753 MHz CPU frequency.
The Vcore (CPU voltage) depends on the CPU used and can be adjusted between 0,800 Volt and 1,550 Volt, and if necessary, the Vcore can be increased with this Socket AM2 pinmod guide.
the chipset voltage can be set between 1.10 Volt and 1.25 Volt and thanks to the nice DDR2 memory voltage setting between 1.80 and 2.20 Volt High-End DDR2 memory is reasonable.
BTW. the BIOS additionally offers a temperature fan-controller for 4-pin CPU fans and provides a few steps with different rotation speeds.
Result …
The ASRock K10N78FullHD-hSLI Socket AM2+ PCIe MicroATX motherboard with nVidia GeForce 8200 chipset is an inexpensive all around board for office or HTPC usage.
Even an upgrade of a predecessors motherboard with integrated graphics processor in an already installed living room PC or Office PC would be a reasonable investment because of several new features.
However the choice between nVidia GeForce 8200 and AMD 780G chipset (e.g. on the ASRock A780FullDisplayPort) is not very easy, since both motherboards are available at a similar price and offers approximately the same values.
Even the overclocking values are almost identical and the basic equipment of the AMD pendant ASRock A780FullDisplayPort comes with an IEEE1394 interface and two more display outputs.
The direct comparison between nVidia versus ATI (and/or AMD) remains suspenseful with onboard graphics processors.
Special thanks to ASRock for their support.
Picture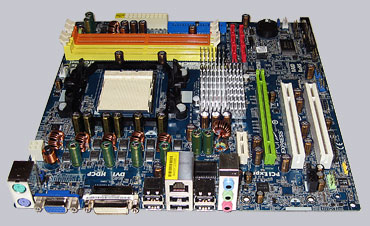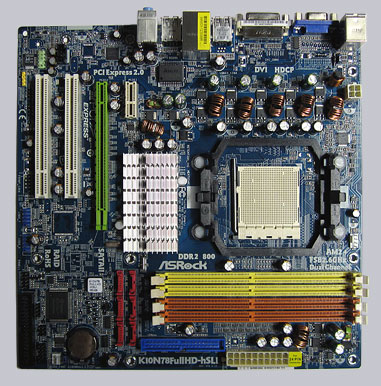 **** All Socket 939 motherboard reviews since 01.11.2006 are based on an AMD Athlon 64 3000+ Orleans CPU, 1x (or SLI systems with 2x) Gigabyte GV-NX66T128VP Nvidia 6600 GT PCI Express video cards, 2x512MB Crucial Ballistix DDR2-800/PC2-6400 memory modules and the following software configuration: Microsoft Windows XP SP2, DirectX 9.0c, Forceware 81.85 video driver and 3DMark 2003. All benchmark results should only offer a comparison among themselves for a comparison.
Back to the AMD Athlon 64 and AMD Phenom Mainboard comparison !