Sure, for most of us DDR2-800 RAM is nothing special anymore, but the new Crucial Crucial Ballistix Tracer Red PC2-6400 memory modules are worth a second look. The current DDR2 4GB kit consists of 2x 2GB PC2-6400 CL4 memory modules and they are a visual treat. This Ballistix Tracer Red edition offers not just more memory for the PC, but thanks to several integrated SMD light emitting diodes it lights up the PC in a bright red. Let us test the result of this new 4GB CL4 kit from Crucial compared to previous tested DDR2 modules. And let us see, if there is anything special with Windows XP or Windows Vista and 4 GB PC memory.

Thanks for the support …
Many thanks for the support with the BL2KIT25664AR804 Ballistix Tracer Red 4GB PC2 6400 / DDR2 800 CL4 kit by the manufacturer Crucial.
The 4 GB kit contains 2x 2048 MB Ballistix Tracer Red 240-pin DIMM DDR2-800 memory modules and has at present a manufacturer price recommendation of 128 euro (04/2008). They're available with the upper banner in the Crucial Shop and at our sponsors.
The supply of the two 2048MB PC2-6400 memory modules …
In this small box are the two well protected memory modules: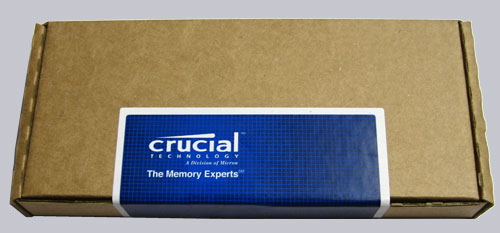 That is contained in the scope of delivery …
Crucial supplies the two memory modules as well as an english installation guide, which should make it possible also for less experienced users to install them easily.
Here is a picture of the two well protected Ballistix Tracer Red memory modules: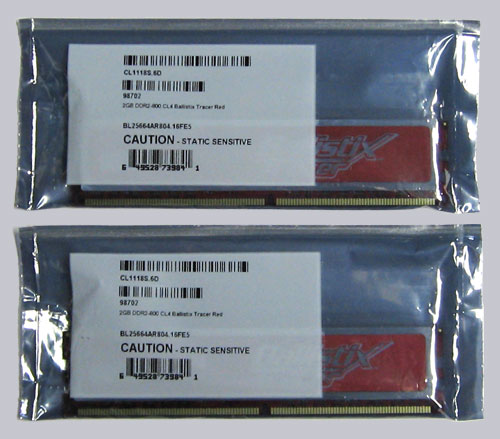 And here's a picture of both Crucial Ballistix Tracer Red modules finished in metallic glaring red …