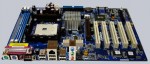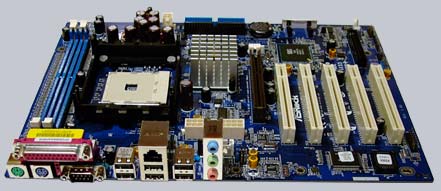 Result and general impression

+++ The ASRock K8S8X costs about 65 Euro (08/2004), which makes this motherboard one of the cheapest Socket 754 motherboards existing today. Nevertheless its equipment is as good as they are at other motherboards of this class. And with 6 USB 2.0 connectors at the backpanel of the mainboard it's in front of all still tested mainboards. The K8S8X have two SATA connectors, which comes with one SATA powercable, one datacable and of course also the two conventional IDE cables. One bad thing I have to mention is the problem that there are only two memory slots. Because of the quickly growing need for more memory of most OS, you'll soon have to buy bigger memory modules and you won't be able to use your older memory modules any more. The combination of the SiS 755 Northbridge and the SiS 964 Southbridge works without any problems under Windows XP and even under the older Windows 98SE. I didn't use the 64 bit driver which is included in the ASRock CD, because of it's beta status. By pressing F2 you enter the well sorted AMI BIOS which offer well settings for overclocking the Athlon 64 processor, like the wide range from 140 MHz up to 300 MHz CPU host rate and a changeable multiplier from 4x to 25x. But there aren't any voltage settings except for the Vcore. The common problem if the computer isn't booting, which occours with too much overclocking is eliminated by the K8S8Xs "Boot Failure Guard" which resets the BIOS features back to moderate settings (whereby in my test all settings of BIOS have been reset to default).
Conclusion: You don't have to pay much money in order to get a well overclockable AMD socket 754 Athlon 64 motherboard. The money is much better invested in faster memory or a better video card. The ASRock K8S8X is a motherboard of good value except the missing voltage settings and the missing third memory slot. But for this price it's no problem to live with these two negative points and the "Overclocking pricetip award 08/2004" of ocinside.de is rightly given to this great ASRock K8S8X mainboard.
Hereby I would also like to thank ASRock
for their support.
Picture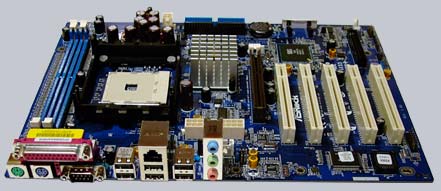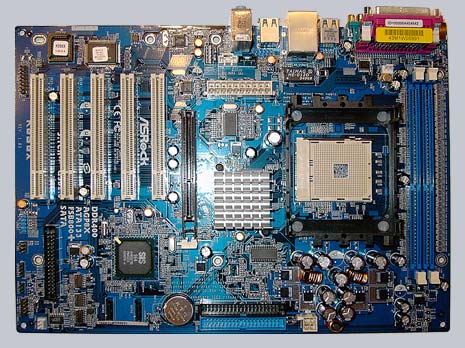 **** All Socket 754 mainboard tests since 01.08.2004 are based on an AMD Athlon 64 3200+ with a HIS Excalibur Radeon 9600 Pro graphic card, Kingmax 256 MB PC2700 memory module and the following software configuration: Windows 98 SE, DirectX 9b, Catalyst 3.6 graphic driver and 3DMark 2003. Since all benchmark results should only offer a comparison among themselves, I select Win 98 SE for a faster OS installation which is of course not the usual OS for Athlon 64 systems but enough for a comparison.