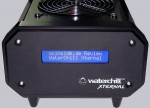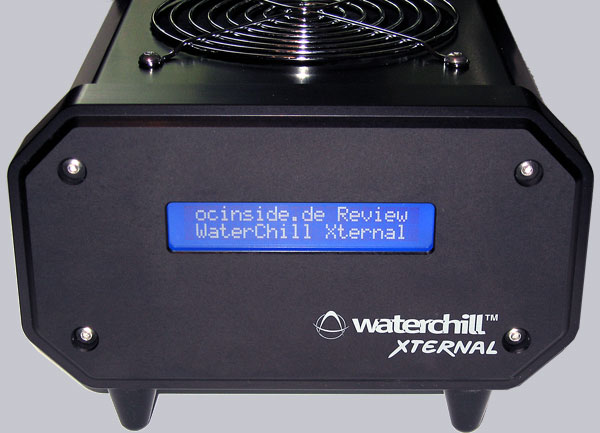 There are many water cooling systems for the PC and Mac on the market, whereby the choice isn't really easy. The company Asetek offers beside the well-known VapoChill Compressor cooling units (see ocinside.de Test section) since a few years in addition also water cooling units with the name WaterChill.
But new is the concept, that the radiator with pump unit, water reservoir, and fans are embedded in one complete cooling unit, which is managed with a special USB control panel Software. This external unit offers more space inside the PC and save a lot of work to install the water cooler. All details and results about the new Asetek WaterChill Xternal High-End water cooling system are specified in the following 7 pages test report.
If you've never build a water cooling system, you should take a look to the water cooler building guidance
within our modding section before reading the test. There you'll find an introduction about water cooler, a comparison to conventional air cooler and a beginners guide.
Well, much pleasure with cool and quiet overclocking.
Thank you for the support …
Many thanks for the support with the Waterchill Xternal Water Cooler Kit by the manufacturer Asetek.

The Asetek Waterchill Xternal Kit (03-L-7004 in black) has a current price of approx 350-400 Euro (08/2006) and is also available at our sponsors.
The delivery of the Asetek Waterchill Xternal water cooler unit …
The new cooling system is delivered with the complete accessories in this package. Here's a view to the carefully packed black cooling unit: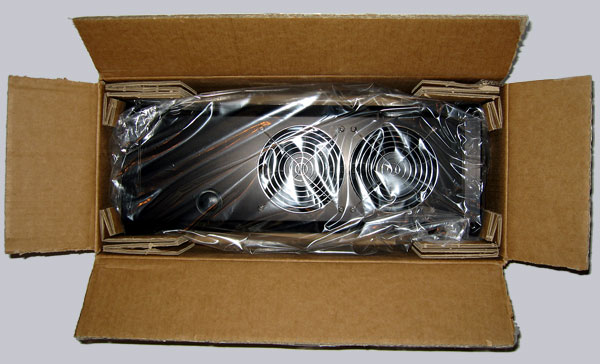 This is contained in the scope of delivery …
Under the cooling unit are the accessories, which offers except of the distilled water a complete assembly.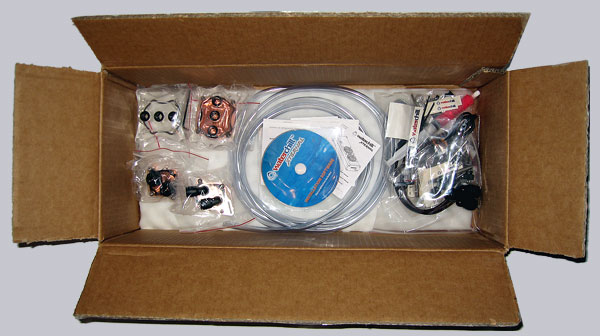 In the scope of supply of the Waterchill Xternal 03-L-7004 version is beside the CPU radiator for different processors (Socket 754, 939, 940, 478, …) also contained the chipset cooler and the GPU cooler (video card). Furthermore it comes with an approx. 3 meters long 10mm tube, a special slot bracket to get the tube and the power cable into the case, as well as 10 ml anti algae fluid, an USB cable, software on a CD-ROM, various guidances and assembly material. The guidances are not really good, because by the bad allocation of the different languages rather unclearly. Anyway, due to some important information I would like to recommend as always to read the guides once complete, before the installation of the system.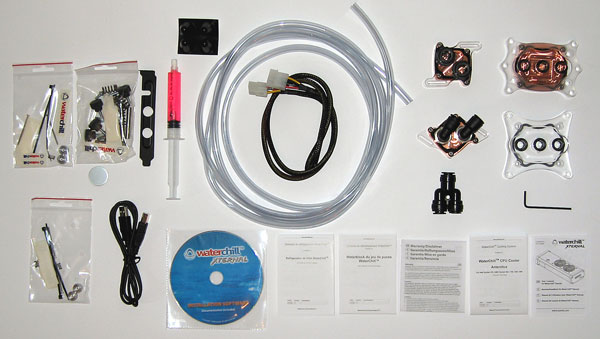 The technical data of the Asetek Waterchill Xternal Water Cooler …