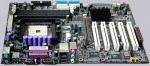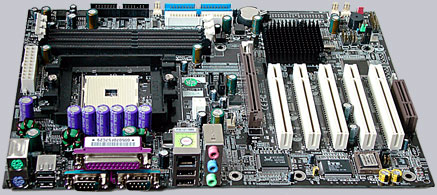 Manufacturer
Chaintech
Name
VNF3-250
Type / Chipset
Socket 754 / nVidia nForce3 250 Chipset
Dimensions
+ 10 mm (41 mm radius) around the socket to the next capacitor or other parts of the mainboard – for further information see Fit for Fan. The overall size is 305 x 220mm.
Slots
+++ 5x pci, 1x CMR, 1x AGP (1.5V 4x/8x), 3x DDR PC1600 – PC3200 (max. 2GB RAM)
Connectors

++++ 1x Floppy, 2x UDMA133, 2x SATA150 (including 2x cables), 2x serial, 1x parallel, 2x PS/2, onBoard 10/100 Mbps base-T Ethernet, 4x USB 2.0/1.1 (2x internal/optional), 1x Gameport (incl. mounting bracket), 6-Channel AC'97 CMI9761A onboard sound (2x int. Aux, 1x ext. S/PDIF, ext. Rear out, ext. Center/Subwoofer with CMR card, ext. Line in, ext. Mic, ext. Front out), WakeOnLan, WakeOnModem and 4x fan connectors.

Vcore
++++ BIOS between 0.90 Volt and 1.7 Volt in steps of 0.025 Volt / Jumper not available
Multiplier
++++ BIOS between 4x and 20x / Jumper not available
FSB
++++ BIOS between 200 and 400 MHz (AGP 66 – 85 MHz) / Jumper not available
VIO/VDD
++++ VAGP between 1.60 – 2.20 Volt, VDDR 2.70 – 2.90 Volt, VNB 1.70 – 1.90 Volt
Performance****
++++ Ratings with HIS Excalibur Radeon 9600 Pro graphic card and Catalyst 3.6 ! AMD Athlon 64 3200+ 3826 points with 3DMark 2003
Manual and Labeling
– Easy readable but incomplete mainboard labeling, a detailed manual in several languages, but for the BIOS only descriptions of the top level menu items.