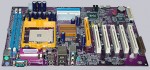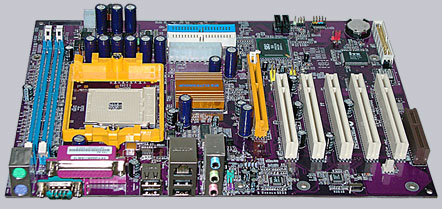 Result and general impression
++ The ECS Elitegroup 755-A2 have at present a price of approx.. 45 euro (03/2005) and is thereby so far the most inexpensive socket 754 Motherboard in the review. Unfortunately the price was reflected also quite clearly regarding the equipment and also the options of the overclocking. Because two DDR memory banks, one serial interface and except the memory voltage there's no changeable voltage or frequencies (except the CPU frequency), so that I had to deny myself unfortunately great overclocking attempts in this review. Inspite of everything the board were given the features contained in the SiS 964 Southbridge, so that one nevertheless finds two IDE and two Serial ATA connections and an additional ALC655 6-Kanal sound chip on this board, what is surely not natural in the lower price segment. Furthermore I was nevertheless rather surprised, when I had seen the bench mark result of the 755-A2 motherboard, since it is clearly more highly as the result of the ASRock K8S8X. The layout and the SiS North & Southbridge arrangement of the 755-A2 board is great solved, only and alone the ATX power connection is a little unfavorably selected near the IDE connections.
Result: The ECS Elitegroup 755-A2 is an absolutely inexpensive allround board for AMD socket 754 processors with extraordinarily good benchmark results however without any overclocking features. Thus this motherboard is a good entrance into the 64 bits processor-world and in this case a favorable choice which leaves sufficient clearance for extension.
Hereby I would also like to thank ECS Elitegroup for their support.
Picture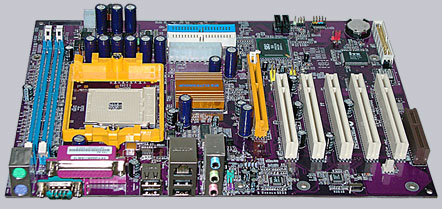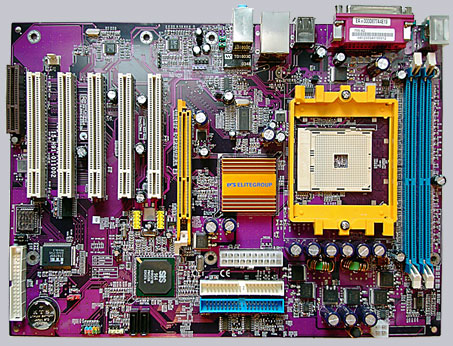 **** All Socket 754 mainboard tests since 01.08.2004 are based on an AMD Athlon 64 3200+ with a HIS Excalibur Radeon 9600 Pro videocard, Kingmax 256 MB PC2700 memory module and the following software configuration: Windows 98 SE, DirectX 9b, Catalyst 3.6 graphic driver and 3DMark 2003. Since all benchmark results should only offer a comparison among themselves, I select Win 98 SE for a faster OS installation which is of course not the usual OS for Athlon 64 systems but enough for a comparison.