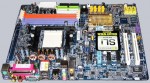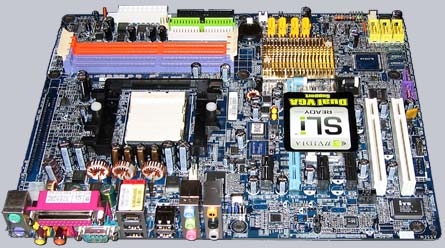 Result and general impression
++++ The GA-K8N Pro-SLI Socket 939 PCIe board cost at present approx. 110 Euro (01/2006) and is appropriate thereby in the middle price segment of the Socket 939 PCI Express SLI boards.
The Gigabyte GA-K8N Pro-SLI Socket 939 Mainboard is in contrast to the GA-K8NF-9
Pendant equipped with two PCIe 16x Videocard Slots, which are controlled by the nForce4 SLI Chipset.
But what is SLI ? Who isn't yet familiar with the SLI (Scalable Link Interface) technology, should take a look on the difference of both benchmark results. The SLI technology makes it possible to address at the same time 2 PCIe video cards and can thus combine the performance of both video cards with a so-called SLI Bridge (small circuit board to connect both video cards).
Of course one needs also the driver support, but this is given in current nVidia Forceware drivers with one mouse-click in the driver menu. Thus one knows the performance in 3D applications (DirectX OpenGL, or Direct 3D) with 2 quite inexpensive video cards and get in such way nearly twice of the performance. It's a very good and much cheaper way instead of buying one expensive card.
It is important that both video cards are appropriate identically and SLI ready. Furthermore it's necessary to use a high performance power supply unit in order to get the necessary power for a stable PC. (see PSU Reviews). Windows 98 friends won't find currently any nVidia SLI drivers, because there's at present no support for these operating systems. Who would like to use a dual boot system with e.g. Windows 98 SE can't use the second video card. For LINUX based operating systems and Windows XP, etc. you can download drivers on nVidia.
Here's a picture of the two PCIe 16x SLI Slots and the SLI mode PCB, which have to be turned for the SLI mode: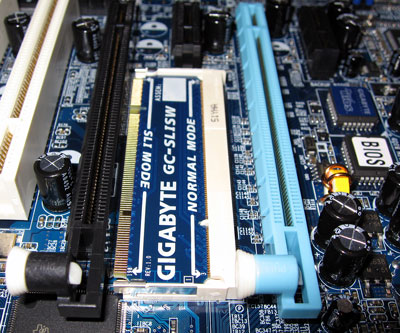 We come now to the further equipment and features of the GA-K8N pro SLI Motherboard. As already mentioned in the last PCIe Review, the amount of space is already rather scarcely on motherboards which are equipped with 2 PCIe 16x slots, so that there're (despite the technical possibility to be able to address several pci Slots) unfortunately only 2 pci card slots available.
The nVidia nForce4 SLI chipset offers besides four S-ATA II RAID (0/1/0+1) connectors also up to 3 GB/s data throughput, 2 connectors for up to 4 UDMA 133 hard disks and 4 DDR memory module slots with Dual Channel support. The sound chip is the well-known 8-channel ALC850 with six 3,5mm jacks for the 8 channel sound. Besides Gigabyte used even the Vitesse 8201 LAN chip, which provides up to 1 Gigabit network speed (instead of the integrated 10/100 NIC) and thus can be used optimally for a fast home network.
All connectors are exemplary colored marked and the LED connector pin row is marked with small "+" symbols:

Regarding the overlocking and the tuning options of the components Gigabyte gave the BIOS several options, which are made accessible partially only with a hidden CTRL+F1 key combination. Because it's possible to get further features in the BIOS, if one presses CTRL + F1 key, since this releases the Advanced chipset menu with many memory timing and the HT clock options. There're several hidden features like HT-frequency and the memory timings. Whereby other important voltage adjustments e.g. Vcore (CPU), VDDR (memory), PCIe core voltage are alterable without this key combination. The K8N Pro SLI Mainboard offers 2 BIOS chips (one Backup BIOS), which can be used alternatively e.g. to test beta BIOS versions. Furthermore all frequencies are extensively alterable like the host frequency, memory frequency and PCIe frequency, so it's very easy to overclock with this mainboard.
However one shouldn't overdraw the overclocking without further cooling measures straight with the HT multi, since the nForce 4 chipset is unfortunately only passive cooled and already becomes quite warm with the usual frequency and moderate voltages. Thus as always absolutely respects good cooling, whereby the overall height of an active chipset cooler may not be too high, so that both video cards can be completely inserted.
Result: The GA-K8N Pro-SLI Socket 939 PCI Express Motherboard offers owing to the Scalable Link Interface technology with both 16x PCIe Slots a high performance at a favourable price. The equipment is amazingly good and leave nearly nothing to be desired, so that one might miss beside the 4 RAID0/1/0+1 capable S-ATA II ports only the 4 further S-ATA 150 connectors, which remained unpopulated with this Motherboard. Gigabyte once again enthuse an overclocker, who would like quite recommend this board with little modifications to the chipset cooling as a well tuning board.
Special thanks to Gigabyte
for their support.
Picture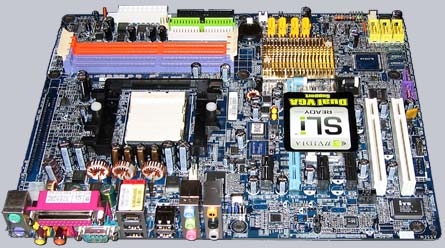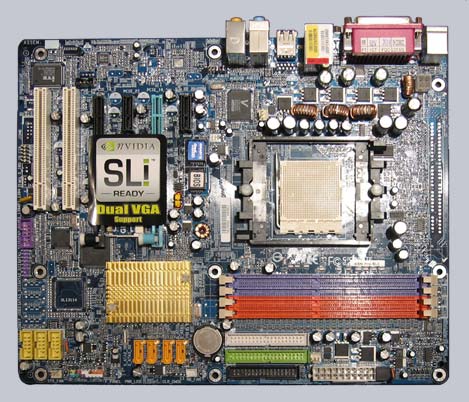 **** All Socket 939 motherboard reviews since 01.11.2005 are based on an AMD Athlon 64 3000+ Venice processor, 1x (or SLI systems with 2x) Gigabyte GV-NX66T128VP Nvidia 6600 GT PCI Express video cards and the following software configuration: Microsoft Windows XP SP2, DirectX 9.0c, Forceware 81.85 video driver and 3DMark 2003. All benchmark results should only offer a comparison among themselves for a comparison.