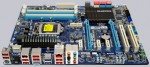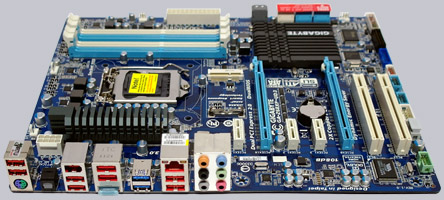 Result and general impression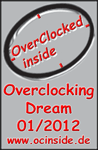 ++++ The Gigabyte GA-Z68XP-UD3/A/ASR motherboard has a price of approx. 115 Euro (01/2012) and is thus in the lower price segment of the Intel LGA 1155 motherboards.
Gigabyte offers with the GA-Z68XP-UD3 an Intel LGA1155 Sandy Bridge motherboard with some interesting characteristics and a lot of OC features. The Gigabyte GA-Z68XP-UD3 is based on the Intel Z68 chipset for current LGA1155 processors like e.g. the Intel Core i7-2700K, Intel Core i3-2100, or the Intel Core i5-2500K processor which is used for the overclocking tests. We test, overclock and benchmark the Gigabyte GA-Z68XP-UD3 with different video cards and compare the current consumption in this review.
The Gigabyte GA-Z68XP-UD3 LGA 1155 motherboard is delivered in this cardboard box: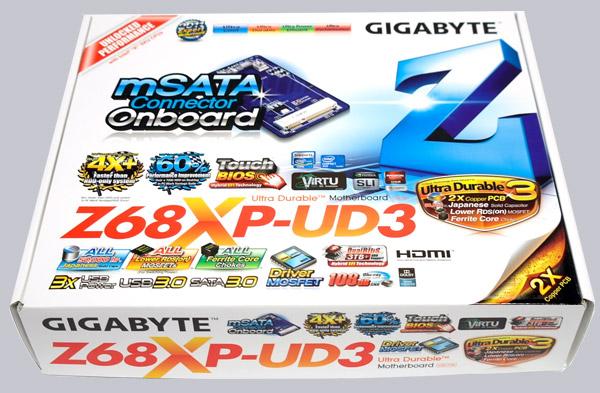 The Gigabyte GA-Z68XP-UD3 is high-quality finished and offers the Gigabyte usual colored marked sockets with polarity signs for an easy front panel plug connection: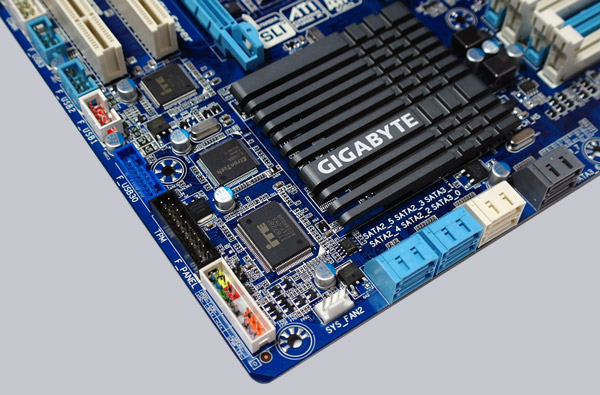 Here is another characteristics of the Gigabyte GA-Z68XP-UD3 motherboard. The board is equipped with two BIOS chips and has one mSATA slot, which can be equipped with a mini SATA SSD card: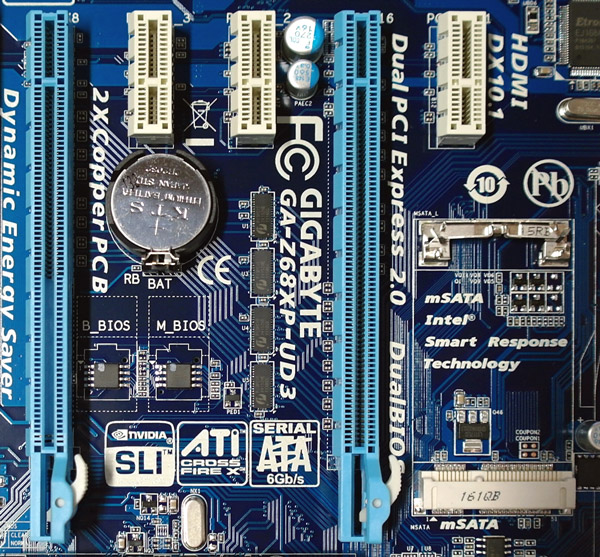 The motherboard is available by the way also as Gigabyte GA-Z68XP-UD3-iSSD, which is equipped with an Intel SSD 311 Series 20GB mSATA SSD. Its price is however approx. 100 EUR higher than the Gigabyte GA-Z68XP-UD3, which is approximately the SSD price. This SLC SSD can be with Intel Smart Response technology used as intelligent cache for frequently accessed applications.
Equipment and other features …
The Gigabyte GA-Z68XP-UD3 motherboard came with a manual, Intel Smart Response Technology installation guide, DVD, four SATA data cables, SLI Brdige, case sticker and ATX I/O shield.
Expansion cards …
This 2-Way AMD CrossFireX and/or nVidia SLI motherboard offers two PCI Express 2.0 video card slots, whereby either one video card can operate with x16 band-width, or two can operate in x8 mode. A SLI/XFire switch card is not necessary to get the optimal performance for single or CF operation. If one like only use one video card on the Z68XP-UD3, one should insert the PCI Express video card into the PCIEX16 slot, in order to get the fastest x16 bandwidth. Additionally to both PCI Express 2.0 slots there are three x1 PCIe 2.0 slots and two PCI slots.
Memory …
The Gigabyte GA-Z68XP-UD3 can be equipped with up to four DDR3 modules and is expandable depending upon operating system used (see list) to maximally 32 GB memory.
Here you can see the four DDR3 memory slots with Dual Channel support: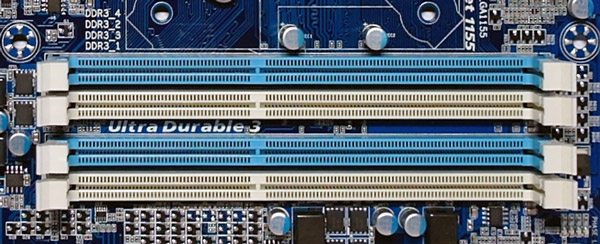 The Intel LGA 1155 motherboard supports DDR3 memory modules and can be optimized in the BIOS for DDR3-800, DDR3-1066, DDR3-1333, DDR3-1600, DDR3-1866, DDR3-2133 DC RAM modules. Higher clock-rates are currently only possible with overclocking. Thanks to the XMP support (Intel Extreme Memory Profile), it is easy to setup supported XMP memory modules in the BIOS.
Hard disk drive connectors …
The Gigabyte GA-Z68XP-UD3 does not offer a floppy connectors or PATA connectors for conventional IDE drives, but it offers two SATA3 connectors (6 Gb/s) with the Intel Z68 chipset, two SATA3 connectors (6 Gb/s) over the Marvell 88SE9172 chip and four additional SATA2 connectors (3 Gb/s) with the Intel Z68 chipset. Two Intel Z68 S-ATA3 ports supports RAID 0, RAID 1, RAID 5, RAID 10, Intel Smart Response Technology AHCI and the Hot Plug function in AHCI mode (AHCI stands for Advanced Host Controller Interface). As already mentioned above, there is also one mSATA card location, which can be instead of a SATA3 port (shared with port SATA2_5) used. The two additional SATA3 ports, which are realized over the Marvell 88SE9172 chip are supporting RAID 0 and RAID 1. There is no eSATA port on this board.
The manual and the included DVD contains all basic information to manage a new installation of Windows XP, Windows Vista or Windows 7 with S-ATA3 hard disk drives, and how to make a RAID installation. 32-Bit and 64-Bit drivers for Windows XP, Windows Vista and Win7 are provided on the DVD and can be downloaded on the Gigabyte support page. The Hybrid EFI BIOS support drives with more than 3TB for a boot drive with Windows 7 x64 or Vista x64.
USB and Firewire …
The board has two USB 3.0 connectors on the ATX-panel, it offers eight USB 2.0 connectors on the ATX panel, three internal USB 2.0 plugs for up to six optional USB ports and one internal 20pin USB 3.0 plug for two optional USB3.0 ports, e.g. to connect the enclosure front panel connector. Gigabyte offers thus up to 14 USB 2.0 ports ! Additionally, the board has one IEEE1394 Firewire port on the I/O panel and another optional internal IEEE1394 port.
With two EltronTech EJ168A controller ICs this Gigabyte GA-Z68XP-UD3 motherboard provides two USB 3.0 ports at the I/O panel and the internal 20pin USB 3.0 connector: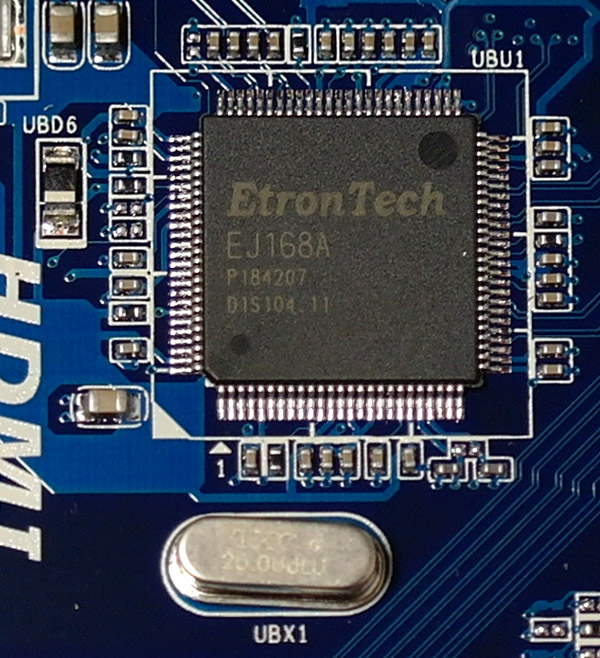 Network …
The Realtek RTL 8111E chip with 10/100/1000 network connector at the ATX panel is integrated on the Gigabyte GA-Z68XP-UD3 motherboard.
Serial and parallel port …
This motherboard does not provide a parallel port. The serial port is only optionally available as internal onboard connector.
Sound …
The Gigabyte GA-Z68XP-UD3 motherboard is equipped with the ALC889 audio codec with content protection, which supports 7.1 surround sound for example analog over 6x 3.5mm connectors at the ATX panel or over the internal frontpanel audio connector.
For the digital output there is an internal HDMI SPDIF out connector available, to connect it for example with a SPDIF cable to a HDMI suited video card, in order to get the digital audio and video signal to a HDMI equipment like a HD-Ready LCD TV. Additionally there is also an optical digital SPDIF output. So most users don't need to buy an additional sound card with digital outputs.
Graphics …
The new Intel Z68 chipset offers in combination with an Intel Sandy Bridge processor a full integrated Graphics Technology (GT) graphics solution with DX10.1 support. Depending upon processor used there is an Intel HD Graphics 2000/3000 graphics unit, whereby the Intel Core i5-2500K CPU used in this test is equipped with the HD Graphics 2000.
The performance of the Intel iGPU is good. So the Intel HD Graphics Unit of the Intel Core i5-2500K CPU achieved in Windows 7 with 3DMark06 a benchmark score of 4275 3DMarks. A HD4290 IGP of an AMD 890GX chipset with an AMD Phenom II 710 X3 processor for example achieved a score of 2204 points in 3DMark06 (tested with an ASRock 890GX Extreme4). Furthermore the integrated video processor supports DirectX 10.1 and offers thanks to its onBoard HDMI connector good conditions for a HTPC. BTW. the Gigabyte board does not offer more video connectors like analog Sub-D or DVI-D. With Lucid Virtu it is possible to run a combination of the internal graphics unit of the LGA1155 processor and a PCI Express video card, in order to lower the current consumption clearly in some applications.
ATX backpanel connectors …

From left to right one can see 2x USB 2.0 ports, the PS/2 connector for a PS/2 keyboard or mouse, optical SPDIF out, IEEE1394 and 2x USB 2.0, 2x USB 2.0 and HDMI, 2x USB 3.0, RJ45 Gigabit LAN and 2x USB 2.0 ports and 6x 3.5mm jacks for analog sound.
BIOS and Overclocking …
Let us continue with BIOS options and BIOS overclocking. By pressing F2 or Del, you get access to the Award BIOS with most important hardware settings and by pressing the hidden key combination CTRL + F1 you get more expert settings.
The boot screen looks like a graphical BIOS, but it has no graphical UEFI BIOS surface: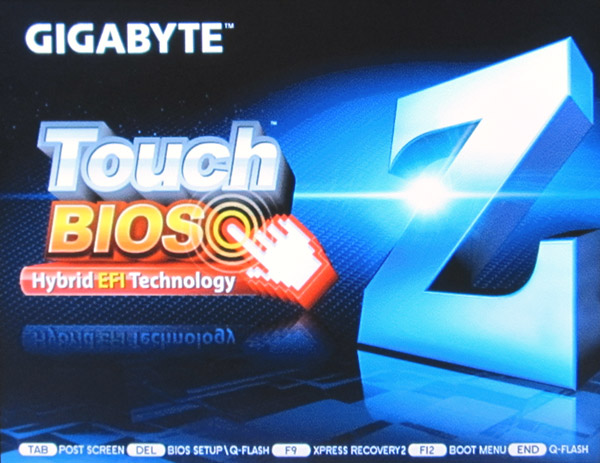 Gigabyte did not replace the conventional BIOS with the UEFI Setup, but they offer a Gigabyte Touch BIOS with Hybrid EFI Technology. Contrary to the UEFI BIOS, the Gigabyte DualBIOS has no graphical surface: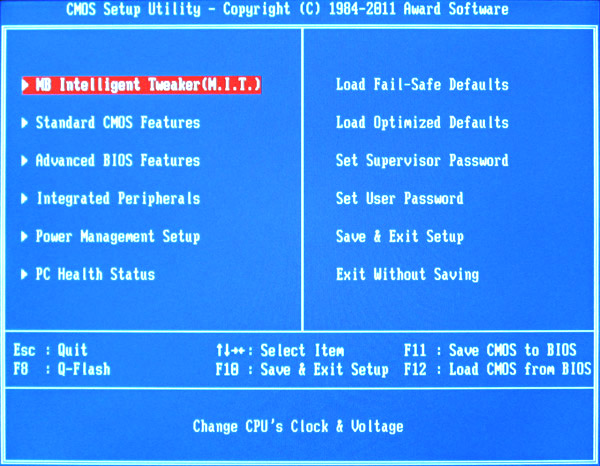 Hidden BIOS menus like e.g. PnP/PCI Configurations become visible with the CTRL+F1 key combination: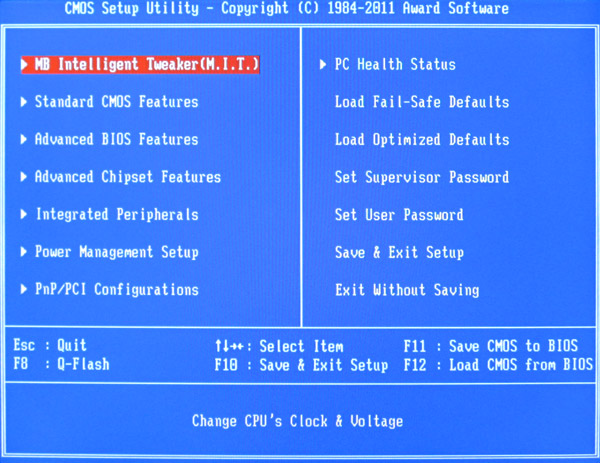 Gigabyte offers a comfortable Q-Flash to flash BIOS updates in addition to the convetional DOS or Windows Flash tools. The motherboard was delivered with BIOS F2. At review date, the latest UEFI BIOS version available for download was F8, which we updated for the review with the Q-Flash.
How to overclock the motherboard …
The BIOS offers very comprehensive DDR3 memory settings like e.g. the memory frequency setting from 8x to 21.33x which is equal to: DDR3-800, DDR3-1066, DDR3-1333, DDR3-1600 and DDR3-1867 up to DDR3-2134. Thanks to XMP support, XMP memory modules are adjusted correctly in the BIOS by selecting the desired XMP profile in the DRAM Configuration menu. The board loads then automatically all values from this profile including the often necessary voltage increasement, given by the memory manufacturer.
Das Gigabyte BIOS provides additionally a lot of settings to overclock the CPU, where it is also possible to adjust all turbo multiplier for each CPU Core (Turbo Ratio X-Core), to get the maximum out of the processor: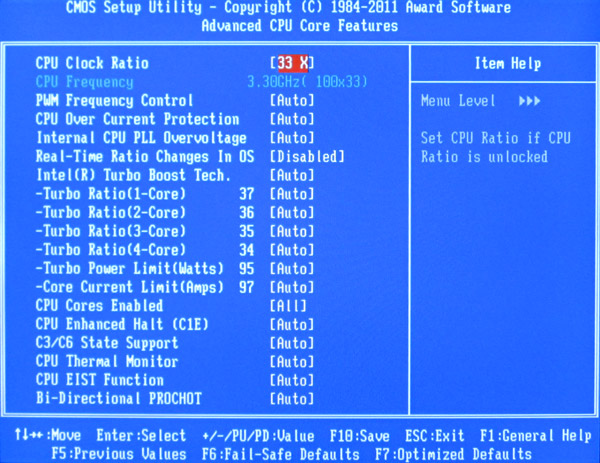 The host clock is adjustable from 80 MHz up to 200 MHz. In our tests, it was possible to overclock it up to 108 MHz BCLK.
108MHz BCLK is a low value, but this is rather usual with Z68 Sandy Bridge mainboards. This frequency is important for a lot of different frequencies, which can get too high, easily. Who bought an Intel "K" CPU, can increase the CPU multiplier to very high values to reach the desired CPU frequency. With a 2500K CPU (default clock is 3300MHz with a CPU ratio of 33x), the Gigabyte GA-Z68XP-UD3 motherboard offered a multiplier range from 16x to 59x, to setup theoretically a CPU frequency between 1600MHz up to 5900MHz.
BTW. it was not possible to adjust the PCIe frequency seperately, but the GPU frequency of the integrated graphics unit can be adjusted between 400 MHz and 3000 MHz.
The boot failure guard was checked in this review as well. With too high overclocking settings in some cases it was necessary using the Clear CMOS Jumper, it would be useful to have a better overclocking protection like an overclocking boot failure guard.
In addition to the numerous frequency and ratio settings, this board offers amazing voltage settings and limitations of the maximum power current. The Vcore setting on the Intel Core i5-2500K Test CPU was between 0.750 and 1.700 Volt and it was possible to select a Dynamic Vcore between -0.200 and +0.480 Volt. GPU 0.850 – 1.620, Dynamic Graphic DVID -0.200 – +0.480 Volt, VTT voltage between 0.860 – 1.530 Volt, System Agent voltage between 0.730 – 1.485 Volt, CPU PLL voltage between 1.195 – 2.435 Volt, Multi-Steps Load Line between 1 – 10 and a CPU Over Current Protection up to a PWM frequency selection is provided in the Advanced CPU Core Features Menu. The DDR3 memory voltage can be set between 0.890 – 2.135 Volt, DRAM VRef 0.690 – 0.810 Volt and DRAM Term 0.4200 – 1.385 Volt, which should be enough power for most DDR3 OC RAM modules.
The overclocking features can be also adjusted e.g. with the included Gigabyte EasyTune Software. We help you to answer your questions in our PC Forum.
BIOS Undervolting …
The downclocking or underclocking was also tested in this review. It was possible to lower the Intel Core i5-2500K CPU multiplier over the BIOS to 16x and the processor can be underclocked in such a way with 98 MHz BCLK to approx. 1560 MHz. Underclocking and OverClocking is outside of the manufacturers specification, so it's necessary to have a bit luck and Gigabyte gives several options to overclock or underclock the system more easily.
The BIOS of the passive cooled GA-Z68XP-UD3 motherboard offers a CPU Smart Fan option to offer a temperature fan control for a 4-pin CPU fan, a 3-pin CPU fan and a 4-pin chassis fan. Mainly the option to choose between PWM and Voltage is a great option to optimize the rpm with the Voltage setting for 3-pin fans and with the PWM setting for 4-pin fans, so it is not necessarily to buy an additional fan controller.
Hier sieht man die CPU Smart Fan Mode Auswahl im PC Health Status Menu: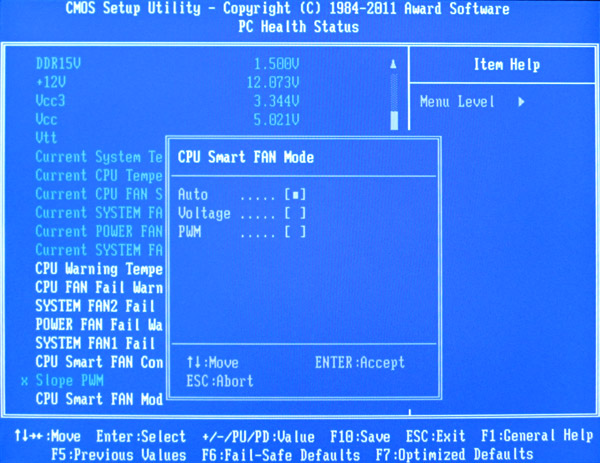 Power consumption …
Power consumption will vary depending upon the hardware and upon the PC load. The current consumption of the test PC with Intel Core i5-2500K CPU, 4GB DDR3-1333 memory, hard disk drive and Cooler Master Silent Pro M 600W test PSU was without overclocking depending upon load: – With Sapphire HD4870 video card the power consumption was between 114W idle and 198W max. – With Sapphire HD6870 video card the power consumption was between 24-73W idle and 183W max. – With onBoard Intel HD Graphics 2000 GPU the power consumption was between very low 19-39W idle and 100 Watt with full load. Thus, above all the idle power consumption and the maximum power consumption with full load is very low with the integrated GPU and thanks to Lucid Virtu it is possible to combine the integrated graphics unit of a Sandy Bridge processor with a PCI Express video card, in order to reduce the power consumption of specific applications at high graphics performance.
Result …
The Gigabyte GA-Z68XP-UD3 LGA1155 DDR3 motherboard is a great Intel Z68 platform with plenty of overclocking options for LGA1155 processors and offers a lot of new features like e.g. Intel Smart Response Technology in combination with a SSD and Lucid Virtu with an Intel Sandy Bridge processor.
This Z68 XP UD3 motherbaord offers a good basic equipment with four SATA3 ports, four additional SATA2 ports, two USB 3.0 ports on the I/O panel, two additional internal USB 3.0 ports, up to fourteen ! possible USB 2.0 ports, two possible IEEE1394 ports, Gigabit LAN, 7.1 sound with analog sound output over six connectors, digital sound output over an optical or HDMI SPDIF connector and graphics output with a Sandy Bridge processor over HDMI 1.4.
There is no graphic UEFI BIOS interface available, but Gigabyte integrated a BIOS or to be excact two BIOS chips with Hybrid EFI Technology and Touch BIOS support. Depending upon operating system this BIOS support also drives over 3TB.
Overclocker will enjoy the enormously comprehensive settings to achieve the maximum performance with all CPU Cores. Gigabyte offers the choice to overclock with the BIOS or with the provided EasyTune Tool. And the energy features will help to optimize the power consumption.
All in all the Gigabyte GA-Z68XP-UD3 earned the Redaktion ocinside.de OverClocking Dream Award 01/2012 with these great OC-features.
Here you can buy the Gigabyte GA-Z68XP-UD3 motherboard.
Special thanks to Gigabyte for their support.
Picture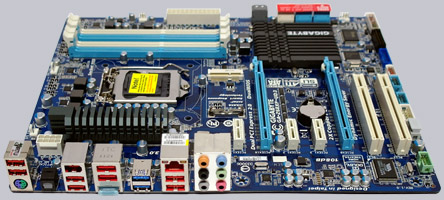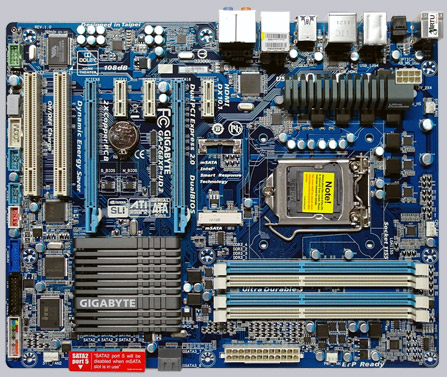 * All LGA 1155 motherboard reviews since 01.07.2011 are based on an Intel Core i5-2500K CPU, 1x Sapphire HD6870 1024MB ATI Radeon HD6870 PCI Express 2.0 video card, 1x Sapphire HD4870 512MB ATI Radeon HD4870 PCI Express 2.0 video card, 2x 2048MB Crucial Ballistix Tracer DDR3-1333/PC3-10600 memory modules, Cooler Master Silent Pro M 600W power supply unit and the following software configuration: Microsoft Windows 7 Ultimate, Microsoft Windows Vista Ultimate, SiSoftware Sandra 2011, Futuremark 3DMark11, 3DMark Vantage, 3DMark06 and 3DMark03 (the software is available in the Links & Downloads section). All benchmark results only offer a comparison among themselves for a rough motherboard performance comparison.
Back to the motherboard comparison with all AMD and Intel motherboard reviews !