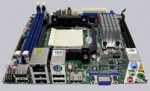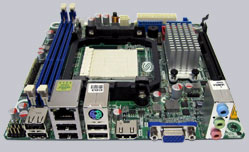 Result and general impression
+ The Sapphire IPC-AM3DD785G motherboard has a price of approx. 95 Euro (08/2010) and is thus in the middle price segment of the Socket AM3 motherboards.
The Sapphire IPC-AM3DD785G is the first Mini ITX motherboard for AMD Socket AM3 processors tested at ocinside.de. Thanks to the small form factor, Mini ITX motherboards are excellently suitable for mediaplayer, NetTop PCs, or industrial PCs. The AMD 785G chipset is already recommended in some ocinside.de reviews and offers with its onBoard graphics unit a good basis to build such a system. However, on these systems overclocking is less important than a low current consumption. So the current review of the Sapphire IPC-AM3DD785G motherboard not only shows overclocking results, but particularly the current consumption and the capability in small systems.
Here is the Mini ITX cardboard box compared to an ATX cardboard box: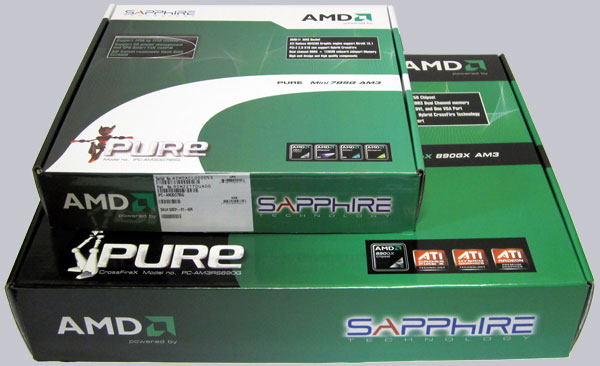 And here is a first picture of the small PURE mini 785G AM3 Mini ITX motherboard from Sapphire: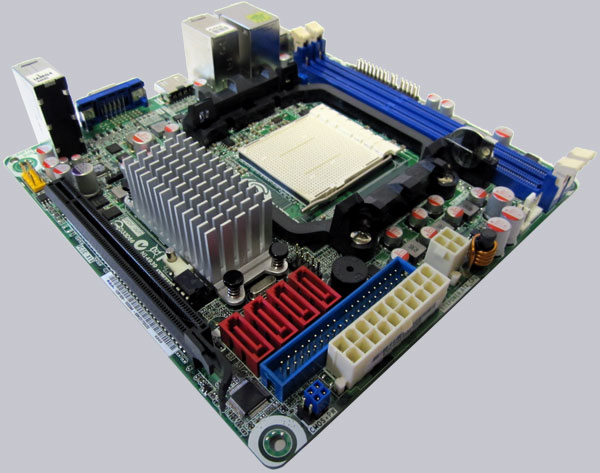 Equipment and other features …
Sapphire's IPC-AM3DD785G motherboard came with a manual, CD, SATA data cable, 9pole Sub-D cable for the RS232 COM port, HDMI to DVI adaptor, 40mm system fan and an I/O panel.
Expansion cards …
This IPC-AM3DD785G Mini ITX motherboard offers one x16 PCI Express 2.0 video card slot. There's no additional PCI or PCIe slot on this board, because the small form factor size doesn't offer additinal space for more slots.
Memory …
The Sapphire IPC-AM3DD785G can be equipped with two DDR3 modules and is depending on the operating system used (see list) expandable to maximally 8 GB memory.
This Socket AM3 motherboard supports DDR3 memory modules and can be optimized in the BIOS for DDR3-800, DDR3-1066, DDR3-1333 or DDR3-1600 Dual Channel modules.
Hard disk drive connectors …
The motherboard offers one IDE connector for maximally two conventional ATA 133 drives and four SATA II connectors (3 Gb/s). The S-ATA II ports supports RAID 0, RAID 1 and RAID 10. RAID level 5 isn't supported by the SB710 southbridge unlike the SB750.
The manual contains all basic information to manage a new installation of Windows XP, Windows Vista or Windows 7 with S-ATA hard disk drives and how to setup a RAID.
USB and Firewire …
The board has six USB 2.0 connectors at the ATX panel and two internal USB 2.0 plugs for up to four optional USB ports. Sapphire utilize ten of the 12 total possible USB ports of the chipset and did not integrate an IEEE1394 firewire port.
Network …
The Sapphire IPC-AM3DD785G motherboard uses the Atheros AR8131 chip and offers a 10/100/1000 network connector at the ATX panel.
Serial and parallel port …
This motherboard does not provide a parallel port, the serial port is available as internal COM port header and can be connected with the included COM port cable.
Sound …
The Sapphire IPC-AM3DD785G motherboard is equipped with the VIA VT1708S HD audio codec, which supports 5.1 surround sound for example analog over its 3x 3.5mm connectors at the I/O panel or over the internal connector.
For the digital output there is one internal SPDIF out connector available to connect it for example with a SPDIF cable to a HDMI suited video card, in order to get the digital audio and video signal to a HDMI equipment like a LCD television. Additionally it's possible to set the digital sound output to the integrated HDMI port.
Graphics …
The ATI Radeon HD 4200 graphics processor of the AMD 785G chipset is DirectX 10.1 capable, has an integrated 128MB Sideport RAM on the Sapphire IPC-AM3DD785G motherboard, supports HDCP, Full HD 1080p and offers thanks to the onBoard HDMI connector optimal conditions for a Home theatre PC.
Unfortunately in spite of current 3DMark patches and DLL updates it was not possible to run the onBoard GPU stable with our Phenom II 710 95W TDP comparison processor on the Sapphire Mini ITX testboard, so that benchmark values could only be measured with the ATI and nVidia video card. According to Sapphire CPUs up to 65 Watts of TDP are supported without restrictions, whereby according to the CPU support list processors up to 125W and/or 95W TDP are applicable with improvement of the cooling. On other AMD 785G boards approx. 2100 points with 3DMark06 were reached with the HD4200 onBoard graphics unit. One nVidia GTS250 PCI Express video card achieved 12531 3DMark06 points and one ATI Radeon HD4870 PCIe video card achieved 13272 3DMark06 points.
Here is a picture of the I/O panel connectors:

From left to right one can see 2x USB 2.0 ports, RJ45 Gigabit LAN and 2x USB 2.0 ports, the PS/2 connector for a PS/2 keyboard or Mouse and 2x USB 2.0, HDMI, 15-pol Sub-D VGA and 3x 3.5mm jacks for analog sound.
BIOS and Overclocking …
Let us continue with BIOS options and BIOS overclocking. By pressing the F1 key, you get access to the AMI BIOS with all hardware settings. The BIOS startup screen is usually a fullscreen logo which can be deactivated in the BIOS. It makes sense to deactivate the fullscreen logo for the first settings, because the BIOS post details only becomes visible with deactivated fullscreen logo.
The BIOS offers only very few DDR3 memory settings like e.g. the memory frequency adjustment from 400 MHz over 533 MHz and 667 MHz on up to 800 MHz (DDR3 800/1066/1333/1600). These RAM settings can be adjusted by the option auto, manual and limit.
Its host clock is adjustable from 200 MHz up to 293 MHz, the NB divisor is not adjustable and the HT (hypertransport) frequency is adjustable from 200 to 2000 MHz.
The PCIe frequency and the SB clock wasn't manually adjustable in the BIOS. Only the GPU setting was selectable in the BIOS over the GFX setting from 100 MHz to 999 MHz. Additionally the BIOS offers an option to deativate PowerNow manually, however this doesn't compensate other missing settings.
It was possible to overclock the Sapphire IPC-AM3DD785G up to 262 MHz reference clock, whereby it was necessary to set the Clear CMOS Jumper to get the PC running on standard values when the overclocking settings were too high. It would be desirable to have an popular boot failure guard to check the proper startup procedure.
The downclocking or underclocking was also tested in this review. It was not possible to lower the multiplier over the BIOS and the minimum reference clock was 200 MHz, so it was not possible to underclock the CPU.
The Sapphire IPC-AM3DD785G motherboard offers no voltage settings in the BIOS, so even undervolting is not easy at all with this board.
The current consumption of the test PC with AMD Phenom II 710 X3 CPU, Nvidia GTS250 PCIe 2.0 video card, 4GB DDR3-1333 memor, hard disk drive and Cooler Master Silent Pro M 600 W test PSU was without overclocking and depending upon load between approx. 100 Watt up to 192 Watt. The power consumption with AMD Phenom II 710 X3 CPU, ATI Radeon HD4870 PCIe 2.0 video card, 4GB DDR3-1333 memory and hard disk drive was without overclocking and depending upon load between approx. 131 Watt up to 231 Watt. And the current consumption without PCIe video card with onBoard HD 4200 graphics was depending upon load between approx. 78 Watts up to 98 Watts.
The BIOS of the IPC-AM3DD785G motherboard offers by the way a CPU Fan Control option (temperature fan control) for 4-pin CPU fans in the BIOS.
Result …
The Sapphire IPC-AM3DD785G AMD Socket AM3 Mini ITX motherboard for DDR3 RAM offers a fully-fledged PC motherboard in Mini ITX size. It is suitable thereby for a HTPC or a NetTop PC and can be even overclocked somewhat, whereby at least enthusiasts will miss many settings.
The equipment of the Sapphire IPC-AM3DD785G motherboard is of course not so extensive by the Mini ITX form factor, but Gigabit LAN, 5.1 sound, digital sound output over HDMI or the internal SPDIF connector, up to ten possible USB ports, four SATA II ports with RAID support and video outputs over D-Sub, HDMI or DVI-D with the contained adaptor are a positive basic equipment for such a small motherboard.
All in all the Sapphire IPC-AM3DD785G Mini ITX Motherboard undervolting and downclocking options unfortunately could not convince in the test and it offers horrible overclocking options. The motherboard achieved with the supported settings a good performance and a low energy consumption, but it would be desirable, if Sapphire would publish a new BIOS with more settings.
Here you can buy the IPC-AM3DD785G motherboard.
Special thanks to Sapphire for their support.
Picture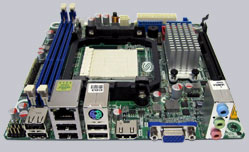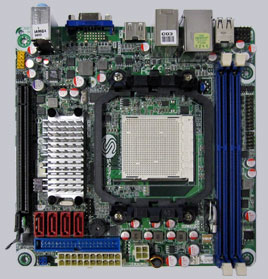 * All Socket AM2 / AM3 PCIe motherboard reviews since 01.07.2010 are based on an AMD Phenom II 710 X3 CPU, 1x Gigabyte GV-N250OC-1GI Nvidia GTS250 PCI Express 2.0 video card, 2x Sapphire HD4870 512MB ATI Radeon HD4870 PCI Express 2.0 video cards, 2x 1024MB Crucial Ballistix Tracer DDR2-1066/PC2-8500 memory modules on DDR2 mainboards or 2x 2048MB Crucial Ballistix Tracer DDR3-1333/PC3-10600 memory modules on DDR3 mainboards, Cooler Master Silent Pro M 600W power supply unit and the following software configuration: Microsoft Windows 7 RC, Microsoft Windows Vista Ultimate, Windows XP SP2, SiSoftware Sandra 2010c, Futuremark 3DMark03, 3DMark06 and 3DMark Vantage (the software is available in the Links & Downloads section). All benchmark results only offer a comparison among themselves for a rough motherboard performance comparison.
Back to the AMD Athlon 64 and AMD Phenom motherboard comparison !