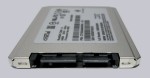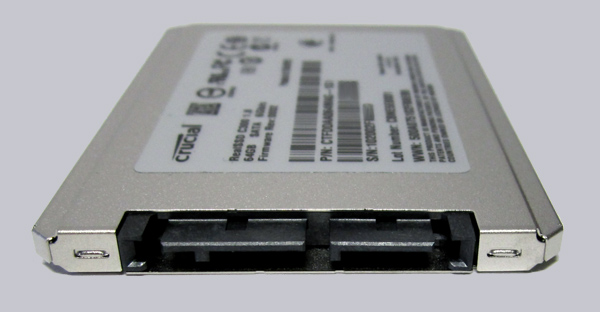 The Crucial RealSSD C300 64GB SSD is the first SSD in 1.8-inch size, tested at Redaktion ocinside.de. With this tiny, 5mm thin SATA3 SSD it is possible to upgrade a netbook, notebook, MP3 player, media player or also a conventional PC and Mac in order to reach an undreamed-of SSD performance. In today's test report one can see several benchmarks compared with other 3.5-inch hard disk drives and 2.5-inch SSDs installed on the SATA2 and SATA3 port. Furthermore on visitor inquiries, all benchmark values are available in a direct comparison of IDE and AHCI. Additionally the performance of the brand-new Crucial RealSSD C300 64GB 1.8-inch SSD is compared with a popular Toshiba MK8007GAH 1.8-inch PATA drive. So there are a lot of interesting comparisons and information in this current SSD review.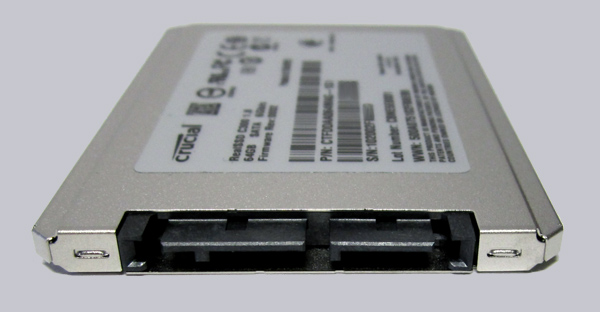 Thanks for the support …
Many thanks for the support with the Crucial RealSSD 64GB 1.8″ SSD by the manufacturer Crucial.
The Crucial RealSSD C300 64GB SATA3 1.8″ SSD CTFDDAA064MAG-1G1 has at present a price of approx. 130 Euro (11/2010).
The Crucial RealSSD C300 1.8-inch series contains at present the following types: 64GB CTFDDAA064MAG-1G1 for approx. 130 Euro (11/2010) 128GB CTFDDAA128MAG-1G1 for approx. 260 Euro (11/2010) 256GB CTFDDAA256MAG-1G1 for approx. 510 Euro (11/2010) Whereby the performance of this Crucial RealSSD C300 Series alters depending on the capacity. A higher capacity of this Crucial RealSSD C300 has a higher write performance ! SSDs and other hardware is available at our sponsors.
Here you can buy the Crucial SSD.
The supply of the Crucial RealSSD C300 64GB SATA3 SSD …
In this well protected cardboard box comes the currently from the size and capacity smallest Solid State Drive from Crucial: