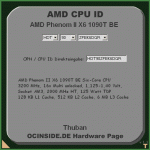 Interactive AMD product ID guide now also with AMD Bulldozer processors !
A so called product ID or OPN description is on each AMD Phenom, Phenom II and Athlon II CPU, but the product ID is not really easy to understand without studying several datasheets. On the new AMD Phenom product ID guide v1.2 simply select the description of your processor over the drop-down fields or type it directly into the new OPN field. Then you will see the technical data and processor description below in the virtual CPU. The service is of course free available over the web and it is also possible to control this interactive guide directly with OPN data over online shops, forums, or web pages.
Note: Please allow our cookies first to see this external content!