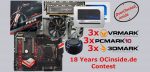 OCinside.de has its 18 year online anniversary and this is celebrated with a big giveaway! In the last few months, the team at ocinside.de has published numerous reviews and guides, as well as optimizations from the current CMS to the new server and SSL upgrade. OCinside.de is now grown up and of course the celebration gets bigger. That is why we have published a big contest up to and including 3rd January 2018 with great prizes from headset over SSDs to high-end gaming mainboard!
Note: Please allow our cookies first to see this external content!
18 great prizes from ASRock, Arctic, Crucial, Cryorig, Enermax, Futuremark and Scythe!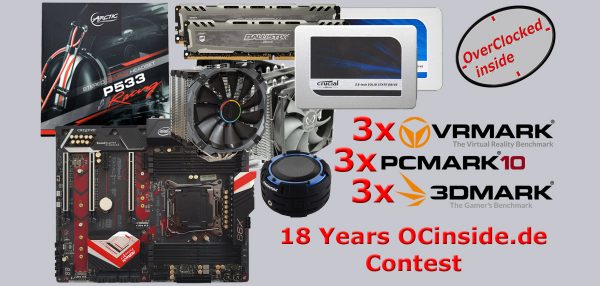 We thank you for 18 years of loyalty and wish all participants good luck!
Click here for the 18 years of OCinside.de contest (Contest in German, here for our OCinside Facebook page, here for OCinside Twitter and here is our OCinside YouTube Channel where you can participate to increase your chances of winning.
Here you can order hardware.