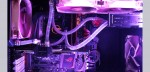 Special features of the NZXT Kraken AIO
The NZXT Kraken 40 AIO water cooling system is very similar to the Arctic Accelero closed water cooling system from part 1. Only the connections are angled and can be rotated, which provides more comfort and does not cause any problems even in tight conditions around the CPU socket.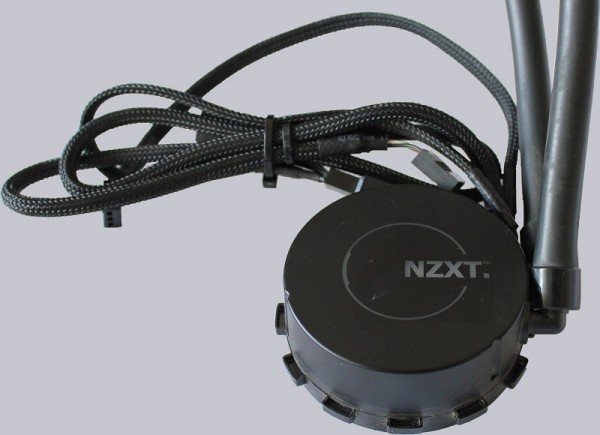 NZXT has however added a few additional technical details to the Kraken AIO: The logo is illuminated and you can adjust the color and the lighting behavior (permanent, flashing etc.) by software (NZXT Cam), so the CPU cooler color can match with the rest of the interior. Furthermore, the Kraken AIO has two or four fan connections, depending on which radiator (140mm / 280mm) it is equipped with. The fans can also be controlled by Cam software, even depending on the current water temperature, because the Kraken AIO has a water temperature sensor in the pump housing.
The pump itself is supplied via a 3-pin fan connection. For the additional functions (LED, fan, temperature) it is necessary to connect the Kraken AIO to a USB port on the motherboard. However, the water cooling can also be operated if only the 3-pin connection for the pump is plugged in. If you have your own fan control and can do without LED lighting etc., the additional cables are not necessary.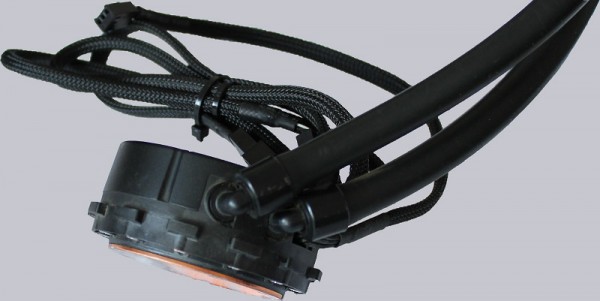 Disassembly of the cooling unit
Disassembly and removing the tube from the fitting is exactly the same as with the Arctic Accelero AIO from the first AIO mod tutorial. If the tubes are removed, you will find 6mm tube fittings at the cooler/pump-unit as well as at the radiator. Again, the cooling unit is made of copper and the radiator is made of aluminum, so remember to use corrosion protection cooling fluid!
NZXT Kraken AIO custom loop …