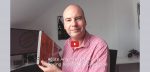 We have published on OCinside.de an unboxing video for a very inexpensive Acute Angle AA B4 Mini PC, which is equipped with an Intel N3450 Quad-Core processor. The detailed review of the new Acute Angle AA B4 Mini PC will follow shortly.
Note: Please allow our cookies first to see this external content!
Discuss in our forum about the Acute Angel AA B4 PC Video …
Here you can buy the Acute Angle AA B4 PC.
Read on in the hardware test area with several hardware reviews …