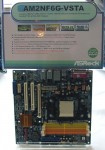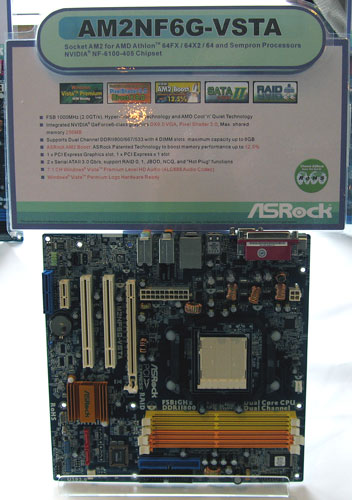 This article shows you a preview of the current ASRock AM2NF6G-VSTA Mainboard.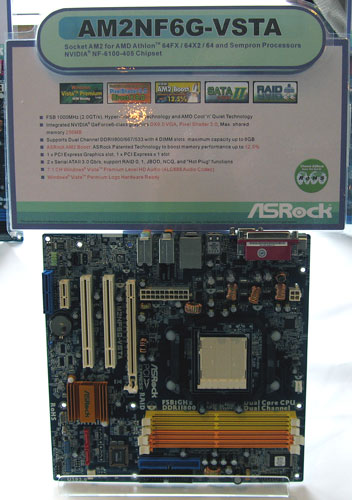 ASRock Motherboard Preview August 2006 The newest ASRock Motherboards The new ASRock AM2NF6G-VSTA Motherboard …
With the AM2NF6G-VSTA Motherboard ASRock is thanks to the nVidia NF-6100-405 chipset an inexpensive solution with an integrated onBoard GeForce graphics chip. Let us see, if the performance of the DirectX 9.0 capable video card is fast enough for current games, but even by the ASRock AM2 memory Boost feature the board is quite interesting for high performance. According to ASRock the AM2 Boost technology boost the DDR2 memory performance up to 12,5%. The board should be also compatible with Microsoft Windows Vista Premium by the new ALC888 audio chip.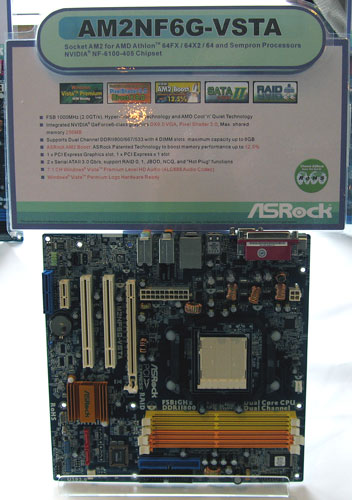 The manufacturers technical data for the ASRock AM2NF6G-VSTA Motherboard …
Socket AM2 for AMD Athlon 64FX / Athlon 64X2 / Athlon 64 and Sempron Processors NVIDIA NF-6100-405 Chipset ASRock AM2 Boost: ASRock Patented Technology to boost memory performance up to 12.5% Supports Dual Channel DDRII800/667/533 with 4 DIMM slots, maximum capacity up to 8GB 2 x Serial ATAII 3.0 Gb/s, support RAID 0, 1, JBOD, NCQ, and "Hot Plug" functions 4-Phase Power design 1 x PCI Express Graphics slot, 1 x PCI Express x 1 slot 7.1 CH Windows Vista Premium Level HD Audio (ALC888 Audio Codec) Integrated NVIDIA GeForce6-class graphics DX9.0 VGA, Pixel Shader 3.0, Max. shared memory 256MB Windows Vista Premium Logo Hardware Ready
All in all these five new ASRock AMD Motherboards are really interesting and I'm sure they'll also find the way into several High-End PCs in the near future.
In this Motherboard comparison overview are the so far tested AMD Socket 939 and Socket 754 Mainboards, soon also with new AMD Socket AM2 Motherboard Reviews.