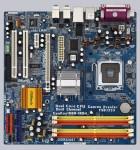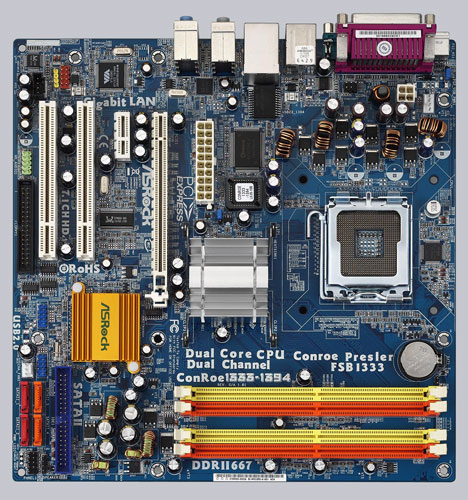 This article shows you a preview of the current ASRock ConRoe1333-1394 Mainboard.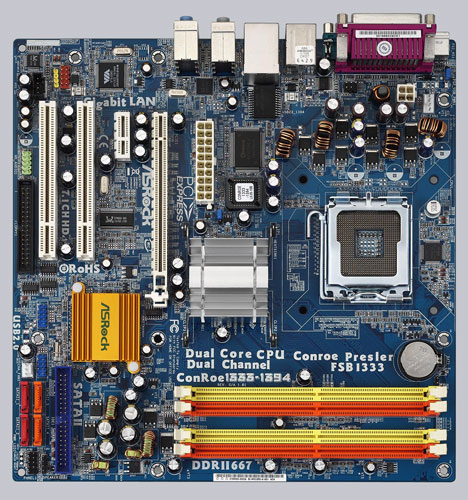 ASRock Motherboard Preview August 2007 The newest ASRock Motherboards The new ASRock ConRoe1333-1394 Motherboard …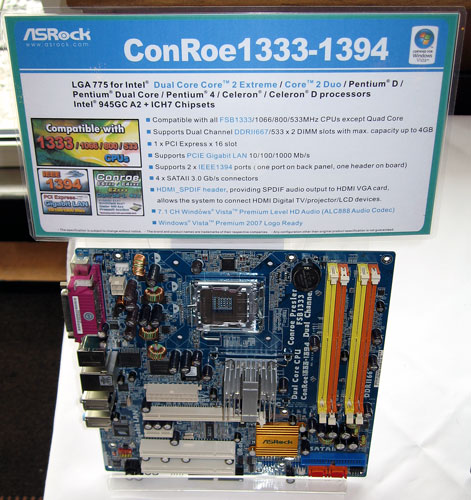 Here's another picture of the ASRock ConRoe1333-1394 Motherboard …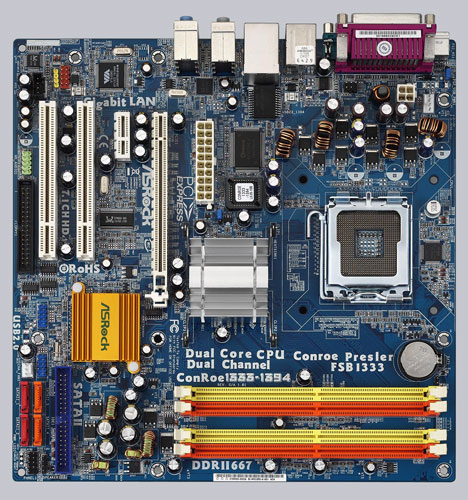 The manufacturers technical data for the ASRock ConRoe1333-1394 Motherboard …
– LGA 775 for Intel Dual Core Core 2 Extreme / Core 2 Duo / Pentium D / Pentium Dual Core / Pentium 4 / Celeron / Celeron D processors – Compatible with all FSB1333/1066/800/533MHz CPUs except Quad Core – Supports Dual Channel DDRII667/533 x 4 DIMM slots with max. capacity up to 4GB – 1 x PCI Express x16 slot – Supports PCIE Gigabit LAN 10/100/1000 Mb/s – Supports 2 x IEEE 1394 ports (one port on back panel, one header on board) – 4 x Serial ATAII 3.0 Gb/s connectors – HDMI_SPDIF header, providing SPDIF audio output to HDMI VGA card, allows the system to connect HDMI Digital TV/projector/LCD devices – 7.1 CH Windows Vista Premium Level HD Audio (ALC888 Audio Codec) – Windows Vista Premium 2007 Logo Ready
Of course not all mainboards are brand-new, but there're many interesting novelties. It's easy to see the trend of ASRock's current motherboards – currently it's very important for ASRock to get the Windows Vista Premium Level Logo for full support of Microsoft Windows Vista. It's also required to offer the full compatibility of the HDCP standard to get this logo. All in all, the ASRock product range is competitive and of course very inexpensive.
In this motherboard comparison overview are the so far tested AMD Socket AM2, Socket 939 and Socket 754 mainboards, which will be expand with more motherboard overclocking reviews, soon.