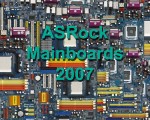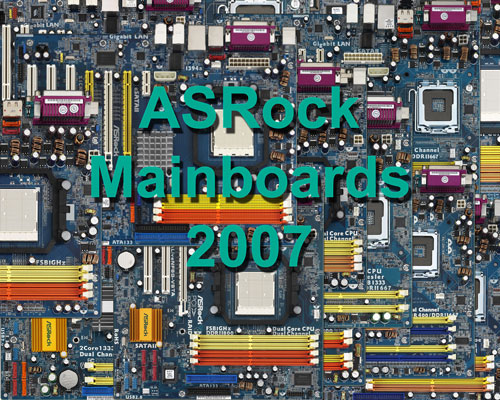 ASRock Motherboard Preview August 2007 The newest ASRock Motherboards
ASRock has invited to the current product presentation on 30.08.07 and presented 13 motherboards for AMD and Intel processors. In the following 14 pages long article we will take a closer look to these motherboards. For AMD processors: ASRock AliveNF5SLI-1394, ALiveNF5-eSATA2+, ALiveXFire-eSATA2, ALiveNF7G-HDready and the ALiveNF6G-VSTA. For Intel processors: ASRock 4CoreDual-SATA2, 4Core1333-Viiv, 4Core1333-eSATA2, ConRoe1333-GLAN, ConRoe1333-D667 R1.0, 4Core1333-FullHD, ConRoe1333-DVI/H R2.0 and the ConRoe1333-1394.
Here's a picture of all previewed motherboards …

The presentation was held in the above shown hotel "van the Valk" in Cuijk (Netherland). Special thanks to Reiner Huf and greetings to our buddies PC-Treiber.net 🙂
Mr. Sterling Wu and Mr. Chris Lee didn't only show their motherboards, but also the latest technical trends like e.g. Full HD 1080p support, Blue-Ray, HD DVD, HDCP and the Intel Viiv technology.
Furthermore ASRock introduced the ASRock DeskExpress 3,5″ device, which is used to support ExpressCard/54 and ExpressCard/34 devices for Notebooks also in conventional Desktop PCs. The performance is with 2,5 Gigabit per second about 2,5x times faster than a conventional 32-bit PCMCIA card, but the price of these PCI Express Cards (short ExpressCard) are still much more expensive. Anyway, new technologies are the future and will help to reduce the prices soon.
They have additionally explained the compatibility to the Intel FSB1333 processors and the soon coming AMD AM2+ processors like e.g. the Rana, Spica, Agena and Kuma AM2+ CPUs, which should work also on older ASRock boards with a BIOS update.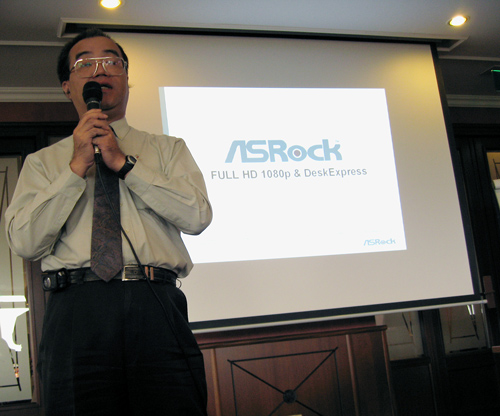 I hope that you will enjoy the following Previews …
Page 2 – ASRock AliveNF5SLI-1394 Motherboard Preview …