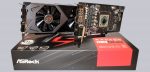 Construction, design and features …
After unpacking, the two 85mm fans and the stylish, streamlined design are visible from above.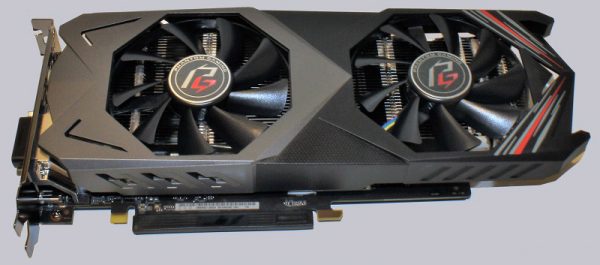 From the front, the total of 5 monitor ports are all provided with protective caps.


The top edge can still come with a "Phantom Gaming" lettering, also we find the single 8 pin PCI-e power connector.


The radiator protrudes slightly backwards over the board.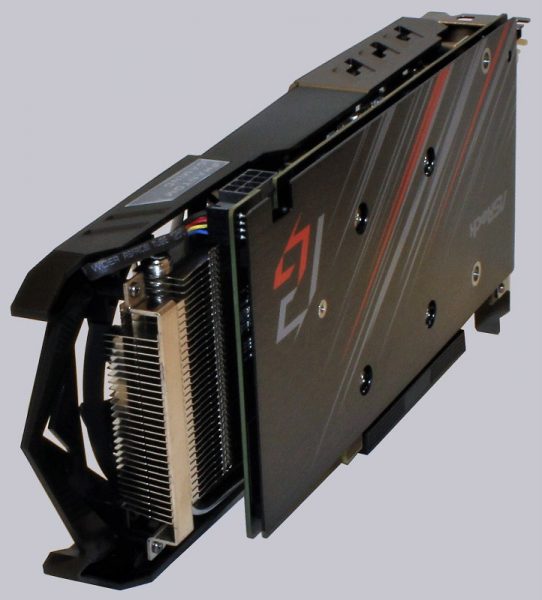 The backplate is really very chic and completes the design skilfully. In cases with windows, the ASRock Phantom Gaming X Radeon RX 590 8G OC is an eye-catcher. We also realize here that it only takes 6 screws to disassemble the cooler …


… and so we did not ask for long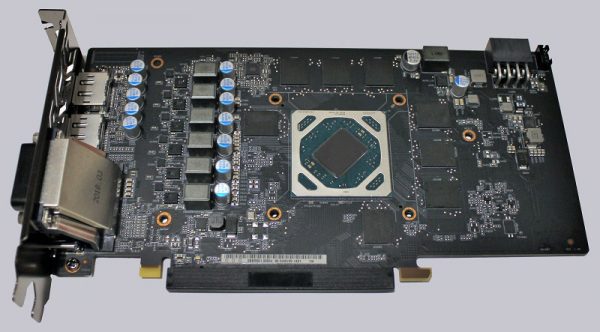 It is noticeable that the power supply is on the left side of the board and not, as usual, right next to the power connections.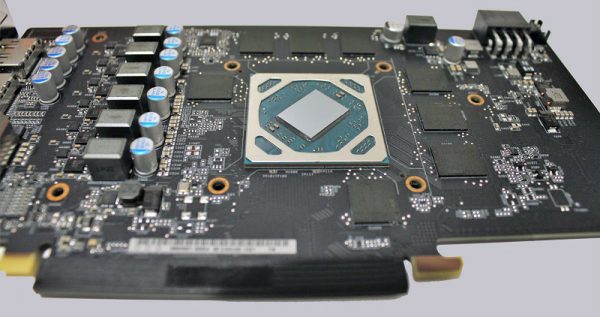 Here is the Polaris 30 GPU in detail.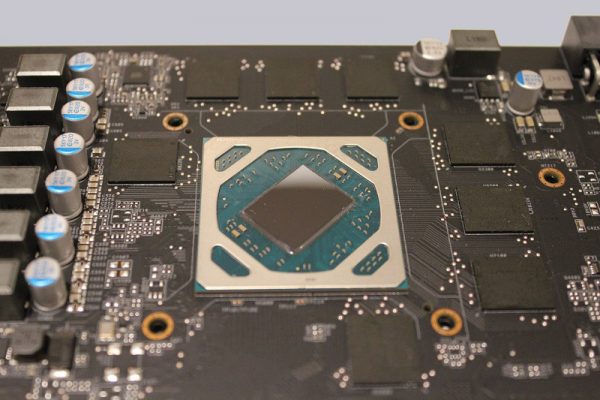 The backplate, which is made of metal by the way, is even used to heat dissipate the GPU backside with a thermal pad, helping to keep things cool rather than only looking good.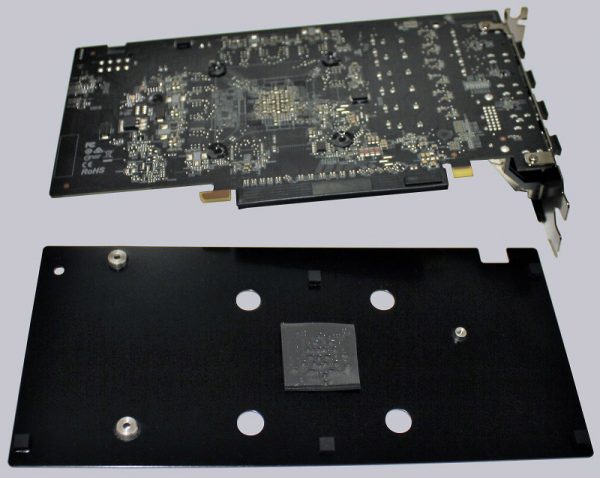 Both the RAMs and the voltage transformers also have contact with the radiator via thermal pads.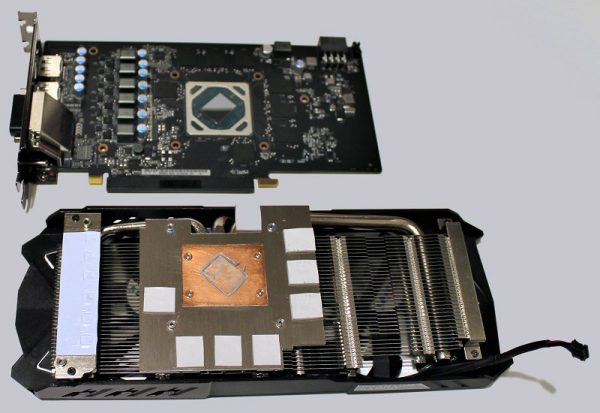 In order to be able to explore the ASRock Phantom Gaming X Radeon RX 590 8G OC at will, there is also the 360° view again.

We would have arrived at the end of our small hardware tour. But the ASRock Phantom Gaming X Radeon RX 590 8G OC has more to offer. And that is the …
Software …
Although ASRock also offers the driver for download on its website, it is the standard AMD driver, so we download it in the latest version (at test time 19.1.1) directly from AMD.
From ASRock we load the Phantom Gaming Tweaker in the version 1.0.4.4. After the installation, the app rewards us with a complete overview of the vital signs of the graphics card and the OC modes. In default mode, the RX 590 clocks at 1560/2000 MHz. Here we also see the 0 dB mode in action: The fans are off in Windows mode.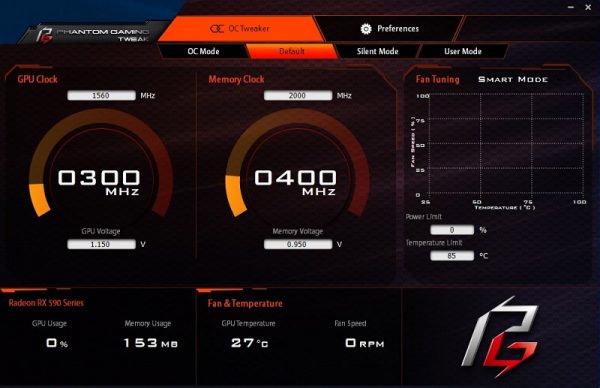 The OC mode clocks GPU and RAM at 1591/2007 MHz and raises the power limit by 20%.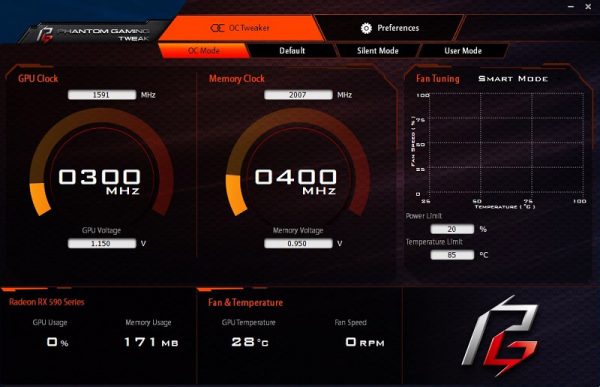 In silent mode, however, the GPU and RAM clock at 1528/2000 and the power limit is reduced by 20%.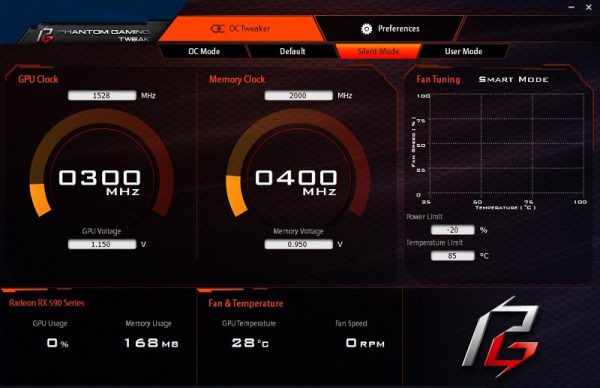 Last but not least, in User Mode we can lend a hand to all controllers. Maximum 2000 MHz GPU clock can be set with 1.212 volts, 2250 MHz RAM clock with 1.212 volts and the power limit can be increased by a maximum of 50%.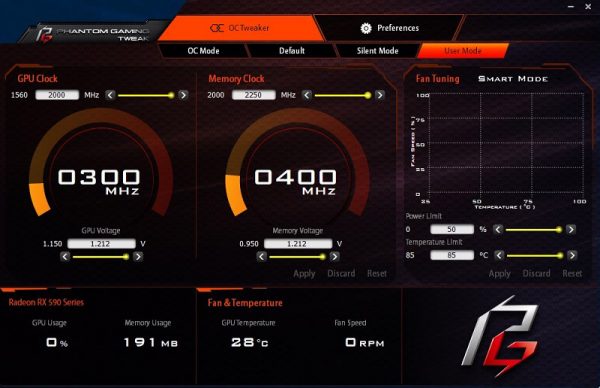 In all modes, we could also adjust the fan curve itself. The individual clock modes are in our view pretty close to each other. We are curious how big the differences will be.
But now we want to turn our words into deeds. Let's get to our practical test.
ASRock Phantom Gaming X RX 590 graphics card Benchmark values and test results …