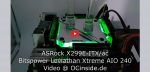 Today we released a video in German with English subtitles about the ASRock X299E-ITX/ac motherboard with a Bitspower Leviathan Xtreme All In One 240 water cooling on OCinside.de. The water cooling has been specially adapted to the ASRock motherboard and cools not only the Intel Core i9 LGA2066 processor, but also the motherboards voltage regulators and power chokes. The detailed review of the new ASRock ITX motherboard and the water cooling review will follow soon.
Note: Please allow our cookies first to see this external content!
Discuss in our forum about the watercooled ITX system Video …
Here you can buy the ASRock X299E-ITX/ac motherboard.
Read on in the hardware test area with several hardware reviews …