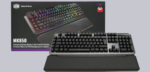 Software …
The Cooler Master Software MasterPlus can be downloaded from the Cooler Master website. The MasterPlus software allows you to make all other settings on the MK850, program macros, set the different Aimpad modes and more.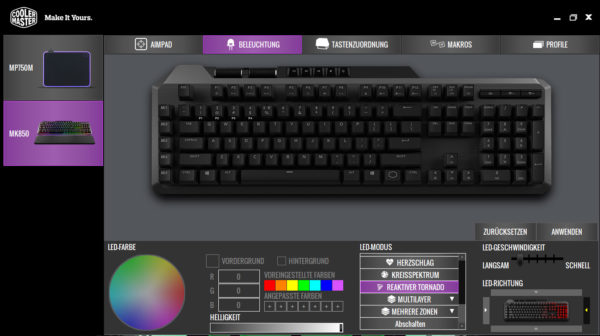 The Aimpad tab allows you to adjust the sensitivity of the Aimpad buttons, the dead zones and the different layouts. If the Aimpad mode is deactivated the software will ask you to activate it first, before you can make any adjustments.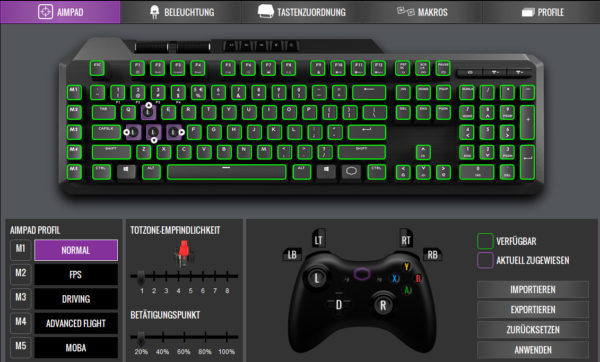 As you can see in the lower picture in the software, the Aimpad buttons reflect a controller and are recognized by the system. If you switch on the Aimpad mode of the keyboard, the keyboard will be restarted as keyboard and controller. This has the advantage that you can now enjoy the full functionality of the pressure sensitive keys, but unfortunately the keys are no longer recognized as a keyboard and therefore cannot perform their normal function. Writing with the keyboard in Aimpad mode is therefore only possible in a limited way, because the letters Q, W, E, R, A, S, D and F are simply missing.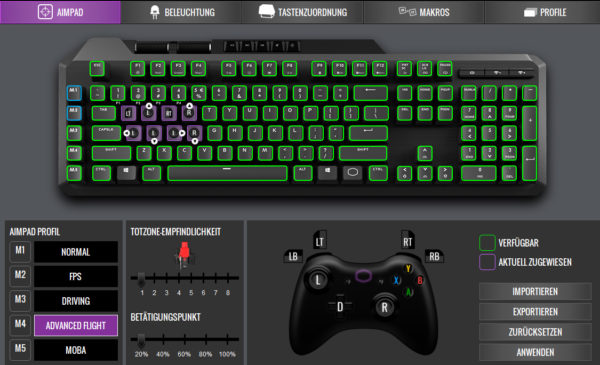 Macro programming via the user interface has been solved in a rather simple and self-explanatory way, so there are no problems to get familiar with the operation. You name the macro and simply record it using the red record button.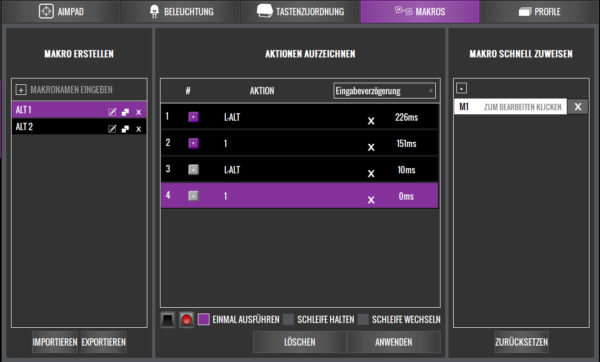 Then you can easily assign this macro to a key via the "Key Assignment" tab in the drop-down menu.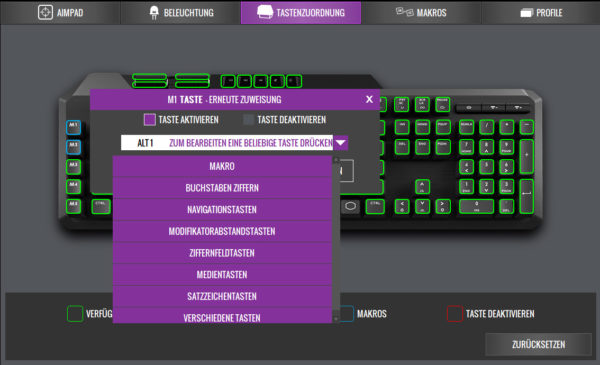 The profile tab allows you to create and save different profiles with alternative keyboard layouts, macros and LED programs. These profiles can even be tied to the execution of a specific application, so that the keyboard activates a different profile when starting the game GTA V, for example, than when starting Call of Duty. Very handy: All adjusted RGB effects and macros are stored on an on-board memory in the keyboard, so that they are preserved when switching to another PC!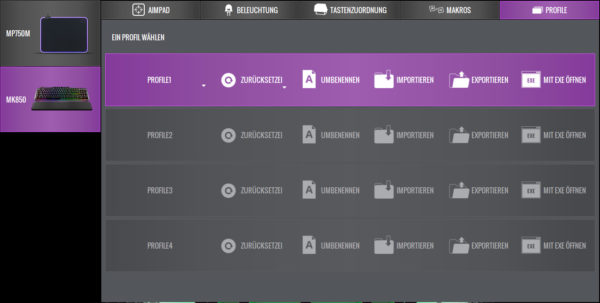 The "Lighting" tab allows you to control the RGB lighting and gives you a very wide range of options. Beside the countless pre-programmed modes, the software also gives you the possibility to connect several modes with each other. As a little gimmick the popular mobile phone game Snake was integrated. If you activate the game snake mode, you can chase and feed the snake with the arrow keys on the keyboard.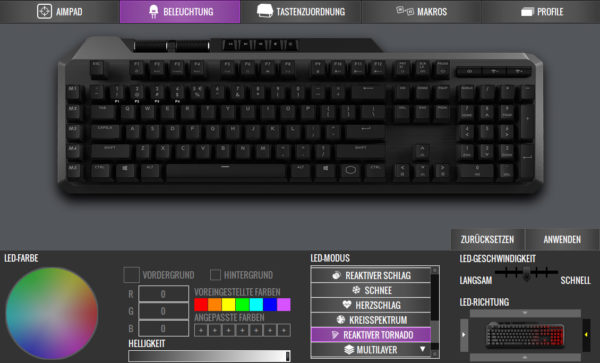 Of course we have again prepared a video in the OCinside YouTube channel which shows the different modes and wish you a lot of fun.

Cooler Master MasterKeys MK850 RGB Effekte Video
Cooler Master MK850 Practical testing …