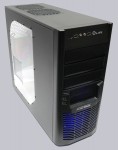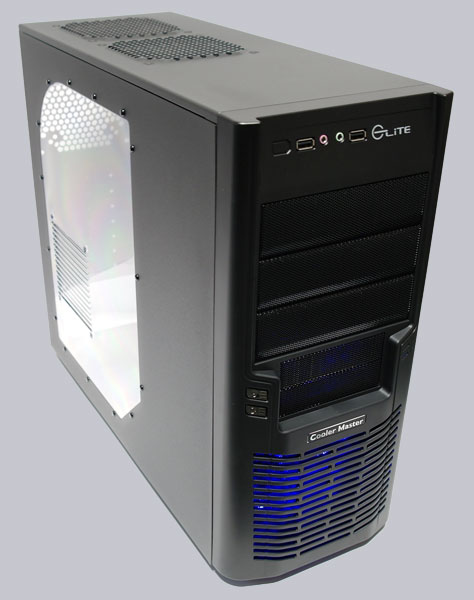 Let us now take a view inside of the Cooler Master Elite 430 Black. The Cooler Master Elite 430 Black is completely black coated in the chassis. All plate edges are very well deburred, folded and rounded, so one can work thus without any problem for longer time in this enclosure. Cooler Master has integrated many features to make the upgrade more easily. For example the labeled motherboard tray holes and a large space to mount the CPU heatsink from the motherboard back side without removing the motherboard. Cooler Master thus also pay attention to the features of less expensive enclosures.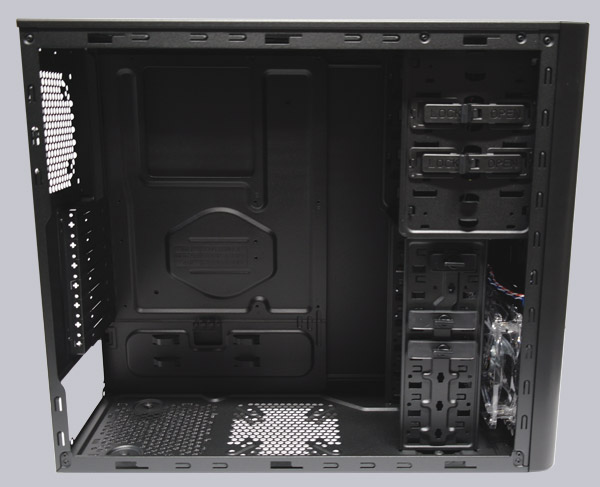 Here is the backside of the motherboard tray with the enormous cut-out for a simple CPU heatsink assembly.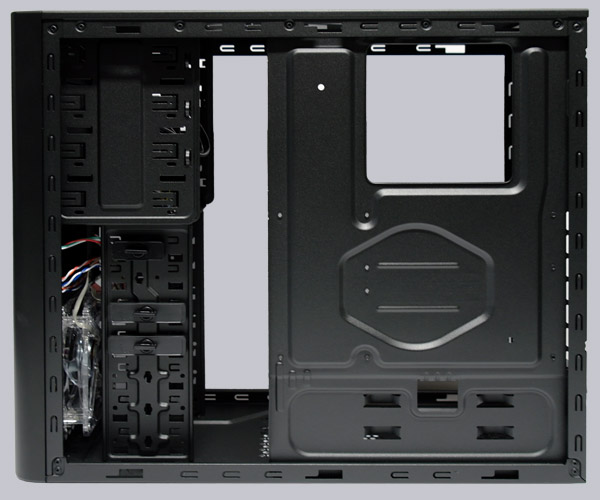 In this case it is possible to mount up to five 5.25″ drives very easily. Just slide the drive locking mechanism to Lock or Open to fix or remove the drive.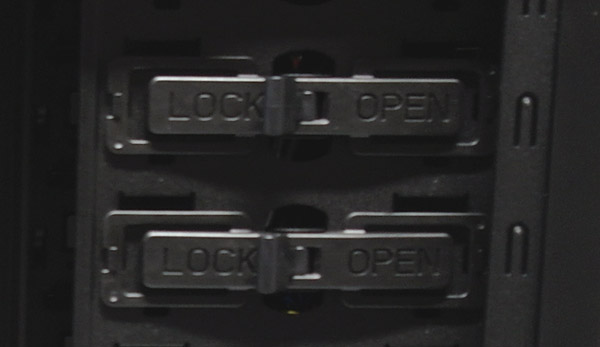 3.5-inch drives are very simple to install as well, just rotate the mounting system to fix the drive.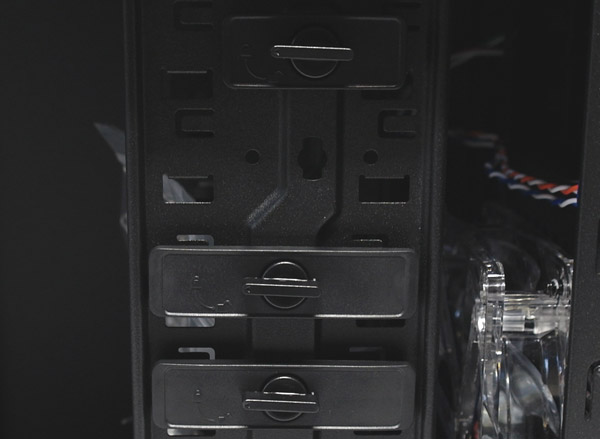 Here you can see the black coated slot brackets, which have to be separated completely as seen on serveral OEM cases, in order to be able to use them for the first time. Here it would be desirable, if Cooler Master would add at least a few slot brackets to the chassis.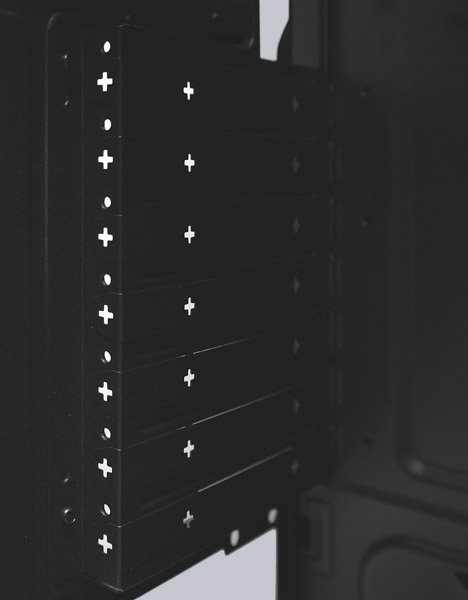 Over the slot brackets are the cut-out for a 120mm or smaller fan, to make it possible getting a direct circulation of the warm CPU air. Here one should insert a fan as well.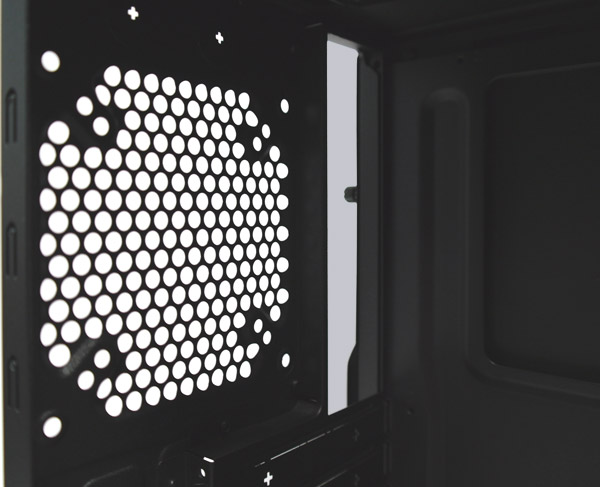 In the case front a 120 mm fan with blue LED lighting is already integrated, which carries the fresh air through the hard disk drives into the enclosure.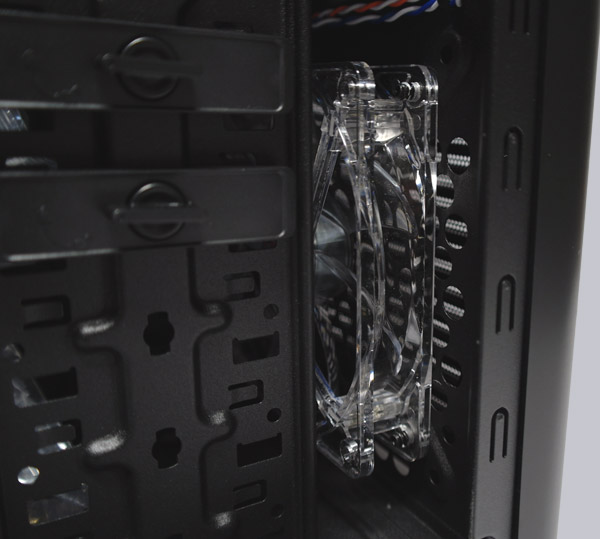 All plugs of the I/O panel connectors, power button and reset button are well labeled. The USB connector for the USB plugs and the connector for the 3.5mm audio plugs are each build in one block, whereby the audio connector offers an AC'97 and a HD audio pin allocation. So it is not necessary to connect each pin to the motherboard. Nevertheless one should compare the pin allocations of the plugs with the motherboard manual before the installation.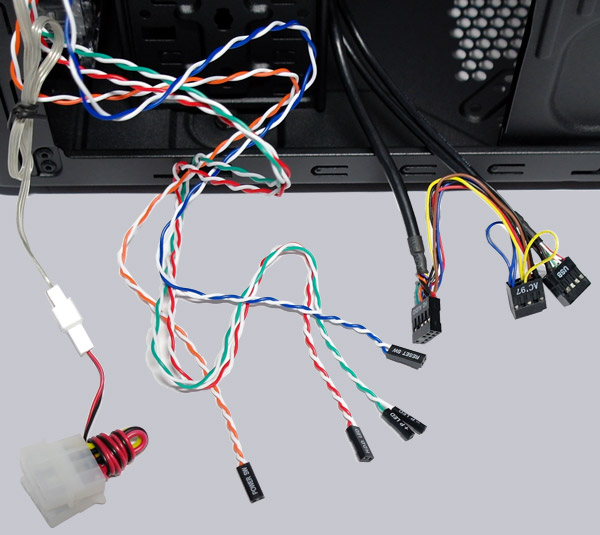 After everything is attached, the front fan light up blue and shines through the holes.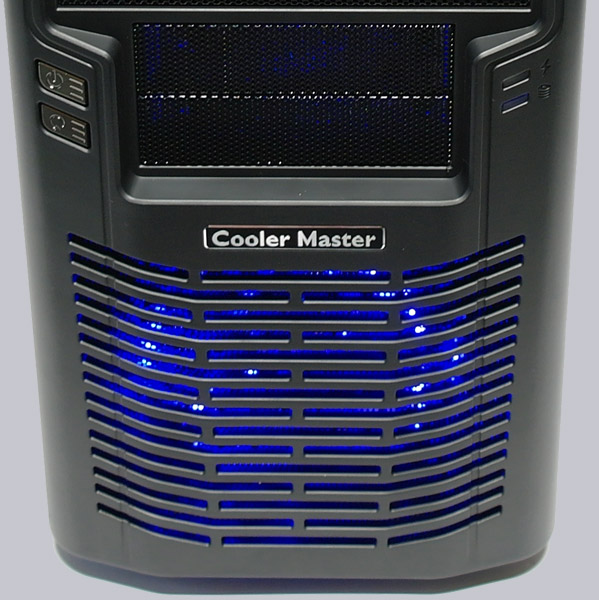 Result and general impression of the Cooler Master Elite 430 Black Case …