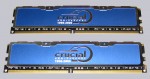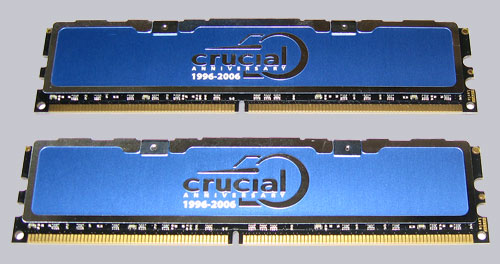 Crucial 10th Anniversary 2GB Kit (2x1024MB) PC2-5300/DDR2-667 Memory Review
The company Crucial should be well known by everyone who is interested in PC or Macintosh hardware and already acquired some memory modules. It's not only because of the high performance of the modules, but also because of the long existence of the company. Crucial recently became 10 years old and they celebrated their 10th anniversary with special chocolate modules (yes, memory modules can be tasty) and with special 10th Anniversary 1GB PC2-5300/DDR2-667 CL3 memory modules. PC2-5300 does not sound very fast, but sometimes the test results differs from the first impression.
If you like to know more about the 10 years Crucial, you should take the time for their interactive Flash animation.
Thanks for the support …
Many thanks for the support with the TY2KIT12864AA663 tenth Anniversary 2GB PC2-5300/DDR2-667 CL3 kit by Crucial.
The 2 GB kit contains two 1024 MB 10th Anniversary 240-pin DIMM DDR2-667 memory modules and the current price is about 298 euro (11/2006). They're available with the upper banner in the Crucial Shop and at our sponsors.
The supply of the two 1024MB PC2-5300 memory modules …
In this small box are the two very well protected memory modules: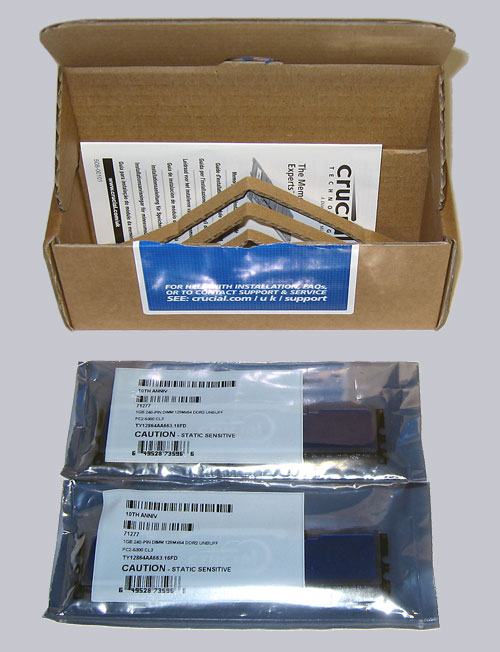 That is contained in the scope of delivery …
Crucial supplies the two memory modules as well as a multilingual installation guide, which should make it possible also for less experienced users to install them easily: