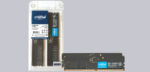 Today on OCinside.de we are testing the 32GB Dual Channel memory kit with 2x 16GB DDR5-5600 CL46 modules. This kit is focused on efficiency and compatibility, because the speed and the operating voltage comply with the JEDEC specification. So this is not a high-performance overclocking memory kit. We will reveal how much faster this DDR5-5600 memory kit is compared to a standard kit with DDR5-4800 in our following review.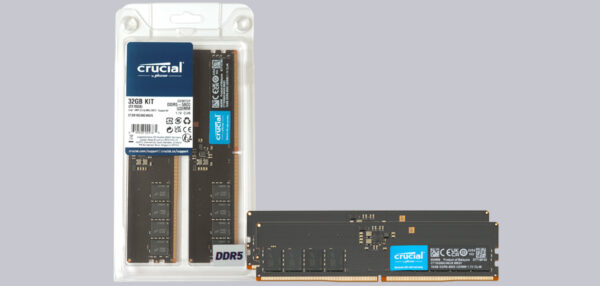 We hope you enjoy reading the new review.
Thanks for the support …
Thanks for the support to Daniel and the manufacturer Crucial.
The Crucial 32GB DDR5 2x16GB DDR5-5600 kit CT2K16G56C46U5 currently has a price of approx. 165 Euro (03/2023).
Here you can order the Crucial 32GB DDR5-5600 kit at a reasonable price.
The delivery of the Crucial DDR5-5600 modules …
The two 16GB modules come without much frills in a blister pack. The most important product data is listed on a sticker and since DDR5 modules can hardly be visually distinguished from DDR4 modules, there is another DDR5 sticker on the front of the packaging.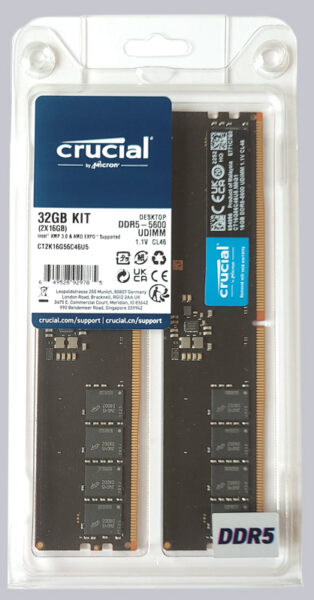 The package can be opened with a simple handle and you get access to the RAM sticks. The two modules are shown here in detail, once from the front and once from the back.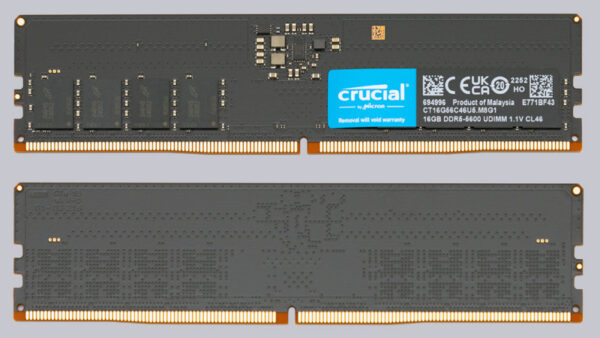 Next, let's take a closer look at the technical data.
Crucial 32GB DDR5 2x16GB DDR5-5600 technical specifications …