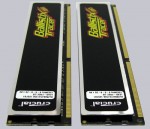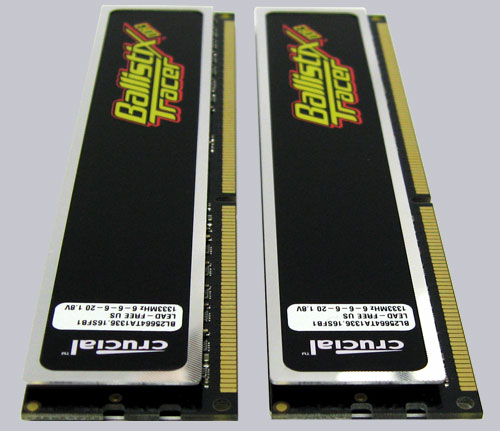 The memory modules are provided on a PCB with two bonded passive heatsinks (heatspreader), which are supposed to enhance the memory cooling also with higher frequencies and/or higher voltages. Thus one achieves on the one hand better overclocking results and on the other hand a longer life-time, whereby Crucial by the way grants lifelong warranty (Limited Lifetime Warranty) for the buyer (all informations to manufacturer conditions are of course without guarantee by ocinside.de). Instead of the JEDEC standard values of 1.50 Volt for DDR3 modules, these modules are officially designed for a higher voltage of 1.80 Volt to reach the fast CL6 timinings without errors.
Another feature are the red and green light emitting diodes atop each memory module, which shows the active RAM traffic, to see the activity of the memory modules at any time without any additional software. Close to the pins within the lower range of the PCB are 8 further blue LEDs integrated to lighting the PC permanently. All in all a nice feature for a PC or Mac.
Here is a bottom view of a Crucial Ballistix Tracer module to see the small SMD LEDs:

Here is a picture of the Crucial Ballistix Tracer DDR3 modules operating in a PC. The LEDs illuminates nearly the whole PC and this give the PC a special touch …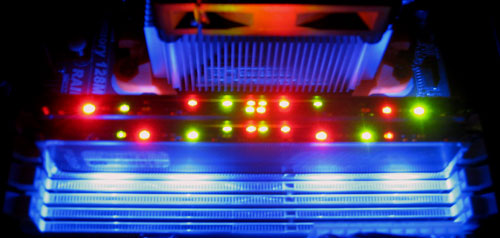 Not 4GB on booting, but only 3GB in the BIOS or in the operating system …
It can occur that the memory capacity is only indicated as approx. 3GB instead of the 4GB, because the 4GB DDR, DDR2 or DDR3 RAM size or any size with more than 2GB is still a case sui generis.Here at ocinside.de is a guide which contains among other things a table, how much RAM is supported by operating systems.