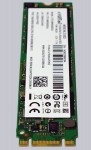 With the Crucial M550 M.2 512 GB SSD CT512M550SSD4 Crucial can keep up with the extremely good result of the Crucial M550 2.5-inch 512 GB SSD and thus offers a matching counterpart on basis of the M.2 standard.
The tiny M.2 2280 module based like the 2.5″ type on the Marvell 88SS9189 controller and is easily detected on our test system. Since the SSD module is based on the M.2 SATA standard, there is no additional bootable BIOS nessecary and the test installation reached a boot speed of 8 seconds in the test with Windows 7 Ultimate. The M.2 6Gb/s SATA SSD module of course reached no higher transfer rates than the conventional 6Gb/s SATA interface can reach, so the results were roughly identical with the Crucial M550 2.5-inch SSD. Only the temperature rose significantly higher in our benchmarks than the 2.5″ SSD, because the additional chassis act as a heat sink.
All in all offers the new Crucial M550 512 GB M.2 as well as the 2.5″ extremely high read and write rates, allowing use in a Ultrabook, Laptop, Tablet, or on current motherboards with M.2 slot (see Intel Z97 motherboard reviews in the hardware test area).
Discuss in our forum and share experiences …
Here you can buy the Crucial SSD …
Read on in the hardware test area with several hardware reviews …