We do a lot to make your small rotating noisemakers in the PC case more silent. In addition to sound insulation and decoupling, there are more ways to achieve this. Or just install a fan controller to pulse the fan voltage or reduce the fan voltage. The air flow is then usually still enough for a good cooling, but the volume of the fan is massively reduced. The offer on the PC market is manageable, and controller starts with simple 3 step types, followed by poti controllers with LCD, LED, or VFD Display to the top fan controllers with touch screen and remote control via Internet. Today, we test such a fan controller – the Lamptron CM615 6-channel fan controller with touch screen display.
Thanks for the support …
Many thanks for the review to Marauder25 and for the support with the CM615 fan controller to Lamptron.
The Lamptron CM 615 has at review date a price of approx. 79 Euro.
Here you can order the Lamptron touchscreen fan controller.
The delivery of the Lamptron CM615 fan controller …
The fan controller comes in a rather large, black box which already raises the hopes, that it probably contains a comprehensive range of accessories.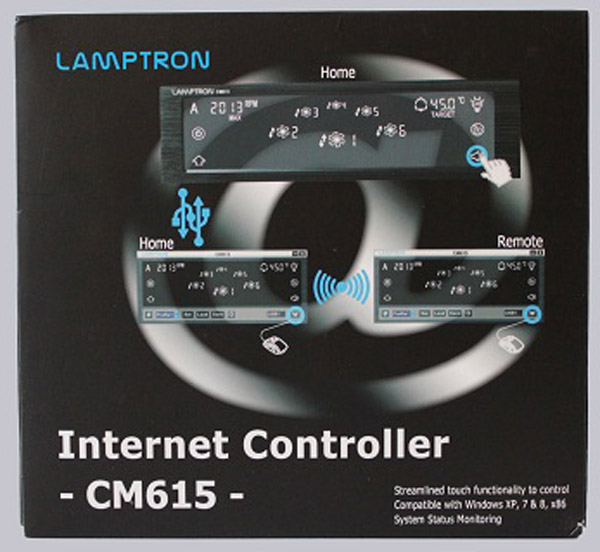 Some features and specifications are explained on the back of the box.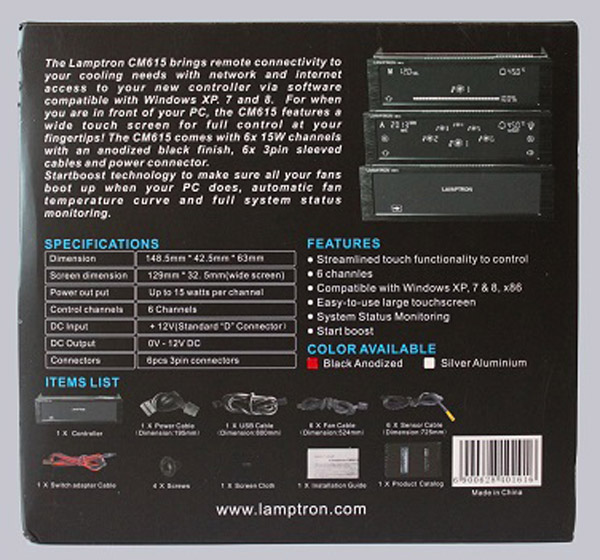 Lamptron CM615 accessories …
And indeed, the following components are included:
1x Lamptron CM615 fan controller 6x sensor cables 725 mm 6x fan cable 3 pin 524 mm 1x 4-pin Molex cable, 195 mm 1x internal USB connection cable 800 mm 1x USB flash drive Kingston DT101 G2 8 GB USB 2.0 1x microfibre cleaning cloth 4x screws 1x installation manual 1x product catalog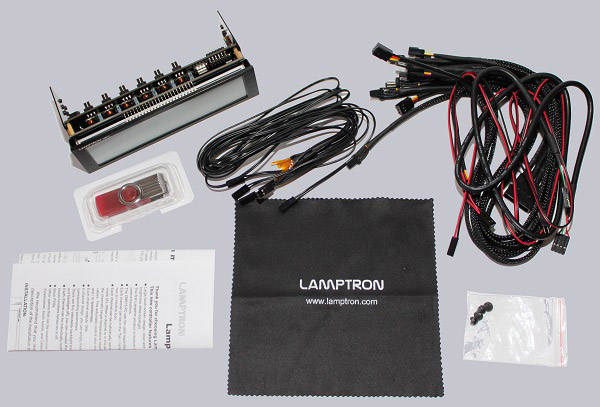 Lamptron has thought of everything to take the controller immediately in operation, without having to dig out fan cables from the "bargain bin". Also the supplied USB stick is great for the buyer, because you can never have enough storage space.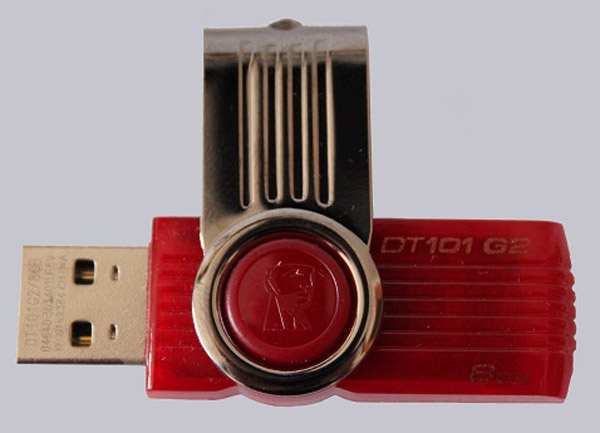 In the following, we will enter the technical details of the fan controller.
Lamptron CM615 Technical Data …