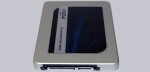 Result and general impression …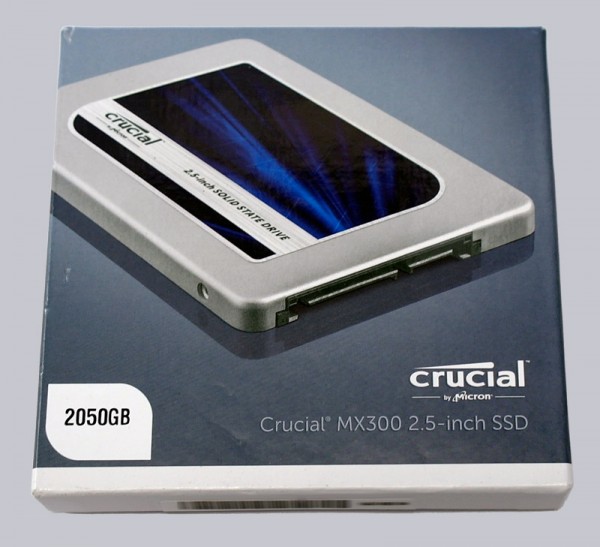 The Crucial MX300 2.5″ 2050 GB SATA3 SSD CT2050MX300SSD1 provides good overall read and write values, is offered with a very high reliability and supports important features like the 256-bit AES encryption.
The Crucial MX300 2 TB TLC NAND Drive with Marvell 88SS1074 controller and Micron 3D TLC NAND is tested both in the preferred AHCI mode, as well as in legacy IDE, but as with our previous SSD tests using AHCI mode showed significant benefits, so we strongly recommend AHCI.
In our tests, you can see again how important the benchmark diversity is for an overall performance evaluation. While one benchmark tool shows top values, the values break into in another tool. This is mainly because a SLC NAND buffer is aside the TLC NAND which ensures very high transfer rates for small amounts of data. With the latest firmware M0CR040 Crucial succeeds the interplay between TLC and SLC very well, however you will find the MX300 performance still more at the bottom. We would still call it rather Crucial BX300, because it works adequately to the BX100 and BX200 and has no MLC NAND like the MX100 and MX200.
Quite different it looks of course regarding the capacity – a 2 TB SSD is currently huge !
While some manufacturer offers SSHD (SSHD is a combination of HDD and SSD – see Seagate 2TB SSHD Review), it's necessary to buy additional hard drives for smaller SSDs. Micron succeeds with the Crucial MX300 2050 GB SSD to develop a large 2 TB SSD for the smaller purse. With 2 TB capacity it's certainly much easier to decide for just one single drive in the PC than with 1 TB, 500 GB or smaller SSDs.
The Crucial MX300 is specified with 360 TBW (total bytes written), representing 197 GB per day over a period of 5 years. This information is important not only for the warranty, but speaks for a very high durability of the NAND cells. Who wants to know more about TBW, finds numerous data and formulas at Micron and in the JEDEC SSD specifications.
Furthermore the Crucial MX300 supports like the Crucial MX200 all important features like ECC, TRIM, Active Garbage Collection, SMART, Device Sleep Extreme Low Power Mode, Thermal Monitoring and additional high-end features like as 256-bit AES Encryption, TCG Opal 2.0, IEEE-1667, Microsoft eDrive compatibility, RAIN, Power Loss Protection and four layers exclusive data defense, as well as the previously mentioned dynamic write acceleration and the momentum cache function via the supplied Crucial Storage Executive tool.
Discuss in our forum and share experiences about the Crucial MX300 …
Here you can buy the Crucial MX300 SSD …
Read on in the hardware test area with several hardware reviews …