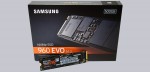 After testing the Samsung 960 Pro SSD we evaluate the cheaper Samsung 960 Evo SSD today at OCinside.de. The Samsung 960 Evo 500 GB M.2 NVMe SSD comes contrary to the Samsung 960 Pro not with 2-bit MLC, but only with 3-bit MLC, so-called TLC NAND. With an 32 GB/s Ultra M.2 slot we have tested, if the Samsung 960 EVO is nevertheless unbelievable fast and we have compared it with the Samsung 960 Pro, as well as other current M.2, PCIe and SATA SSDs. There is a peculiarity, which you should know before buying the Samsung SSD 960 Evo.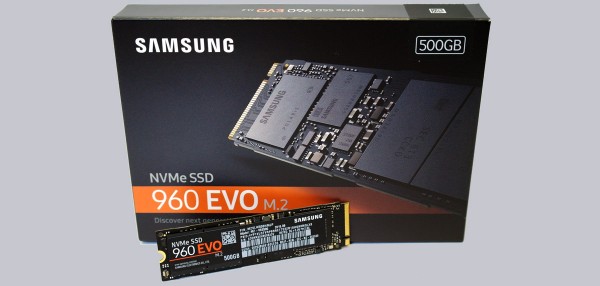 Thanks for the support …
Many thanks for the support with the Samsung SSD 960 Evo 500 GB M.2 by the manufacturer Samsung.
The Samsung 960 Evo 500 GB NMVe M.2 SSD MZ-V6E500 has at review date a price of approx. 259 Euro (01/2017).
The Samsung 960 Evo SSD series currently includes the following models:
Samsung 960 Evo 256GB MZ-V6E250BW, Samsung 960 Evo 512GB MZ-V6E500BW and Samsung 960 Evo 1TB MZ-V6E1T0B – as M.2 SSD.
The maximum write speed will vary depending on the capacity.
Here you can buy the Samsung 960 Evo SSD.
The delivery of the Samsung MZ-V6E500 SSD …
The Samsung SSD 960 Evo 500 GB M.2 module is located in this box: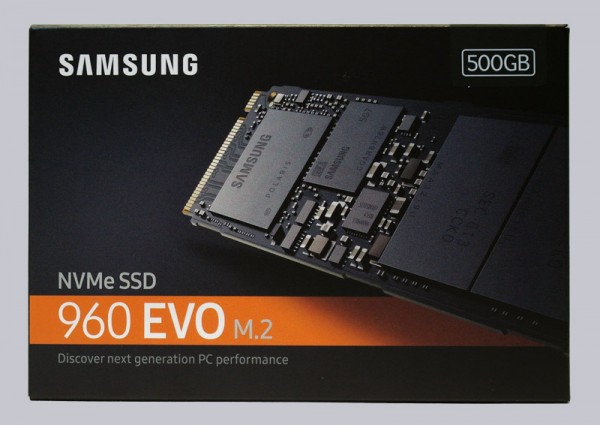 That is contained in the delivery …
The Samsung SSD 960 Evo 500 GB was supplied with an installation guide, a quick start guide and warranty information. It does not include screws or a CD, such as at the 2.5″ SATA SSD. That's why you should download the latest NVMe drivers and the Samsung Magician software directly from Samsung. The Samsung Magician software gives various information and Samsung SSD tools, but more on that later.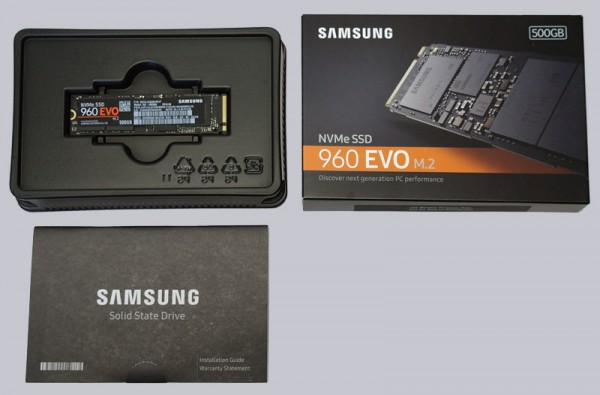 Samsung 960 Evo 500 GB technical data …