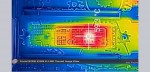 After our test of Crucial MX300 2 TB SSD we take a look at the 2280 M.2 SSD from the MX300 series. We test the Crucial MX300 525GB M.2 SSD and compare the benchmarks with SSDs from Intel, Samsung and other SSDs. Another subject is particularly interesting at M.2 SSDs and that is the temperature of M.2 SSDs. For this reason we have taken pictures with a thermal imaging camera and even published a M.2 thermal video in our OCinside YouTube Channel, where the M.2 temperature is shown during a benchmark in 4x speed!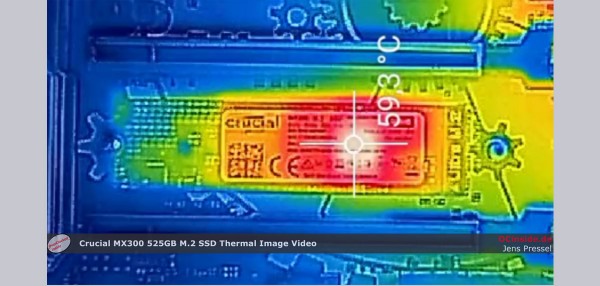 Thanks for the support …
Many thanks for the support with the Crucial MX300 525 GB M.2 SSD by the manufacturer Crucial.
The Crucial MX300 525 GB SATA3 M.2 SSD CT525MX300SSD4 has at review date a price of approx. 150 Euro (04/2017).
The Crucial MX300 SSD series includes the following models:
SATA SSD: Crucial MX300 275GB CT275MX300SSD1, 525GB CT525MX300SSD1, 750GB CT750MX300SSD1, 1TB CT1050MX300SSD1 und 2TB CT2050MX300SSD1
M.2 2280 SSD: Crucial MX300 275GB CT275MX300SSD4, 525GB CT525MX300SSD4 und 1TB CT1050MX300SSD4
Here you can buy the Crucial MX300 SSD.
The delivery of Crucial CT525MX300SSD4 500 GB M.2 SSD …
In this box comes the Crucial MX300 M.2 SSD board: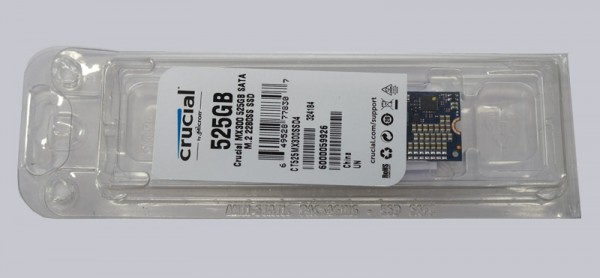 The plastic packaging can be opened easily by pressing the back part backwards. You need no scissors and the blister packaging can be closed again.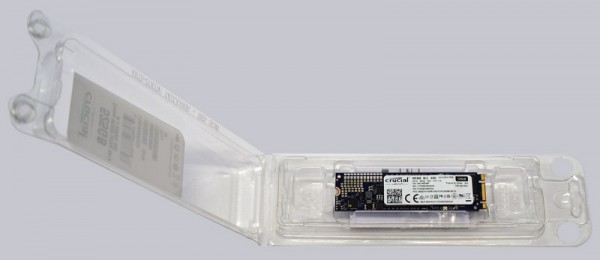 This is included …
The Crucial MX300 M.2 SSD CT525MX300SSD4 is delivered with an Acronis True Image HD software activation key and two M.2 fixing screws. Acronis True Image HD software can backup and restore hard drives and SSDs and transfer especially Windows from a hard drive to the M.2 SSD and migrate it correctly.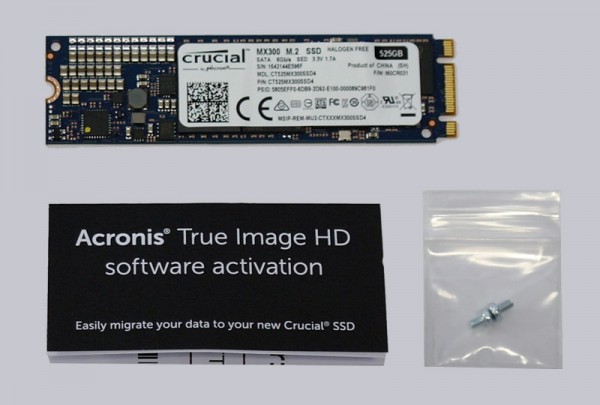 Crucial MX300 525 GB technical data …