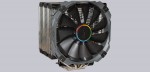 Setup and test results …
Before we get to the test results, we would like to present you the platform on which the Cryorig H5 Ultimate CPU cooler was tested.
Cooler test configuration …
The Cryorig H5 Ultimate CPU cooler was tested on the following system:
CPU: Intel Core-i7 2600K @ 4000 MHz with 1,19 V
Mainboard: Asus P8P67 Pro Rev 3.1
RAM: 4x 4 GB DDR3 1600 MHz
Graphics card: MSI GeForce 780ti
SSD: Samsung SSD 840 Pro 256 GB
PSU: Seasonic 760 W Platinum
Case: CM Storm Stryker with four fans installed
OS: Windows 7 Ultimate 64 Bit
Thermal paste:Cooler Master X1 Extreme Fusion 9,5W/mK.
Room temperature: 20°C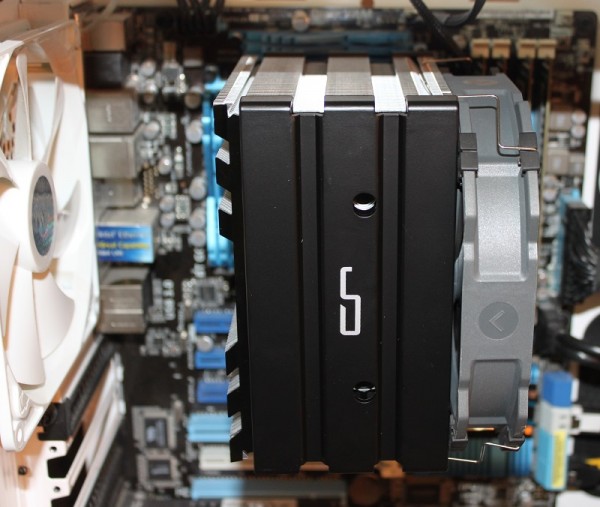 For measurement we used the following programs:
Prime95 V27.9
Core Temp 1.0 RC6
Asus AiSuite II
For the test, we went back to our air-conditioned room with a constant 20° C. First we measure the CPU temperature in idle mode without load. Then we stressed the CPU with the Prime95 program which we have started with the option "In Place Large FFTs". Meanwhile Prime95 supports also multi-core CPUs, so we do not need to make any other settings.
In the bottom diagram we see the temperatures which the CPU has reached in the measurements.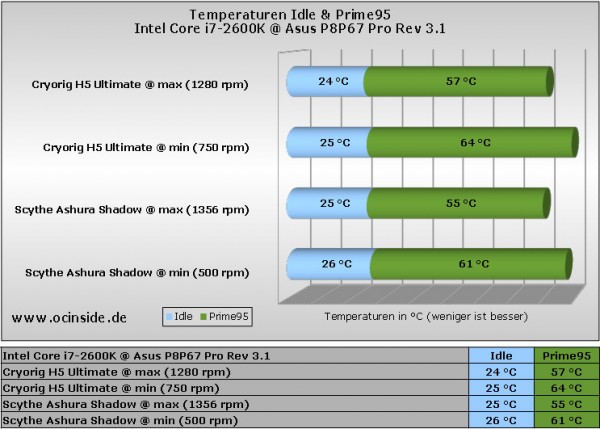 Compared to the size and only one mounted fan, the H5 Ultimate Cryorig reaches a solid cooling performance. Miracles should not be expected as well at this point.
If you need more cooling power or a quieter cooling you should choose a twin-tower cooler.
Cryorig H5 Ultimate Results and general impression …