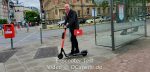 Today we have as OCinside.de summer special not tested PC hardware, but a video with English subtitles of the upcoming E-Scooter and E-Scooter provider test. We have tested several E-Scooters from Lime, Circ, Tier and Voi in Hamburg, Germany and show a video about it. The complete E-Scooter review will follow shortly.
Discuss in our forum about the E-Scooter Video …
Here you can buy E-Scooter.
Read on in the hardware test area with several hardware reviews …