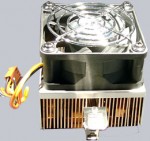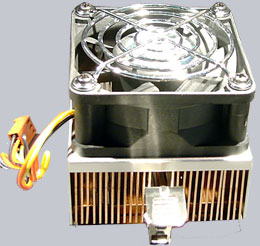 In this review we have tested the Cooler Master HCC002 Cooler and measured the temperature results with our test setup. Additionally you can listen to an embedded MP3 fan sound sample of the fan on the respective heatsink.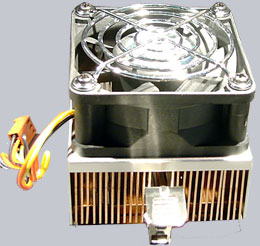 Bezeichnung
Cooler Master HCC-002
Größe über alles in L/B/H
+++ 62/62/63 mm Der Kühlkörper bedeckt nur die Fläche des Sockels – siehe Fit for Fan
Förderleistung
++++ 37,6 CFM bei ~6800 U/min
Geräuschpegel
—- 46,5 dB (A) Ich höre nichts mehr, egal wie laut die Musik ist 😉 Demnächst online anhören.
Montage
++++ Die Montage ist wirklich kaum zu schlagen. Dank dem großen Montage-"Hebel" kann der HCC-002 ohne zusätzliches Werkzeug absolut einfach montiert und demontiert werden.
Kühlergebnis
+++ Prima Kühlergebnis ! 39°C bei 1,75 Volt und 43°C bei 1,90 Volt Corespannung.