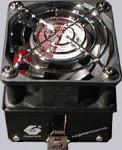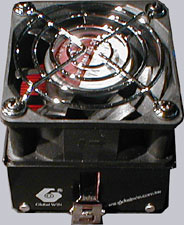 In this review we have tested the Global Win CAK II38 Cooler and measured the temperature results with our test setup. Additionally you can listen to an embedded MP3 fan sound sample of the fan on the respective heatsink.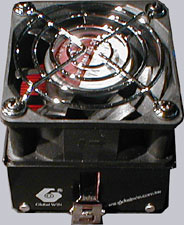 Bezeichnung
Global WIN CAK-II 38
Größe über alles in L/B/H
+++ 62/60/62 mm Der Kühlkörper ist nur so groß, wie der Sockel !
Förderleistung
++++ 37,6 CFM (6800 U/min)
Geräuschpegel
— 46,5 dB (A) Der verursachte Krach könnte einen Krach mit der Frau verursachen 🙂 Online anhören:
Montage
+++ Die neu entwickelte Klammer kann man wunderbar mit einem großen Schlitz Schraubendreher runterdrücken und somit den recht geringen Widerstand der Klammer zum aufsetzen und abnehmen des Kühlers spielend bewältigen.
Kühlergebnis
++++ Mit 36°C bei 1,75 Volt und 39°C bei 1,90 Volt CPU Kernspannung ist er genauso kühl wie die erste Version vom CAK 38.